La Quinta Returns is offering an easy, free 1500 points (which can be transferred 1:1 to Wydnham Rewards. All you have to do is link a mobile phone number to their La Quinta Returns Redeem Away program (a program designed to allow you to redeem your points for purchases, though no purchase is required to receive these points). The system prompts you to link a Visa card, though I think I got the text message before I had even done that.
The Deal
Get a free 1,500 bonus points from La Quinta (which can be transferred to Wyndham Rewards at 1:1) by linking a mobile number and responding to an SMS message
Key Terms
Must reply to the "Welcome" message with "BONUS" upon receipt (within 12 hours to receive the bonus offer).
1,500 bonus points should post within 48 hours
Quick Thoughts
This is a really easy 1500 points. While that's not huge, it's low-hanging fruit. You can transfer these points to Wyndham Rewards and Wyndham Rewards charges 15,000 points per night everywhere, so this bonus is worth 1/10th of a free night. Not bad for very little effort.
You simply need to click the link above and find the "enroll" button. That will prompt you to log into your La Quinta Rewards account. It will then ask for your mobile number. I don't typically give out my actual cell phone number to anyone outside of the family — I prefer to use Google Voice for stuff like this as it tends to block the robo-calls. To my surprise, when I tried to use Google Voice, I got an error:
Not really keen on giving La Quinta my cell phone number when many of my friends don't even have it, I wouldn't quite give in. I have a mobile hotspot Internet device, and those can receive text messages. I gave La Quinta that number and the text came through and confirmed easily.
The cut off part of the text message notes that I'll get the 1500 points within 48 hours. After entering my phone number successfully, I was promoted to link a Visa card number. The premise of this "La Quinta Returns Redeem Away" bit is that you can use your La Quinta Rewards points to get a statement credit for purchases made with a linked Visa card. I'm sure the value is poor — and in hindsight, I'm not sure I had to do it. I think the text message above might have come in as soon as I linked the phone number, so YMMV on needing to add a Visa card.
All-in, this promo takes less than 3 minutes to do and it's easy points that can help you top off for an award you need at some point. It's always good to be prepared for when opportunity strikes with Wyndham.
H/T: Angelina Travels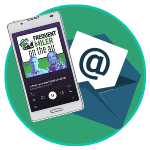 Want to learn more about miles and points?
Subscribe to email updates
 or check out 
our podcast
 on your favorite podcast platform.