A couple of weeks ago, at Frequent Traveler University, I showed multiple ways of earning 5 points per dollar for all credit card spend. Soon, I'll post an outline of these techniques, but first I find it necessary to warn you of some dangers and headaches these techniques offer…
American Express Financial Review
I don't have first hand experience with this, but I know a couple of people who have recently had their American Express credit card accounts frozen. They had been selected by American Express for Financial Reviews. In each case, these individuals had spent large amounts of money at drug stores in order to buy reload cards. They had paid with their American Express Hilton cards which earn 6 points per dollar at drug stores. As part of the Financial Review, American Express asks customers to fill out IRS form 4506-T so that Amex can examine the individual's federal taxes. Presumably American Express does this in order to determine whether the individual can really afford as much as they have been spending. Often, people get through the Financial Review unscathed and with their accounts restored. Sometimes it doesn't work out as well and the individual's American Express credit card accounts are closed altogether. American Express prepaid accounts are unaffected.
I don't know what level of spend is likely to trigger a Financial Review. It probably depends somewhat on your historical spend patterns with American Express. It may also have something to do with your overall credit line: if you regularly spend right up to your limit, that could look suspicious. Or, if you pay off your account multiple times per month, that can look suspicious as well.
Chase Account Closure
There have been incidents in the past in which Chase has abruptly, and without warning, closed accounts where they suspected customers of "perk abuse". This is where people use credit card benefits in a way that Chase determines is "not as intended." One example is where a guy bought thousands of 1 cent e-gift cards in order to earn 10 points per transaction thanks to his Chase Freedom card / Chase checking account combination. Chase wisely shut him down. For more details, please see my post "Why Chase cancels accounts (and how to protect yourself)."
So far, I haven't heard of any confirmed cases in which Chase has shut down Ink cardholders for abusing the 5X perk, but it could happen at any time. No one knows what levels of 5X spending are safe.
Prepaid Account Closure
Many of the 5X Everywhere techniques rely on prepaid products of one type or another. If you regularly load and unload large amounts of money to and from these accounts, you run the risk of having your account abruptly closed. This has happened to many people with the NetSpend card (see "We're sorry, there is a problem with your account"). I haven't yet heard of American Express doing this to anyone, but its always a possibility. The worst part of having your account shut down is that the issuing bank may not be quick to send you your balance. I know people who have waited about two months for their NetSpend checks, for example. On the other hand, when this happens, there is no impact on your credit report so unless you have a lot of money tied up, it's really not a big deal.
Prepaid Headaches
There are lots of little potential "gotchas" with prepaid products. Here are a few:
Reload cards not working. Many people have reported having trouble loading a Vanilla Reload card onto their new Amex prepaid card. Sometimes these problems are resolved by simply waiting 24 hours and trying again. Other times people have had to get everyone involved from Incomm (the company behind Vanilla Reload cards), to American Express, to the merchant they bought the cards from. This has never happened to me, but it sure sounds like a huge hassle!
Fraudulent charges. A reader told me about a situation in which he reported to American Express a large fraudulent charge that had appeared on his Bluebird account. American Express put the amount on an 8 day hold while they investigated. That meant that this individual could not get to these funds (his funds!) for 8 days.
Fees. I love the American Express prepaid products since they are almost fee-free, but most other prepaid cards charge fees for just about everything. The MyVanilla Visa card, for example, charges 50 cents for each credit or debit transaction, and $1.95 for each ATM withdrawal. The first time I tried to use my MyVanilla card at an ATM, the request was declined and I was charged a 75 cent ATM Withdrawal Decline fee. When I called to ask why, I was told that there is a $400 limit per day for ATM withdrawals and since I had tried to withdraw $400, the ATM fee put me over $400. Therefore, the request was declined and I was charged a decline fee. Nice.
Limits. Each prepaid product has different limits regarding how much can be loaded, spent, or withdrawn each day or month. These limits aren't the end of the world, but they can make prepaid products a pain to use day to day.
Tracking expenses. If you like to track credit card expenses through services like Mint.com, you might find yourself out of luck. With most prepaid products its necessary to log into their own proprietary web site in order to view and track expenses.
Is it worth it?
The rewards in earning 5X Everywhere can be huge, but each person needs to decide for themselves whether the rewards are worth the dangers and headaches. I do practice these techniques, but in moderation. Due to recent news about Amex Financial Reviews, I plan to be even more cautious with my Amex credit cards. How about you? Has this post changed the way you think about "5X Everywhere"?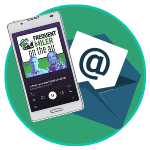 Want to learn more about miles and points?
Subscribe to email updates
 or check out 
our podcast
 on your favorite podcast platform.