This morning, One Mile at a Time published: You Won't Believe Amex's Targeted "PointsMatch" Promotion.  And, you know what, Lucky was right.  I can hardly believe what I'm seeing…
Summary
Amex has a new targeted promotion called PointsMatch in which they're letting customers with Membership Rewards points redeem those points for flights on American Airlines or United.  The way it works is this:
You find available award space on AA or United (but not on partner airlines)
Call Amex to book the award
Amex will take Membership Rewards points from your account based on the number of miles that would have been needed for the AA or United award flight.
Amex then pays for your flight.
Why would they offer this?
While Membership Rewards points can be transferred to Delta and many foreign airline programs, they cannot be transferred to American Airlines or United.  My guess is that American Express sees this as a barrier to attracting and maintaining their customer base.  And, since other banks have tied up partnerships with those airlines, Amex found a way to offer customers something even better: use Membership Rewards points at the same rate as miles, and unlike traditional awards, the customer can earn miles for those flights!
How awesome is this?
This is absurdly awesome in so many ways…
Award availability
Suppose you want to book a business class award for a family of four, but there are only two award seats available.  No problem:
Make sure there are at least 4 seats available for sale
Call Amex and book two people with Membership Rewards points
Since Amex will pay for the flight, the tickets might not affect award availability.  There's a good chance that the two person award will still be available
Either book the last two with miles or call Amex and book the next two people.
AA mileage running
If your goal is to earn American Airlines elite status and you're flush with Membership Rewards points, you can do very well here.  The trick is to find AA awards that cover the longest distance flights for the fewest miles.
United mileage running
Remember that, as of March 1, United will award redeemable miles based on the ticket price, not the distance flown (but elite qualification will still be based primarily on distance flown).  It should be very easy to find awards that cost very little in miles, but are hugely expensive in price.  A simple approach, for example, is to find one way premium class awards to/from Europe.  Typically, one way prices to Europe are more expensive than round trip, but one-way awards cost half of the round trip award price.  For example, I found a one way business class flight from Newark to London that cost $5,326.  The award ticket price, though, is only 57,500 miles.  If you were to book this flight after March 1, you would earn United miles for this flight in proportion to the ticket price, as follows:
General member earns 5X: 5 X $5,326 = 26,630 earned miles
Premier Silver member earns 7X: 37,282 earned miles
Premier Gold member earns 8X: 42,608 earned miles
Premier Platinum member earns 9X: 47,934 earned miles
Premier 1K member earns 11X: 58,586 earned miles
In this example, a United top tier elite would earn more United miles than they spend in Membership Rewards points!  And, this was just one simple example that I found. I don't think it would be hard to find examples where you could do much better than this.
This is amazing.  This means that you could fly premium cabin international flights for free.  You will end up with fewer Membership Rewards points, but you can gain as many or more United miles in the processes.  Meanwhile you would also be racking up elite qualifying miles and elite qualifying dollars so that you can gain or maintain high level elite status with United!
Upgrades
If you have upgrade certificates with United or American Airlines you probably know that they can only be applied to paid flights, not award flights.  And, with United, they can only be applied to paid flights booked under certain fare classes.  The same is true for using miles to upgrade.  Either way, it should be possible to use Membership Rewards to book coach or business class flights and then apply upgrades to business or first class.
Targeted only
If you were targeted for this promotion, you basically hit the jackpot.  I recommend taking full advantage of this offer while its available (through June 30, 2015).  The rest of us are probably out of luck.  I'm guessing that Amex is running this as a test to see if they should roll it out to all members.  And, I'm pretty sure they'll find that this deal is too generous.  I expect that if they roll it out to all members, that will happen after June 30th.  And, I'm sure they'll change the terms to make it less game-able.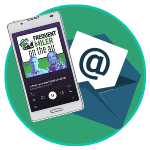 Want to learn more about miles and points?
Subscribe to email updates
 or check out 
our podcast
 on your favorite podcast platform.