In news I doubt anyone saw coming, Barclays has today added travel transfer partners on the Arrival Plus card.
If you're new to the game and have never heard of the Arrival Plus card, that's because it's no longer available for new applications. Barclays offered it for many years, then stopped taking applications for the card after launching the Arrival Premier card. The Arrival Premier only lasted about 6 months before Barclays pulled it, subsequently opening up applications on the Arrival Plus again before pulling that card for a second time at some point in the last few years.
It's therefore particularly perplexing that Barclays has decided to add travel partners on the Arrival Plus card, especially considering the card has never had transfer partners before – only the Arrival Premier did.
The transfer partners and transfer ratios are the same as the old Arrival Premier card too:
Air France/KLM Flying Blue – 7,000:5,000
Etihad Guest – 7,000:5,000
Japan Airlines – 11,500:5,000 or 22,500:10,000
Qantas – 7,000:5,000
EVA Air – 7,000:5,000
Intermiles – 7,000:5,000
Aeromexico – 7,000:5,000
Air Canada Aeroplan – 8,500:5,000
As you can see, there are convoluted transfer ratios which means none of the partners transfer on a 1:1 basis, nor do they all transfer on a 7,000:5,000. There's also the added calculation of the card's 5% redemption rebate which gets applied when transferring miles to these travel partners, similar to other redemptions when redeeming your Arrival Plus miles.
How To Transfer Arrival Plus Miles To Travel Partners
When logged in to your account, you can transfer miles to these airline partners by navigating to the following:
Rewards and Benefit Center
Redeem My Miles
Miles Transfer (or scroll down to "Redeem Now" under the section)
Does This Mean A New And/Or Revamped Card Is On The Horizon?
These changes inevitably lead to the question – why is Barclays doing this? It's clearly not – as of this precise moment in time – being done to entice new cardholders seeing as they're not accepting new applications for the card. Being from the UK from where Barclays originates, I can assure you that Barclays isn't known for doing anything out of the goodness of their hearts for customers.
So why would Barclays add travel transfer partners to the Arrival Plus card? Two plausible scenarios immediately come to mind.
One is that at some point in the near future they'll reopen applications for the Arrival Plus card. This wouldn't be too surprising considering they did exactly this a few years ago, so the addition of these transfer partners might presage the ability to once again apply for the card. Seeing as this is a benefit that wasn't on the card in the past, perhaps there are additional changes that'll be made in the event of a revamp.
Another potential explanation is that Barclays will be launching an entirely new credit card and that transfer partners will be available on that card. I feel like this is a little less likely though. Even if this was their plan, that doesn't necessarily give them a reason to add these partners on the legacy Arrival Plus card too. As a result, I feel like it's much more likely that it'll be a revamped Arrival Plus card we'll see in the coming weeks or months.
Thanks to Brian in the Frequent Miler Insiders Facebook group for all the information and screenshots about this change.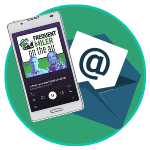 Want to learn more about miles and points?
Subscribe to email updates
 or check out 
our podcast
 on your favorite podcast platform.