Late last week, I wrote a post talking through the upside (for me) of having access to the "Pay Youself Back" feature of the Chase Sapphire Reserve Card. Part of the reason why that's the case is that I generate a substantial amount of Ultimate Rewards using the 5x office supply store bonus on the Ink Cash cards that both my wife and I have.
This prompted reader Tigris23 to ask an excellent question:
"For someone who doesn't MS, the 5% categories don't really generate many points (unless you have a true small business operation). What am I missing?"
When Tigris refers to MS, they mean Manufactured Spending, in this case buying Visa Gift Cards from an office supply store and then somehow liquidating them to cash (traditionally via money orders).  If you want to read more about that, you can check out our Guide to Manufactured Spending and our Visa/MC Gift Card page.
But here I want to dig into why this bonus on the Ink Card can be incredibly valuable for the average person that doesn't do any MS at all.  In fact, I think it's quite possibly the most rewarding no-annual fee card out there.
Key Card Details
Card Details and Application Link
Ink Business Cash® Credit Card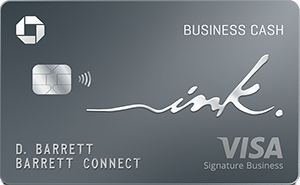 90K after $6K spend in 3 monthsNo Annual Fee
Click here to learn how to apply
This is an affiliate offer. Frequent Miler may earn a commission if you are approved for this offer
Alternate Offer: If you have a household member with an Ink card, you may prefer the referral offer whereby the referrer can earn 40,000 points and the new account holder can earn 75,000 points after $6,000 in purchases in the first 3 months since it will yield more total points.
FM Mini Review: This one should be in everyone's wallet. Incredible signup bonus for a no-fee card. Great card for 5X categories. Excellent companion card to Sapphire Reserve, Sapphire Preferred, or Ink Business Preferred.
Earning rate: 5X office supplies ✦ 5X cellular/landline/cable (on up to $25,000 in total purchases in 5x categories annually) ✦ 2X on the first $25K in combined purchases at gas stations and restaurants each cardmember year ✦ 5X Lyft through March 2025
Card Info: Visa Signature Business issued by Chase. This card imposes foreign transaction fees.
Why The Ink Cash Is So Loveable
Before we dive in, it's important to note that the Ink Cash does not generate transferable Ultimate Rewards on its own, but rather "cash back Ultimate Rewards" that can't be transferred to partners.  However, when paired with any Chase Premium Card (ie, the Business Preferred, Sapphire Preferred or Sapphire Reserve), the cashback can instantly be turned into transferable Ultimate Rewards, so much of this post assumes that you have at least one of those cards.
Now, let's start by revisiting the 5x categories for the Ink Cash:
Cellphone, internet and cable 
Select Streaming services
Office supply stores.
Cardholders earn 5x on up to $25,000/year combined on all three categories during the card membership year
We'll break these down, one at time, from least exciting to most.
1) Select Streaming Services – Most streaming services get 5x under the same "bills/utilities" category that internet and cable fall under. While this is an easily useable category (who doesn't have at least one or two these days), it's also the lowest impact.  I spend about $50/month on streaming services (split with a couple of other folks).  That's probably a higher number than many people, but it still only gets me around 250 UR per month.  That said, what I appreciate about this is the ability to just set this as the automatic card for all of my streaming unless there are Chase/Amex/BOA offers available and still earn around 3,000 Ultimate Rewards/year.
2) Cellphone, Internet and Cable – This is another easily useable category.  The average US household spends $275/month on the combination of internet, cable and cellphone.  Some folks spend much more.  Let's be conservative and say it's $250, which, by itself, adds up to 1,250 points/month or 15,000 pts/year.  It's worth noting that there is no cellphone insurance offered by the Ink Cash which, for some, may make it worth using another card instead.
The Really Exciting Stuff
Office Supply Stores.
It's like water to my parched lips.  Office supply stores are where the magic of the Ink Card really happens.  While you've already made around 15,000-20,000 Ultimate Rewards per year by using the Ink Cash to pay for Streaming/Internet/Cable/Phone, the possibilities are much more expansive here.
You might be wondering, "how much paper and ink can I buy in a year?"  While actual office supplies are a non-zero part of my yearly spend, it's so insignificant as to be fairly inconsequential.  The jewel amongst the office paper is  through buying Merchant Gift Card and Bank Visa/MC Gift Cards.
Merchant gift cards. It's possible to buy a wide variety of gift cards at office supply stores from various third party merchants, from Amazon and Home Depot to AirBnB and Subway.  Note that there are also many ways to get discounted retailer gift cards, both through travel portals and through apps like Slide.  Some of these will end up offering better cash back than 5x UR can give you, but oftentimes, cashback portals WILL pay out on purchases that are made with giftcards.
What I use gift cards more most often is Amazon.  My household spends a lot with Amazon both through organic spend and by shipping items to buyers clubs directly from Amazon.  I would consider buyers clubs to be a version of MS, so let's just consider purely "organic, free-range Amazon." The average Prime member spends about $250/month at Amazon/Whole Foods; for me it's closer to $400.  At $250, there's another 1,250 points/month or 15,000 UR per year.
There have been reports that Amazon doesn't like repeated loading of an account with gift cards.  I've never had an issue with it on either of our household accounts, but I do alternate between loading our account with gift cards and reloading our giftcard balance with Visa Gift Cards just in case.
If you're keeping track, for the average Prime member paying their cellphone, internet, cable and streaming, we're already at 33,000 Ultimate Rewards/year, around 1/4 of our yearly maximum.
Bank gift cards (Visa, Mastercard, Amex). Many office supply stores sell Visa and Mastercard gift cards in store. So, you can buy these gift cards at office supply stores and then use them for your everyday purchases as a way to effectively earn 5X everywhere. There is normally an activation fee per card that would reduce some of the 5c earning 5X on the purchase. Fortunately, OfficeMax, Office Depot and Staples have almost monthly sales where they will sell Visa/MC gift cards with no activation fee or even at a slight profit.  This is exclusively when I buy them, so I never pay any activation fees on these cards.
These gift cards operate just like normal debit cards and are equipped with a pin (usually the last four digits of the card).  They can be used online or in person and are universally accepted.  Just some ways to use them:
Insurance – The average US household pays $350/month in home and auto insurance.  Most of these companies allow you to make multiple payments via debit card, regardless of if you pay once/year or monthly.  My wife and I will often do this unless we have a SUB that we are paying off.  At $4200/year, the average household would earn 21,000 UR by paying this way.
Medical bills – Almost all medical providers are not covered by category bonuses and accept Visa debit cards.  The average US household spends around $200/month on out-of-pocket medical costs (not counting health insurance), so using Visa Gift Cards on medical costs is another 12,000 Ultimate Rewards per year.
Warehouse Clubs – Until Point came out with 5% cashback on Costco, we'd use gift card exclusively for spending there, usually earning around 20-25,000 points/year.
Now we're up to 85-90,000 miles per year, or about 75% of the yearly max for one card.  We still haven't paid an annual fee and are getting 5x back on Insurance, Medical, Amazon, Warehouse Clubs, Streaming, Internet, Cable and Cellphone.  But there's more:
Player 2 spend – My wife has a firm 3 card limit, meaning she doesn't want to have to track more than 3 cards at a time in her wallet. So, we'll go through times that she'll have a gas card, a dining card (because both of those categories require preauthorizations that can be cumbersome on some gift cards) and use the Visa gift cards everywhere else. Over the last year or two, there's been enough SUB's and bonused spend to make this less of an outlet, but normally it's pretty easy for her to spend $1000 or so/month. She doesn't have to keep track of bonus categories and I'm comfy knowing we're earning 5x on what she spends.
Everyday unbonused or lightly-bonused spend – This is another nebulous category and can go as far as you want it to. Usually 5x UR will just about match or exceed the highest bonus that you can get anywhere else, without counting welcome offers.  If you're not in the midst of meeting one of those, it will probably be the best return on spend that you can get.
Now, using Visa Gift Cards for regular spend or P2 spend requires keeping track of a bunch of $200 gift cards.  This is definitely not for everyone and I can understand why as it requires at least some level of organization and can be a pain for some folks.  If you're not interested in doing ANY of that, Ink may not be for you. But even if I only used the Ink card to buy a couple of Amazon gift cards each month, paid my insurance with Visa Gift Cards and then used the Ink for cellphone, internet and cable, I'd easily be getting 50,000+ Ultimate Reward/year without even breaking a sweat.
Am I eligible for business card?
In a word, probably. (See detailed application tips here)
My wife and I each have an Ink Cash card registered to us as sole proprietors (meaning in our own name, using our own SSN#'s).  The name of our business is identical to our personal names.  One was approved instantly, the other required a brief conversation where I simply said I was trying to keep certain business expenses seperate from my personal cards.
We both carry a lot of business cards for two main reasons:
They do not affect your 5/24 status.
Spending on business cards does not go on your personal credit report, so they have a net positive affect on your total credit utlization. This is a significant component of your total credit score.
As a note, it is possible to churn Ink Cards at a faster rate than personal Ultimate Rewards cards, as you only need to wait 12 months before receiving the bonus on the same card again.  That said, my wife and I hardly do it at all.  Our relationship with Chase has been long and rewarding.  We gain too much from it each year to risk having someone re-evaluate it for an extra Ink SUB or two, especially with all of the other fish in the sea.
Quick Thoughts
There you have it.  A no-annual fee card that offers up to 5x Ultimate Rewards…and we never even discussed the sign-up bonus, which is incredible given there's no fee.
Oftentimes, I feel as though people hear talk about how great the Ink Cards are and assume that it's simply the realm of high-volume MSers and business owners who buy A LOT of paper and ink.  But there are some very rewarding opportunities here that have made these cards a fixture in our regular-use wallet for years.  While the work involved may not be for everyone, it can be a great bedrock card for many points and miles enthusiasts.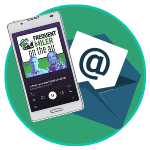 Want to learn more about miles and points?
Subscribe to email updates
 or check out 
our podcast
 on your favorite podcast platform.