Greg has been on vacation this week, so I've had the reigns. While he's been away, we've covered both a big portal promotion that's good through Sunday and how to take advantage of stacking opportunities (speaking of which, don't forget that all Sapphire card holders can earn an extra point per dollar with digital wallets, details below). Of course, I don't just shop for myself, so I shared some of the things I've resold lately. Thanks to that type of type of activity, I enjoyed an amazing suite upgrade in Spain a few weeks ago. All that and more in this week in review at Frequent Miler.
Since low-cost carriers started flying between the US and Europe a couple of years ago, we've seen the basic lesson of capitalism: competition is good for consumers; the more competition there is, the better the deals we see. How does that relate to six things I've resold lately? The key to my reselling strategy is not to generally try not to compete in an over-saturated market, but rather to seek out opportunity in places where others aren't looking. That's not to say that I won't jump on a Kindle Fire sale, but in this post I explain that isn't my main focus.
---
I recently spent a couple of weeks in Europe, and I wish a few more nights could have been spent in this humongous luxury suite. The Park Hyatt Mallorca is a gorgeous property. It's not without its limitations — you'll need a rental car and the pool is surprisingly small — but what they lack in those areas they more than made up for in what is probably my favorite suite upgrade of any chain so far.
---
When I joined T-Mobile a couple of months ago, I wasn't sure I was making a long-term switch. T-Mobile's network definitely has its limitations, so I was curious to see how its free international coverage would suit me on my recent trip to Europe. The bottom line is that while speeds were slow, the convenience of being able to call an Uber / navigate to my destination without spending time hunting down a local SIM was nice. Being able to text with family — both those and home and those with me on the trip — made things very convenient. That convenience combined with some of T-Mobile's recent enhancements will keep me around with them for a while.
---
The British Airways shopping portal is offering increased payouts at tons of stores for the next few days. There are Amex Offers available for a bunch of stores and many are at or near all-time high payouts. With the convergence of this bonus, Amex Offers, and bonus points with either Chase Pay or Membership Rewards at certain merchants, the chance to double dip some of these can produce some nice deals. See the post for highlights.
---
Bank of America has joined Chase, Amex, and Citi with a new rule restricting approvals, presumably to prevent people from constantly opening new accounts just for the signup bonuses. Since I haven't opened any BOA personal cards in the past two years, I've got a blank slate from which to begin. Here are the three BOA cards I plan to open in the next 12 months.
---
While we don't typically include which deal posts in our week in review, this one seemed worthy of repeating since we were able to confirm it: all Sapphire card holders can earn an extra 1x on up to $1,500 in purchases via digital wallets — both mobile payment methods and via Chase Pay online. If it works as the previous Freedom promotion did, those with multiple Sapphire cards may be able to earn 1500 bonus points per card. See the post for details.
---
That's it for this week at Frequent Miler. Check back soon for our week in review around the web and this week's last chance deals.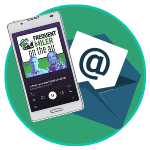 Want to learn more about miles and points?
Subscribe to email updates
 or check out 
our podcast
 on your favorite podcast platform.