CLEAR membership isn't something I'd been too worried about getting in the past, but with Amex handing it out for free to all Platinum personal and business cardholders and some other targeted cardholders with a CLEAR Amex Offer, I'm sure many of you are in the same boat plane of being much more interested in getting CLEAR.
If you're concerned about it being a bit of a hassle like Global Entry where you have to schedule an appointment many months in advance and attend an interview, don't worry – it's infinitely easier than that process. Five minutes online and five minutes in person at the airport just before our flights was all it took to register and subsequently speed through the lines at the airport yesterday.
Here's a quick rundown of what was involved with setting up CLEAR memberships for me and my wife.
Step 1 – Register Online
The CLEAR benefit on Amex Platinum cards doesn't require enrollment unlike some other Platinum benefits, although the Amex Offer version of the offer does require enrollment.
My wife and I both have Platinum cards, so rather than enrolling two of us under one benefit like you can do with Delta or United, we paid for our CLEAR memberships separately. That's because TopCashback is offering $10 when paying for memberships, so we were able to get a total of $20 cashback for our two memberships.
Having clicked through from TopCashback, registration was incredibly fast and required very little information. You just provide some very basic registration information and pay for CLEAR.
They'll then send you an email welcoming you to CLEAR which includes a link to set up your account online.
Step 2 – Verify Identity At CLEAR Location
The second – and final – step in registering for CLEAR is to go to one of the 50+ locations around the country to provide your biometric information. Most of these are at airports, but there are some stadiums with CLEAR lanes too where you can perform the same function. For non-airport locations though, I don't know if you can verify your identity outside of sporting or special events. For example, Coors Field in Denver is one such CLEAR location, but I don't know if you can rock up on a random Tuesday morning outside of baseball season to finish your enrollment.
We flew out of Denver airport yesterday, so we sorted out our ID verification there instead. There were two different CLEAR lanes either side of the security entrance (more about that in a mo), with the CLEAR Enrollment section between the two. This had something like half a dozen kiosks; they're not self-serve, but there were a couple of CLEAR employees there to assist people with the enrollment process.
Using the touchscreens we entered our names and dates of birth and it picked up our details from our online registrations.
The next step was taking our biometrics. The kiosk did an iris scan, took our fingerprints from both left and right hands and then took a photo of our entire face. After that the CLEAR employee scanned our drivers licenses. I think in theory the kiosk prepopulates your address details, but we had to manually enter some of our information. That's likely because the Florida DMV unhelpfully insisted that our car's license plate had to be the first line of our address on our licenses rather than the first line of our mailing service seeing as we don't have a physical home address. I'm guessing that for most people it'll pick up your address with no issue, but this only added about 30 seconds to the process.
After no more than five minutes, that was it! The final screen displayed the optimal biometrics for us to provide when using CLEAR lanes. For both me and my wife an iris scan is best, with fingerprints on our left hand being the second best option.
Using CLEAR Lanes
Having completed our enrollment, we were able to use CLEAR lanes immediately. As mentioned earlier, there were two different CLEAR lanes. One was a regular CLEAR lane…
…and the other was for CLEAR members who also had TSA Precheck. I don't know if all airports with CLEAR lanes have this dual setup or if it's only larger airports.
We both have TSA Precheck thanks to also having Global Entry, so we were able to take that left lane to get through even more speedily. We scanned our irises and boarding passes and then we were good to go. In total, it didn't take more than 15 minutes from the moment we arrived to finish our CLEAR enrollment before we were completely through security. Considering how long the non-CLEAR and non-Precheck lines were at Denver Airport yesterday, this saved us a significant amount of time which meant even more time to spend in the excellent Centurion Lounge they have there.
If the prospect of a lengthy process to complete your CLEAR enrollment at the airport has put you off applying, don't worry – the process is incredibly fast and you don't even have to make an appointment. Just go to the CLEAR enrollment lane any time to finish getting it sorted out – you won't regret it!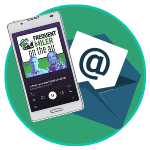 Want to learn more about miles and points?
Subscribe to email updates
 or check out 
our podcast
 on your favorite podcast platform.