This blog, Frequent Miler, was born in September 2011.  I started it simply as an outlet to share my excitement about my latest passion: miles, points, and elite status shortcuts.  It didn't even occur to me at the time that I could earn real money from the blog, but things changed quickly.  First, Boarding Area offered to host my blog.  This gave me an instant audience and better ad revenue than I could have earned myself.  Plus, it tapped me into a network of other bloggers who were happy to share information with me.  I remember one, in particular, who told me about credit card affiliate marketing.  This changed everything.
I already listed credit cards on my site as the best way to earn miles and points.  With affiliate links, I simply replaced the old links with new affiliate links.  Now, when a reader clicked through and was approved for a credit card, I earned a commission.  I decided early on only to do this when the affiliate offer was the best offer for my readers.  If I knew of a better offer, I've always linked to that better offer instead.  Plus, I didn't want the affiliate situation to change my blog content so I promised not to put affiliate links in my daily blog posts.  Instead, I put them initially all on one page that readers could find if they wanted to.  Later, I changed it up: today, each credit card has its own dedicated page with both the link to apply and everything else you may want to know about the card.  Those individual card pages are literally the only place on the blog where you'll find credit card affiliate links.  And again, wherever there's a better non-affiliate offer, you'll find that better offer on the page.  When we write posts, we link to these card pages when relevant, but we don't know at the time of writing whether or not the reader will find an affiliate link there when they click through.  Links and offers change regularly.
This blog became my full time career about 6 months after I started it.  8 years ago today (April 1, 2012) was my first day of severance pay at my old job.  Even though I hadn't yet earned much money from the blog, I was confident that I could make it work with my full attention.  And within just a few months I was earning enough to fully replace my previous salary.  Over the next eight years, blog revenue swung wildly up and down depending upon many different factors, but it has always been enough for me to feel incredibly fortunate.  I know I could have earned a lot more by aggressively "pushing" credit cards, but I was never interested in doing that.  I've always written posts based on what interests me most at the time.  And while selling credit cards may be lucrative, I don't find it interesting.  That won't change.
The idea of being a full time blogger sounds like a dream job.  And in many ways it is.  I'm my own boss.  I can work from anywhere.  The idea of blogging from the beach, though, rarely works out.  Bright sunlight makes it impossible to see my laptop.  And I get too hot.  But every now and then I find a relaxing place in the shade, like photo above (which was in Delray Beach, Florida at Crane's Beachhouse).
One downside of being a full time blogger is that it can be lonely.  Yes, our cats (and previously our dog, RIP) keep me company.  But they don't offer real human interaction.
One thing that has helped a lot with the need for human interaction is that I've hired others to help with the blog.  Most readers are now very familiar with Nick Reyes.  He works full time for Frequent Miler, writes far more than I do, maintains our credit card database, and much more.  Stephen works for me 10 hours per week primarily authoring Quick Deals but has also tackled other important projects.  And recently we added Carrie to our staff as our Creative Director.  She's now working 20 hours per week as our graphic designer, project manager, SEO (search engine optimization) expert, and much more.
Now the COVID-19 mess has threatened the business.
Even though our readership numbers are still good, ad revenue is way down.  Worse, banks have started removing their credit cards from affiliate channels.  Fortunately, revenue has been very good in the months leading up to today and so I believe that we can weather this storm without shrinking the team.
Rather than explain anew the details, I'll share with you the same information I shared with my team.  Here's what I wrote to the team just yesterday:
The purpose of this email right now is to keep everyone in the loop regarding how COVID-19 is affecting FM's business.

First: Last year was a very good year revenue-wise. Credit card affiliate revenue was up. And at the end of the year, ad revenue was way up thanks to Boarding Area moving to in-content ads. The point is that the business has plenty of money to weather the current situation…

And then COVID-19….

Ad revenue: Ad revenue is plummeting. My understanding is that marketers simply aren't bidding nearly as much on ads as they did before. That makes sense to me.

Affiliate revenue: Affiliate revenue has just started to drop a little (about 30%), but I expect it to drop precipitously in April. Two banks have already pulled certain cards from the affiliate networks. The cards we no longer have affiliate links for represent 71% of affiliate revenue from the past 12 months. And I expect it to get worse. I expect that other banks will follow suit.

In short, I expect business revenue overall to drop to meager amounts.

How long will this last?

No one knows, of course. My gut tells me that we have to be prepared for 6 months of record low revenue.

How does this change what we're doing?

I believe that Frequent Miler is a valuable business and so I will invest whatever it takes to keep it going through this downturn. For at least the next 6 months that means that I plan to continue to employ each of you at the current rates.

As far as changing our focus, I think it makes sense for us to do things now that will make Frequent Miler better prepared for a resurgence in 6 months (or whenever it happens). That means things like:

Platform improvements: Complete changeover to new theme, re-work our email newsletters, finish tag project, etc.
Improve SEO. Anything we can do now to improve search engine optimization will help us weather the storm plus will put is in a great position if/when ad and affiliate revenue returns to pre-COVID levels.
Continue to expand into video and podcasting (and other media maybe?). We need to do more to grow our audio/video audience. Eventually these could be very important revenue streams.
We're here for the long run
Sure, I could imagine a situation where travel is found only in history books.  In such a future, this blog probably won't survive.  But that's extremely unlikely.  More likely, the economy will eventually rebound, and travel will creep back into all of our lives.  When that happens, I expect that this blog's revenue will return.  My bet is that this will happen before I have to make any hard staffing decisions with the blog.
And so, I expect that our blog will not only continue on, but will thrive in the long run.  And in the meanwhile, things will be mostly "business as usual".  We'll continue to write articles and deals.  We'll continue to produce videos and podcasts.  And we'll continue to earn revenue.  In the short-term it won't be as much as it was before, but every bit will help us weather this storm for a bit longer.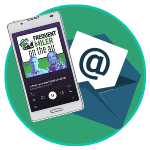 Want to learn more about miles and points?
Subscribe to email updates
 or check out 
our podcast
 on your favorite podcast platform.