On October 1, we published a Quick Deal for a 100K credit card signup offer: New Crystal Visa Infinite Offer – 100K Points, $250 Airline Credit, Free Lounge Membership & Waived 1st Year Annual Fee.  At the time, it was possible to signup for this offer, from anywhere, by applying via email.  Soon, though, we learned from Rene's Points, that City National Bank would now only accept applications in-person.  That means finding a CNB branch in Delaware, New York, Tennessee, Georgia, Nevada, or California.  You can click here for an interactive map.
I had applied via email on October 1, but the process turned out to be more like a mortgage application than a typical credit card app.  Every week or two I received additional requests for information: proof of identity; proof of income; proof of bank account balances; etc. I never received a congratulations email, but I did receive the credit card itself in mid November.  It turns out to be a very interesting product with more benefits than I had expected.  I was going to write up a full review (and I will, at some point), but it turned out that just one aspect of the card is worth a post in itself.  I just spent the better part of a day trying to answer a single question: What are CNB Rewards Points worth?
Originally, the 100K offer was slated to end by November 30th, but it has been extended to the end of the year.   Given that it is a more intensive application process than any regular credit card, it's worth asking whether the 100K bonus is worth the effort…
City National Rewards
The website for redeeming rewards is separate from the one you log into to manage your credit card.  And, for completeness, I'll mention that there is yet another website that details the cards' benefits.  Here are the URLs:
Irritatingly, its necessary to setup a separate account with each of the above sites, and they each have slightly different password requirements.  Ironically, the benefits portal has the most strict requirements even though it is nothing more than a source of information.  If you want to have the same password across all three sites, start with the benefits portal and then use that password with the other two sites.
Gift Card Rewards
Like most bank rewards programs, points can be redeemed for travel, merchandise, gift cards, or charities.  Based on experience with many other programs, I'm willing to bet that merchandise and charity rewards offer bad value.  To tell the truth, I didn't even bother looking into these options.  I'm going to assume that they're bad options until a reader proves to me otherwise.
So, instead, I started by looking at gift cards.  If you think of points as usually being worth 1 cent each, then you'll find that most CNB gift card options include a 10% markup.  In other words, with most bank programs, you can redeem 5,000 points for a $50 gift card.  With CNB, the same gift cards cost 5,500 points:
One exception I found was the $1000 gift card which has only a 5% markup:
The 100K signup bonus offer requires $5K spend, so a new cardholder would rack up at least 105,000 points.  Therefore, we can argue that the signup bonus is worth about $1,000 (the value of the Visa gift card).
Quick tip unrelated to CNB Rewards: If you have a bank relationship with CNB (beyond just the credit card), you can buy $1,000 Visa gift cards.  Each card has only a $3 fee if purchased in-branch.  And, yes, they are PIN enabled.
Travel Rewards
With many bank point programs, you can get better value by redeeming points for certain types of travel.  Let's see if that's true here…
Flights
Flight experiment 1: Los Angeles to New York:
My first experiment was to check award prices for flights from Los Angeles to New York.  For the dates I put in, I found that prices started at 26,224:
Via Google Flights, meanwhile, I found that the best price was $309 (really $308.20).  Google Flights picked out the same flight as did the City National Rewards flight search engine.
Flight experiment 1 results:
Actual best price: $308.20
Points required: 26,224
Per point value: $308.20 / 26,224 = 1.18 cents per point
That's not bad!  I was glad to find better than 1 cent per point value!
Flight experiment 2: Detroit to Las Vegas
This time I searched for a flight that I might actually need.  I'll be presenting at Frequent Traveler University in Las Vegas at the end of April, so I checked flights for getting there.  Via Google Flights, once I eliminated Spirit as an option, I found that Delta was the best option:
I picked the 5:30 pm departure and when I clicked through to Delta I found that the actual price was $386.20.
CNB Rewards wanted 32,580 points for the same flights:
Flight experiment 2 results:
Actual best price: $386.20
Points required: 32,580
Per point value: $386.20 / 32,580 = 1.19 cents per point
This was almost the same value as with the United flight in the first experiment.  Could this be the fixed value for points used for flights?
Flight example 3: Detroit to Santa Ana, CA
Since I covered United and Delta flights, above, I wanted to see if American Airlines flights yielded similar results.  I knew from recent travel that AA offers the cheapest flights from Detroit to Santa Ana, so I plugged in a random weekend and found these prices:

After selecting an outbound flight, the actual round trip prices were cheaper:
The CNB search yielded different results.  My preferred cheapest flight as found on Google Flights, was not the cheapest flight available through CNB:
The cheapest option through CNB was 24,187 points:
Since Google Flights didn't show this particular option, I browsed AA.com to find the paid price for the same flights: $284
Flight experiment 3 results:
Actual best price: $284
Points required: 24,187
Per point value: $284 / 24,187 = 1.17 cents per point
This is very close to the 1.18 and 1.19 cents per point value found in the previous two experiments.  It occurred to me that the slightly lower per point value might have something to do with the flight itself being cheaper.  Would a more expensive flight lead to higher per point values?
Flight experiment 4: Detroit to Sydney:
In order to see if higher priced flights lead to better per point value, I priced a flight to Australia in our winter (their summer).  Google Flights found prices as low as $1,894:
CNB Rewards didn't have the cheap China Southern options, but they did have a large selection of flights priced at just over 171,000 points:
To compare apples to apples, I found the same Delta flight in both lists, and priced it out:
Delta price: $2089
CNB points price: 171,318
Flight experiment 4 results:
Per point value comparing same Delta flights: $2089 / 171,318 = 1.22 cents per point
Per point value comparing best priced flights within each set of results: $1894 / 171,074 = 1.1 cents per point
I ran this last experiment because I thought that pricier flights might yield better per point value.  And, when comparing the same flights, I found that the value per point was a bit better than the cheaper flights (1.22 cents per point vs. 1.19 or less), but the difference is too small to make much of it.
6/5/2017 UPDATE
I've recently run a large number of tests and found in most cases that I was seeing 1.25 cents per point value for flights.
Hotels
At this point I was running out of steam (and you're probably not reading this far anyway), so I did just a single quick look at the value of points when booking hotels.  I picked a summer weekend in Ann Arbor and searched both Kayak and CNB Rewards:
Point prices compared to Kayak prices:
| Hotel | Point Price | Kayak Price | Cents Per Point Value |
| --- | --- | --- | --- |
| Days Inn | 6,623 | $68 | 1.03 |
| Red Roof Inn | 7,766 | $80 | 1.03 |
| Comfort Inn & Suites | 8,633 | $72 | 0.83 |
| Holiday Inn Express & Suites | 24,351 | $251 | 1.03 |
| Residence Inn | 25,542 | $219 | 0.86 |
As you can see, it is sometimes possible to get about 1 cent per point value from hotels, but its also possible to get terrible .86 cents or lower value.  I'd stay away from this option.
Car Rentals
Do car rentals fare any better than hotels?  Looking at car rentals in Las Vegas for FTU weekend, I found this:
Point prices compared to Kayak prices (after tax):
| Rental Agency | Point Price | All-in Price | Cents Per Point Value |
| --- | --- | --- | --- |
| Alamo | 6,854 | $65.60 | 0.96 |
| Avis | 6,410 | $98.01 | 1.53 |
| Budget | 5,923 | $103.69 | 1.75 |
| Sixt | 12,729 | $119.04 | 0.94 |
| Best Intermediate Option | 7,064 (Budget) | $48.39 (Fox) | 0.69 |
In a few cases you can get excellent value.  Keep in mind, though, that when you pay with points you will not get automatic insurance coverage from your credit card.  On the other hand, I dove into the terms of one of the rentals booked with points and found that it explicitly listed "Cancellation Policy No Penalty".  That's good!
Conclusion
The value of CNB Rewards points depend upon how they're used:
Gift cards: If you use points to get a $1,000 Visa gift card, then you can get close to 1 cent per point value (.95 cents per point).
Flights: Recent tests have shown that you'll usually get 1.25 cents per point value for flights.
Hotels: While it appears to be possible to get just over 1 cent per point value for hotels, it's also possible to get very poor value.  Personally, I would stay away from this option.
Car Rentals: Car rentals show the largest swing in point value from a low of .69 cents per point to a high of 1.75 cents per point.  Make sure to compare to other options before booking rental cars with points.
Based on the limited set of experiments I ran, I'd recommend using CNB points primarily for airfare.  If you have good personal car insurance, you may find even better value with rental cars… sometimes.  If we assume, though, that points will be used for airfare at a value of about 1.25 cents per point, then we can state that the 100K signup bonus is worth about $1,250 towards airfare.  That's pretty good, and can make up for some of the pain in the lengthy application process.
Note: In the past I've run other flight searches where I've seen less than 1 cent per point value from CNB points.  This didn't happen in my reported tests, but you should watch out for that possibility.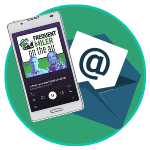 Want to learn more about miles and points?
Subscribe to email updates
 or check out 
our podcast
 on your favorite podcast platform.