The Madison Beach Hotel is a Hilton Curio Collection property located on Long Island Sound in Madison, Connecticut.  My wife and I stayed 3 nights and paid 80,000 points per night.  Cash rates at the time were about $550 per night.
Madison Beach Hotel Bottom Line Review
The Madison Beach Hotel is a very good choice if ocean views are important to you.  All rooms are ocean-front and all have nice sized balconies.  Unfortunately, during COVID-19 they do not open their restaurant until noon.  Instead of offering breakfast in the restaurant (which has a fantastic ocean-front balcony), they bring a food basket to each room.  We were pretty unhappy with this solution.  There is a highly rated restaurant available for breakfast only about a block away, but Christy's doesn't open until 9am.  Since my wife and I tend to rise early, we instead drove into town each day (about a mile away) to bring back breakfast to eat on our balcony.  Despite this inconvenience, we still very much enjoyed our beach vacation at the hotel.
Points Price: 80,000 points per night (minimum 3 nights required)
Point Value: Good.  During the summer, after taxes, you'd be likely to pay about $600 per night if you paid cash.  Compared to that rate, 80,000 points gives you a point value of 0.75 cents per point.  That considerably better than our Reasonable Redemption Value (RRV) of 0.45 cents per point.
Location: Excellent.
On-Site Dining: As described above, the restaurant is not open for breakfast so I have to give them a fail on this measure. We didn't eat lunch or dinner at the hotel so I can't rate them there (except to say that the views are great).
Bedroom: Very good.  Beautiful view.  Large ocean-front balcony.  Our room was on the small side (most are larger at this hotel), but it served our needs well.
Service: Not rated.  We didn't request any services other than asking for water to be brought to our room a few times (which they did quickly).
Resort fee: None when booking with points.  I don't think they charge a resort fee on cash rates, but I'm not sure.
Parking: $20 per night for self parking.
Hilton Elite Benefits: We were given two free drink vouchers upon check-in.  I believe this was due to my Hilton Gold status.  Normally, we'd also get free breakfast at the restaurant, but as described above, the restaurant is not currently open for breakfast.  We also could theoretically qualify for a room upgrade, but the hotel was sold-out when we were there.
Would I stay again?  I'd like to return once they open their restaurant again for breakfast.
Photos and captions follow…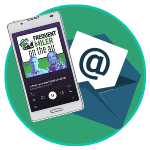 Want to learn more about miles and points?
Subscribe to email updates
 or check out 
our podcast
 on your favorite podcast platform.