Greg recently wrote a post about the misfortune of Hyatt extending his wife's Explorist status (See: Hyatt extends wife's elite status by 3 months but I'm not thrilled). Good news: both she and Greg just matched to Explorist, complete with 4 club upgrades – skipping the hassle of the status extension. This is awesome news. If you currently have Explorist status but didn't re-qualify, you'll want to make your move on this right now.
The Deal
Match M life Gold to Hyatt Explorist today and receive Explorist status through February 2019, complete with four Club level upgrades
Direct link to match M Life to Hyatt online – Note: You'll need to open a tab and log into your M life account before clicking that link.
How and why to do it now
As noted in Greg's previous post on this topic, Hyatt Explorist and M life Gold statuses match up — meaning you can match from one to the other. If you currently have Explorist status, but did not re-qualify, you'll want to make sure you have matched that status to M life Gold.
Because M life status runs on a different calendar, it does not expire until September 30th of the current year. Users on reddit have discovered that you can match your M life Gold Status to Hyatt Explorist status today. While you may get a message saying that your status was already matched, when you log out and log back in you should see that your Explorist status was extended to February 2019. You can match from M Life to Hyatt online at this link.
Within minutes of matching again from M life Gold to Hyatt Explorist, Greg received the following email:
As expected, the four fresh new club upgrades posted to his account immediately.
If you have M life Gold status or can match to it, you'll want to match to Hyatt ASAP, especially if you have received the "extension" offer that prohibits matching during the promo period and does not come with these club upgrades. While matching between the programs is ongoing, Hyatt was obviously intending to limit some people from matching until June. There's no telling how long this will last, so it makes sense to take advantage sooner rather than later. Furthermore, as Greg noted previously, there's also no telling how long the status match merry-go-round will continue to spin, so it makes sense to get on and enjoy the ride while you can.
H/T: reddit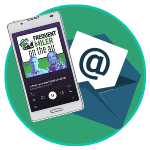 Want to learn more about miles and points?
Subscribe to email updates
 or check out 
our podcast
 on your favorite podcast platform.