Update: Registration for this is now live. Those who preregistered should have been automatically registered yesterday and the promo landing page is now live for those who were not preregistered — see the landing page here. H/T: Miles to Memories
National Emerald Club, the loyalty scheme of National Rental Car, is sending out a targeted one-click email link to preregister for this fall's One Two Free promotion. The email doesn't say exactly when the new One Two Free promo will begin, but if you receive the email you may as well register since it just takes a second to click.

The Deal
National Emerald Club is inviting members who participated in the previous One Two Free promo to preregister for One Two Free 2019.
Email subject line is, "Nicholas, preregister now — ONE TWO FREE is coming soon" and it contains a targeted one-click link to preregister
Key Details
Preregistration ends August 7, 2019 Registraiton is now live for all as of 8/23/19.
Quick Thoughts
I love the annual National One Two Free promo.
First of all, it's easy to get National Executive status via several credit cards like the various forms of the Amex Platinum card or the Chase Sapphire Reserve. That status often leads me to choose National when prices are close as booking the mid-size car means I can choose from either the Emerald Aisle or the Executive Aisle, where I almost always find a car that meets my needs (and when I don't, I've had good luck just asking on the lot).
The One Two Free promo is nice because it typically lasts from early fall until the end of February (though keep your eye out for more info this fall when we know for sure). After every 2 rentals, you'll earn a coupon good for a free rental day with National. Note that you can not stack multiple of these promo free days and they typically expire during the first half of June. Unlike free rental days earned from traditional activity, these are capped at being used on classes up to a mid-size car — but that means you can pick off of the executive aisle if you have status, so I find the cap isn't a problem.
I find this well worth while because I run into a few times each year where I need a paid rental for a day or two and two of those rentals earns me a free day. I then use those free days for one-way rentals. One-ways are often very expensive. Some rental companies add a one-way drop fee to the rental, but I find that National usually bakes that cost into the daily rate. That means you can get significant value out of a free rental day with National. For example, when I travel internationally, I often fly out of New York City (the various airports are 3-4 hours away). For long trips, rather than pay for parking, I will often use a National free day and drive directly to the airport and drop off there. Those one-way rentals often run north of $100 if I were to pay cash (and parking would often be more), so I'm usually happy to be able to use a free day this way.
Last year, this promotion began August 23rd and was valid for earning on rentals through February 28th, with earned rental coupons expiring on June 13, 2019. I would expect this year's promo to be roughly similar.
If you've received the email, it indicates that you have until August 7th to preregister. Since it only takes a minute, it's worth registering now so you don't need to keep your eye open later. Even if you don't intend to rent with National right now, you never know when an unexpected rental may come up that might even make a second rental (do we call that a rental run?) worthwhile.
For recaps of previous promotions and good uses of your free day certificates, see: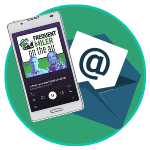 Want to learn more about miles and points?
Subscribe to email updates
 or check out 
our podcast
 on your favorite podcast platform.