There's a new US Mint coin deal coming tomorrow (July 29) which will get you ~$5,000 of spend along with $200 profit if you sell to PFS.
The Deal
Once you've registered for this deal, PFS Buyers club offers full details online about how the deal works. If you then decide to go forward with the deal, you'll have an option to click "Four-Count Set Opt In". Important Note: While it can't hurt to sign up for PFS Buyers Club, please don't opt in for these deals unless you are fully committed to purchasing the coins.
Key Terms
Offer goes live at 12pm ET on July 29, 2021.
Product limit – 10,250.
Limit 1 per household.
Caution
US Bank / Elan cards do not earn rewards for US Mint purchases
Amex cards may code as a cash advance. Amex changed terms earlier this year stating that bullion purchases might code that way, but readers have since reported not being charged a cash advance fee, including with purchases as recently as last week. Of course, things could change at any time.
Other Buyer's Clubs may offer better terms.  We're specifically listing PFS Buyers Club's offer because Nick has had good experiences with them in the past. For a previous deal he wrote "The club with which I've done business many times is PFS Buyers Club and I have always been paid promptly and haven't had any issue (and in fact quite the opposite – I've had positive customer service experiences when I've made inquiries)."
For general cautions regarding using Buyer's Clubs, see:  Is a buyers club a good idea for you?
Quick Thoughts
The exact cost of the coin set is due to be announced later today, but it sounds like it'll be in the $4,950-$5,050 range along with $4.95 shipping.
Getting ~$5,000 of easy spend is great; making $200 profit is even better. That's because PFS Buyers Club is offering to pay a commission of $200.05 for each set of these you sell to them. Note that they have strict rules if you want to sell to them which includes not opening the package when it arrives at your house, so be sure to carefully read all the requirements if you decide to sell to PFS. Please don't take this as a specific recommendation to sell to them, but Nick has had good experiences selling to them and I've only heard good things about them.
I sadly have to sit out these deals due to our living situation as having thousands of dollars worth of coins shipped to a hotel is too risky for my liking. I tried taking advantage of a different coin deal a few months ago and was successful getting my order placed, but the coins hadn't shipped several days after other people reported their packages arriving despite me paying for expedited shipping. When calling the US Mint they weren't able to change the shipping address (we were moving on to a different hotel before the coins would arrive), so I ended up having to cancel the order which was a shame as it was one offering even more profit than this $200 deal.
If you're free tomorrow at 12pm ET though and can get packages shipped safely to your home, this is a great way to rack up $5,000 of spend – especially if it means you meet a minimum spend requirement on a new card in the process.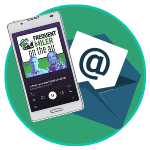 Want to learn more about miles and points?
Subscribe to email updates
 or check out 
our podcast
 on your favorite podcast platform.