Starting today, 3/10/19, Office Max / Office Depot is offering an instant $10 off $300 or more in Visa Gift Cards through 3/16/19 (or while supplies last).
The Deal
Purchase $300 or more in Visa Gift Cards at Office Max / Office Depot and save $10 instantly from 13/10/19 through 3/16/19
Not in this week's ad but showing up in stores
Key Terms
In-store only
One offer per transaction (YMMV on multiple transactions)
Quick Thoughts
This deal is best maximized by paying with a card that earns 5x/5% at office supply stores (See: Best Category Bonuses). To maximize rewards and minimize activation fees as a percentage of cost, you would want to buy two $200 Visa Gift cards. Alternatively, you could buy one $100 gift card and one $200 gift card (or any other combination to reach $300 in gift cards), but activation fees will cumulatively make up a higher percentage of your purchase price — so you might as well earn some more rewards at 5X/5%.
Assuming you buy regular Metabank Visas / 5 Back Visas with a $6.95 activation fee, here's the rewards breakdown:
$413.90 (2x $200 Visa Gift Card + activation)
 -$10.00 instant discount
$403.90 + 2019.5 Ultimate Rewards OR $20.20 cash back
If your location sells "Everywhere" Visas, those are an even better deal with a lower activation fee, though be sure you know where they work before you get invested in them (running local tests is best practice). Most Visa gift cards at Office Max / Office Depot are PIN-enabled, with the PIN being the last four digits of the card. For more information on these cards, see our Beginner's Guide to Buying & Liquidating Visa and Mastercard Gift Cards.
While this certainly isn't as good of a deal as it used to be when $15 or even $20 off of $300 was common, it's still an easily profitable deal and an easy way to pick up some points. It's been a while since we've seen one of these from Office Max / Office Depot, so it's good to see the deal back.
Recent previous dates for $10 off of $300 in Visa Gift Cards at Office Max / Office Depot:
11/18/18-11/24/18
10/21/18-10/27/18
H/T: Doctor of Credit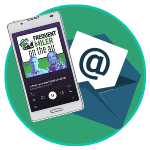 Want to learn more about miles and points?
Subscribe to email updates
 or check out 
our podcast
 on your favorite podcast platform.