Having seen all kinds of nocturnal animals at Singapore's Mandai Night Safari, the next morning it was time to explore Singapore in the daylight for my last day on the ground as part of 3 Cards, 3 Continents.
What is 3 Cards, 3 Continents?
Frequent Miler loves creating fun and competitive team challenges. This year Greg, Nick, and Stephen are competing to
book the most amazing 3-continent dream-trip using 3 credit card welcome bonuses.
My daytime activities continued into the nighttime as I then saw just a small part of what Singapore's Changi Airport has to offer. Here's a roundup of what I did today.
Gardens By The Bay
After taking advantage of the complimentary buffet breakfast at the Shangri-La Singapore courtesy of it being booked via Fine Hotels & Resorts, I headed down to Gardens by the Bay.
Gardens by the Bay is free to enter, although there are a bunch of other activities you can pay to visit.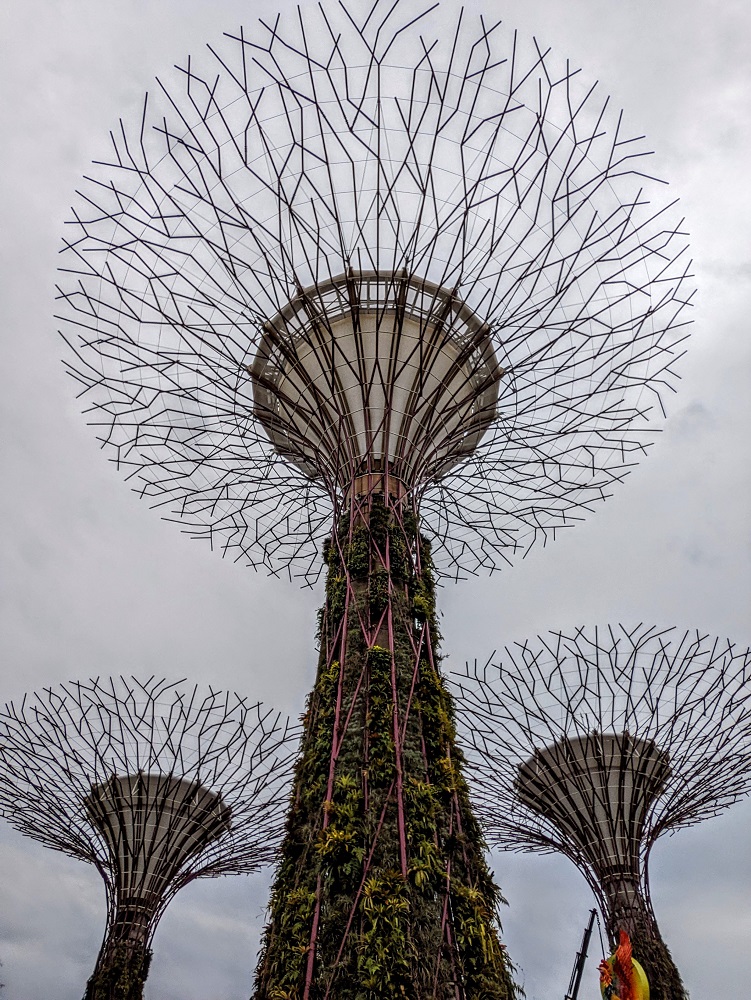 Flower Dome
I started off by buying a bundle ticket package giving me access to the Flower Dome and Cloud Forest. I started off in the Flower Dome which was OK, but it felt like it was more plants and shrubbery than flowers and so it was mostly green rather than multicolored. There were a few splashes of color in there though.
One of the nice things about both the Flower Dome and Cloud Forest is that they're air-conditioned. Seeing as they're in large glass domes and have plants inside, I was expecting a hot and humid atmosphere, so it was a pleasant surprise to walk through both and stay cool.
Cloud Forest
While I didn't find the Flower Dome particularly interesting, Cloud Forest was a different matter. It's far more impressive and begins when you step foot inside and are greeted by a massive waterfall.
You can take an elevator up to the different levels to explore each section.
There are also more interesting displays than the Flower Dome, plus they're currently in the process of constructing an Avatar movie experience.
Singapore Flyer
I then continued walking around Gardens of the Bay on the outside, seeing the Singapore Flyer on the other side of Marina Bay. This was once the world's tallest Ferris wheel and takes 30 minutes to complete a rotation.
Marina Bay Sands
Marina Bay Sands is an iconic building that cost almost $7 billion to construct, making it the world's most expensive standalone casino property. Not only that, but its rooftop platform is the world's largest public cantilevered platform, while inside it contains the world's largest atrium casino. I didn't have time to go inside, but I'm definitely interested in returning to Singapore and checking out this enormous property that has more than 2,500 hotel rooms.
Planet Sculpture
While walking through Gardens by the Bay, a path lead me towards a giant baby in the distance. This is a sculpture by Mark Quinn called Planet.
From a distance it looked like it was balancing on the hand and as I got closer I expected to see some kind of cleverly hidden supports for its head and feet.
Nope.
As the information board explains:
Beautifully balanced on a languid arm of a sleeping boy child, this seven ton 383cm by 353cm by 926 cm (151″ by 139″ by 365″) bronze cast sculpture floats like a heavenly body above a verdant earth.
Planet is much bigger than the photo above makes it look; hopefully this gives a better sense of its size.
Lunch At Shangri-La Singapore
After walking around Gardens by the Bay a little more, I headed back to the Shangri-La Singapore. I had a 4pm late checkout, but I wanted to have lunch there and take a quick nap as I knew I still had a long day ahead of me.
One of the Fine Hotels & Resorts benefits for a stay at this hotel is a $100 property credit that can be spent on dining, spa treatments and more. The hotel has a bunch of restaurants, although only a couple seemed to be open for lunch and I picked The Line to eat at.
Seeing as I was in Singapore, I decided to order their Singapore Sling as I'd never had one before. I'm not the biggest fan of gin – if I wanted to drink juniper I'd lick a fir tree after it's been raining – but the Singapore Sling was surprisingly tasty.
Food-wise I ordered half-a-dozen pieces of chicken satay (the smallest serving of satay they offered) and wok fried noodles with shrimp. I'd assumed that the chicken satay would come out first as an appetizer, but the noodles arrived first. These were tasty and were thankfully a smaller portion than I thought might be served considering I was still a little full from their buffet breakfast that morning.
At first I thought that they'd simply forgotten about my order of chicken satay, but they were brought out once I'd finished the noodles. I've no idea how they make their peanut sauce, but it was delicious and almost curry-like in its consistency and taste.
Hop-On Hop-Off Bus Tour
My wife and I first took a hop-on hop-off bus tour in Bath, England in 2009. We liked it more than we were expecting, but didn't take another one until visiting Dubai last summer and that one was disappointing because the audio was terrible.
This summer though we've taken one after another; first in Paris, then in Belfast, then in Dublin and now I've taken one in Singapore.
Although they won't give you the most authentic of experiences, hop-on hop-off bus tours can be very useful for a number of reasons, especially if you take one a day or two after arriving. For starters, if you have jetlag then it's a low-key activity that gets you out seeing the sights without having the energy-sapping experience of walking miles around a city on only a few hours of sleep.
It can also introduce you to parts of the city that you wouldn't otherwise have the time, knowledge and/or inclination to visit, thereby helping you prioritize what you'd like to see during the rest of your visit.
Another benefit of hop-on hop-off bus tours is that they can save you money when visiting attractions if your alternative would otherwise have been taxis or Ubers rather than public transport. These bus tours tend to stop at or near all the main tourist sites, so you can easily go from one to the next at no additional cost beyond your original ticket price. This was particularly useful in Dublin a few weeks ago when we were able to use it to visit the Guinness Storehouse, Kilmainham Gaol, Roe & Co Distillery and more.
Speaking of tickets, Big Bus Tours was only charging $25.20 for a day-pass. They have two routes in Singapore – the yellow line and red line – with your ticket being eligible for both routes. The routes overlap at two stops and I was fortunate with my timing that I was able to get off at both those stops and only had to wait a minute or two before getting to hop on the other line.
Fountain of Wealth
The yellow line passed by the Fountain of Wealth which the audio tour said was the world's largest fountain. When Googling that, it doesn't seem to hold that title anymore, but perhaps it's still the largest fountain (singular) rather than fountains. The Fountain of Wealth is unusual in that the water flows inwards; this is to represent wealth being retained.
Singapore Formula 1 Grand Prix
The concept for my world record 3 Cards, 3 Continents theme came about following a different theme I'd come up with first. Knowing that we were planning this challenge for the fall, I'd hoped that the stars dates would align with the Singapore Formula 1 Grand Prix so that I could put together a Planes, Trains & Automobiles theme.
The Formula 1 race would be the Automobiles part, while I hoped I'd be able to find availability between Singapore and New York on the world's longest flight for the Planes part.
Unfortunately that didn't work out. The Singapore Grand Prix weekend is September 30-October 2, with the race itself on October 2. That was going to be too late for incorporating it as part of this challenge plus, understandably, there was no award availability on the world's longest flight around those dates.
That was a shame though because the Singapore Grand Prix is one of the most interesting races on the Formula 1 calendar. It's not only a street circuit at Marina Bay, but they race at night. There have been all kinds of interesting Singapore Grand Prix races over the years since it was added to the racing calendar in 2008, so Shae and I would love to experience it at some point; although my wife's American, she got converted to Formula 1 when we lived in the UK for the first few years that we were married.
Anyway, the bus tour I took went along part of what will be the race track and passed by the pit building. With the race being in less than two weeks, they've already started setting up various parts of the temporary areas needed for the race.
Architecture
I'm not an architecture buff unlike my in-laws who, being real estate agents, love all things building related. Having said that, I like exploring large cities and seeing what their architecture is like as it can often vary from city to city and country to country.
Singapore has all kinds of interesting architecture, both from the design and shape of buildings to the large number of buildings that have incorporated gardens in their design. We're not in Kansas anymore Toto.
There was also the Old Hill Street Police Building that looked more like something I'd expect to see in South America than southeast Asia.
The hop-on, hop-off bus tour gave me a good taste of what Singapore has to offer and I'd love to return with Shae as there's a lot more to see and, as an animal lover with more than a dozen animal paw print tattoos from the animal experiences she's had, I know she'd be keen on checking out the Night Safari.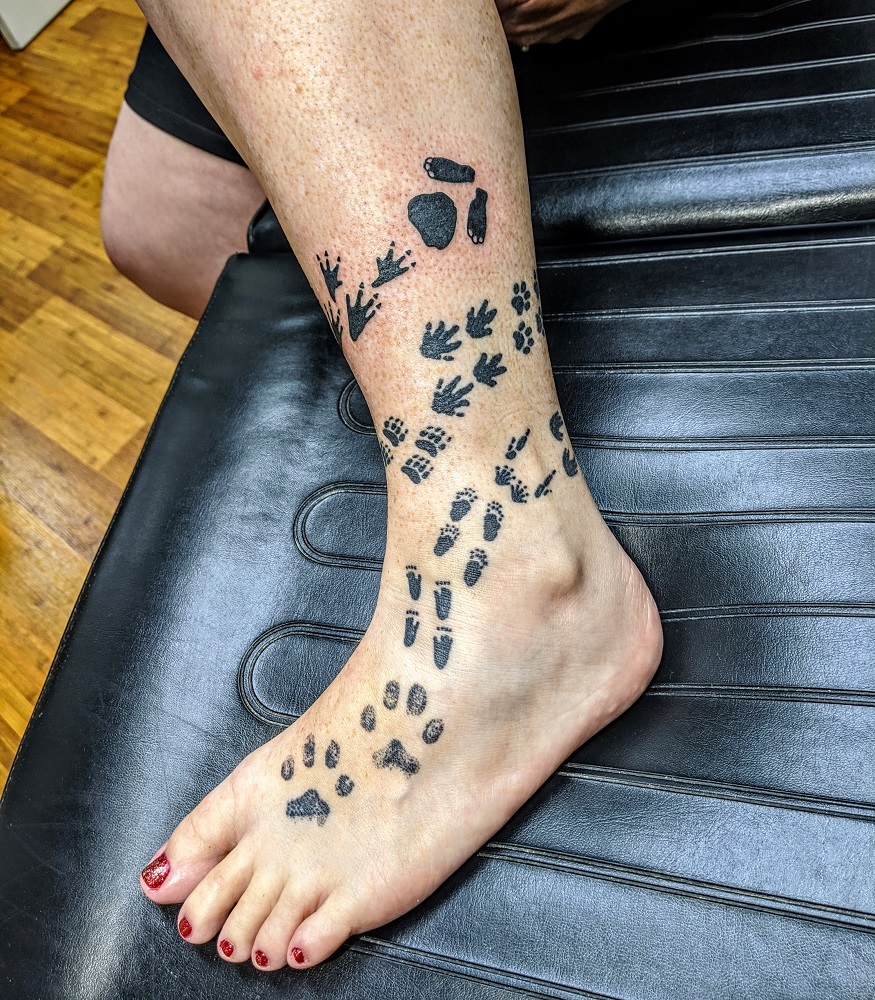 Changi Airport
I stayed on the bus tour for the last ride of the day, so we finished at about 7:30pm. I'd brought my backpack and rucksack with me as I hadn't planned on actually hopping off during the tour, so from there I took a Grab to the airport. I could've taken the 36 bus for a few dollars, but that would've taken about an hour and the buses were very crowded. Taking a private ride for only $16 that would get me there in less than 30 minutes was therefore far more appealing.
World's Longest Flight
As many of you have successfully guessed, I'm flying SQ24 back to the US – currently the world's longest flight. That means that during 3 Cards, 3 Continents I'll have taken both the world's shortest and world's longest flights – something I imagine very few people can say they've done in the same trip. I booked it using 99,000 KrisFlyer miles transferred from Membership Rewards along with $54.57 in taxes and fees.
My flight departs at 11:50am on September 21 and I arrived at the airport at about 8pm on September 20, so about 16 hours before takeoff (more about why in a moment). Despite it being so long before check-in, I was able to check-in for my flight, check my backpack, go through security and access the lounge without any issue. Although I didn't need to check my backpack as it's a suitable size for carry-on, I didn't want to lug it around the airport for what I had planned for the next few hours.
Jewel
I've been fascinated with Changi Airport since 2019 when Jewel opened, an enormous complex that's part of the airport but which, being landside, also serves as a tourist destination because you don't need to go through security in order to access it.
HSBC Rain Vortex
The most iconic image of Jewel is the HSBC Rain Vortex which is the world's tallest indoor waterfall. It really is as beautiful as the photos make it look.
Canopy Park
The airport – and Jewel in particular – has all kinds of activities to do that make it a destination in its own right. One of those is Canopy Park which is one of two reasons I wanted to head straight to the airport after finishing the hop-on hop-off bus tour. Canopy Park has a bunch of activities you can do, but most of them are only open from 10am to 10pm. With Jewel being in Terminal 1 before security and my flight being in Terminal 3, I knew I wouldn't have time to visit Canopy Park after 10am but before my flight at 11:50am. Instead, I'd need to get there before 10pm before they closed.
Canopy Park sells individual tickets for its attractions like the Mirror Maze, Hedge Maze, Walking Net and Canopy Bridge. If you're planning on doing several – or all – of them, you're better off buying a bundle package that includes them all. Paying for all four of those experiences individually would cost Singapore $50 (~US$35.50), but a bundle of all four costs Singapore $38 (~US$27).
Mirror Maze
I did the Mirror Maze first. You have to watch a short safety instructional beforehand, then you get a short pool noodle to hold out in front of you to ensure you don't hurt yourself.
Knowing that I didn't have much time to get through these four activities and on to the other place I wanted to visit that also closed at 10pm, I used a maze cheat I read about when I was a kid.
Spoiler alert: don't read the next paragraph if you don't want to know how to easily navigate your way through a maze and never get lost.
The secret to not getting lost in a maze is, when entering, to either follow along the wall to your left or to your right. Keep your hand along the wall and it'll always lead you to the exit without getting lost. It might take you on a slightly longer route via dead ends, but you won't ever get lost. While it's nice that it means you never get lost, it does take a little bit of the joy out of a maze.
Hedge Maze
Using that one trick that banks maze designers don't want you to know meant it only took a couple of minutes to navigate my way through the Mirror Maze. After that I made my way to the Hedge Maze.
I used the same trick and quickly made it to the center of the maze where there was a platform that lets you look out on the maze from above.
From there it only took me a minute or two to find my way to the end. This meant I didn't really get my full money's worth from the mazes, so if you're not pushed for time then definitely enjoy the confusion of not knowing where you're going in a maze.
Topiary Walk
On the way to the next activity was the Topiary Walk. The first part reminded me a little of the Flower Dome from earlier that day, but it improved with the addition on some cute animals adorned with flowers like this elephant fountain.
HSBC Rain Vortex (Again)
Canopy Park is on the top floor of Jewel and provides even better views of the world's tallest indoor waterfall.
Discovery Slides
Next up in Canopy Park was Discovery Slides which is open to little kids and big kids alike. There's a spiral metal slide that's fun to slide down. Quick tip though – if you do slide down it, take off your shoes or lift your feet up because otherwise the friction slows you down a lot. It's a lot more fun at speed.
Walking Net
If you don't like heights, the Walking Net might not be for you. This giant cargo net is nice and stable and initially isn't any cause for concern.
As you progress along the net though, it continues over the concourses and you can see several floors down. I'm not afraid of heights, but even I was a little apprehensive about looking down at the hundred foot drop below while walking over the net. It's all mind over matter, but that almost didn't matter to my mind.
I did make it across though, figuring that in the zero chance event of the net breaking beneath me, my reaction time would be quick enough to grab what remained of the net before plummeting to my inevitable death. (Side note: my wife doesn't like heights, so I don't think I'm doing a great job of selling this experience to her if we visit Singapore in the future. Sorry honey.)
Canopy Bridge – HSBC Rain Vortex Once More
Last up in Canopy Park was the Canopy Bridge which arches out to ostensibly give a better view of the waterfall. As far as photo ops go though, it's not as good as some other platforms because the track for what I think is for the SkyTrain ends up in your shot towards the bottom. It's worth going out on the Canopy Bridge if you bought the bundle of activities, but it's not really worth the standalone price of Singapore $8 (~$5.70) in my opinion when you can get better views for free.
Aerotel Swimming Pool
The reason I'd rushed through the two mazes earlier rather than enjoying the puzzle is because I wanted to get over to the Aerotel transit hotel. That's because they have a unique amenity – an outdoor rooftop swimming pool and whirlpool.
This pool is listed as a lounge on the Plaza Premium website and so I assumed that I could access it for free with my Amex Platinum card. However, the person at the bar where you check-in didn't seem to know anything about this and said it was something separate with Aerotel. I'm not convinced he was right, but I didn't think I'd get anywhere arguing my case and so I paid the $27.04 for entry as going for a dip on the rooftop of an airport sounded like fun.
The Aerotel swimming pool at Changi Airport is probably best visited during the heat of the day. That's because the pool isn't heated and so the cool water will be particularly refreshing. After dark, it was almost a little chilly, but just warm enough for me to be comfortable enough staying in there for about 45 minutes before also taking a shower before it closed at 10pm.
View this post on Instagram
Free Movie Theater
In the Jewel part of Changi airport there's a Shaw Theatres movie theater where you have to pay to watch movies. The latest movie start time seems to be 9:30pm-ish, so that's not as useful on an overnight layover.
However, in Terminal 3 there's a free movie theater that runs movies 24 hours a day. If you're like me and have no problem dropping off when watching a movie, this could also be a comfortable spot to take a nap.
There was some kind of animated Disney movie playing when I checked it out that I wasn't particularly interested in watching, so I continued on to my ultimate destination for the evening.
SilverKris Lounge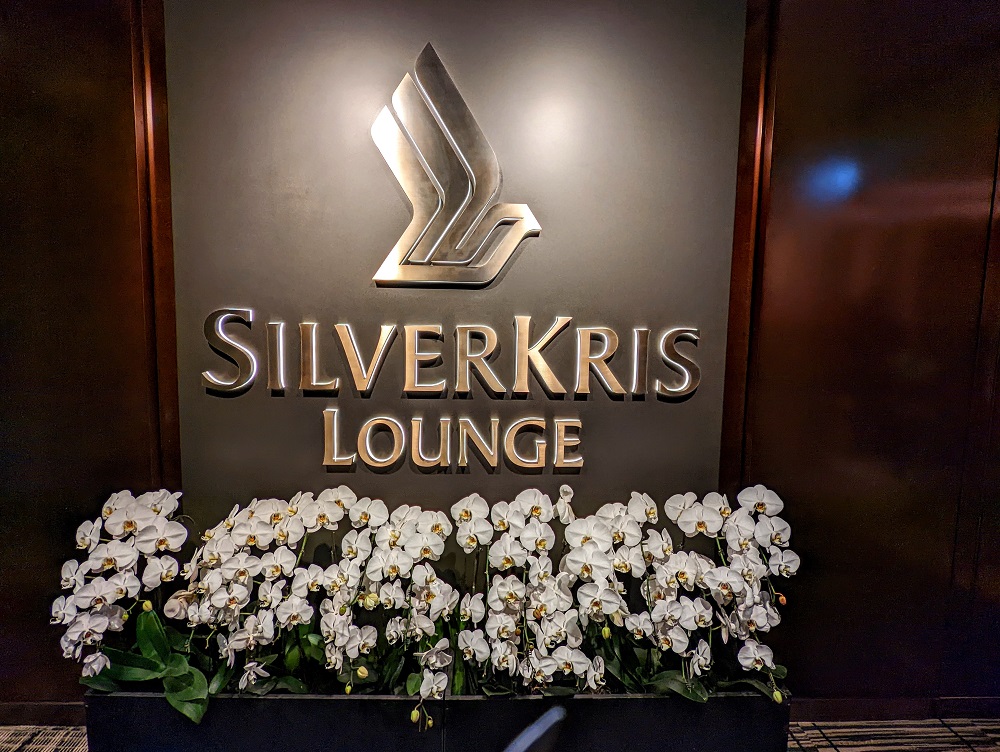 The world's longest flight that I'm taking is only available in business class or premium economy – Singapore Airlines doesn't sell economy tickets on the flight due to its length. I was lucky enough to find award availability in business class which gave me access to the SilverKris Lounge.
I arrived at 10:30pm – just over 12 hours before my flight was due to depart – and didn't have any problem entering that early. The lounge was pretty busy at that point as Singapore Airlines seemed to have a number of late night departures.
I napped from about 12am-1am and when I awoke, the lounge was virtually empty which gave me a great opportunity to take some photos of the seating.
I'll be writing a short review of the lounge once my 3 Cards, 3 Continents trip is over. While it's obviously not as special as the Qatar Airways First Class lounge that Nick got to experience, it's a great lounge with a plethora of tasty food options.
A barista is available in the mornings and a bartender is available to make cocktails in the evenings; outside of those times drinks are self-serve.
Next Up – Almost 19 Hours Of Flight Time
This time tomorrow I'll have just gotten off my Singapore Airlines flight after being in the air for close to 19 hours. I've never flown with Singapore Airlines and so I'm excited about experiencing their business class product, especially considering how excellent Nick thought it was when flying with them himself as part of this 3 Cards, 3 Continents challenge. Getting to experience their excellent service for the longest time possible should therefore be awesome.
I'm a little less excited about the almost 19 hour flight time. However, I've have only napped for one hour in the 36 hours before boarding, so I'll hopefully get some good sleep on the flight. I've also downloaded a 19 hour, 39 minute Audiomachine playlist on Spotify to help see me through, along with other downloaded playlists for Tracy Chapman, Switchfoot, Enigma, Lifehouse and Immediate in case I need a little variety. I normally have a hard time concentrating on movies when flying and so usually just listen to music, so I wanted to make sure I have more than enough for almost a day's worth of flying.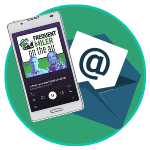 Want to learn more about miles and points?
Subscribe to email updates
 or check out 
our podcast
 on your favorite podcast platform.