Update 8/3/22: We've worked our way through nearly all reader referral links on the Amex Platinum 150k thread on Facebook. If you have an Amex Platinum card that always offers 150,000 Membership Rewards points for referrals no matter how the referral link is opened, please feel free to add it on this thread. Please read the instructions in that original Facebook post for where to leave your referral link in the thread rather than just leaving it as a comment at the bottom of that post. Links shouldn't be left on this blog post as they'll get caught by the spam filter and won't be published.
~
The most recent round of offers on the consumer Amex Platinum card and Amex Gold card expired overnight last night. Existing referral links generated from those cards also expired overnight. Unfortunately, the dining bonuses that were previously associated with these cards have been dropped, but there are still huge offers available on both cards via some referrals. Once again, only select people can generate links to the elevated offers and we are featuring reader referrals to these increased offers since we always want readers to have access to the best publicly-available offers on our Best Offers page.

The Offers & Key Card Details
Click the card names below to go to our individual card pages to find more information and links to apply.
Quick Thoughts
As you can see above, the new offers maintain the same number of bonus points as previous offers but are missing the dining bonuses that previously stacked on top of the intro spending offer bonus points.
That said, these are still huge offers for those interested in the Platinum card or Gold card. In any year other than 2021 or 2022, the chance to earn a hundred and fifty thousand transferable points with a reasonable amount of spend would be a major headline.
It's worth noting that both cards are once again available through restaurant reservation website Resy and the Resy offers do include restaurant bonuses, albeit with fewer bonus points. Still, those offers will be a better deal for some and are found under the "Alternate Offer" section on our individual card pages. The Resy offer for the Platinum card includes 125K bonus points after $6K in purchases in the first 3 months and also includes 10x at restaurants for the first 6 months on up to $25K in purchases. If you'll spend more than a few hundred dollars per month at restaurants, that offer could be better. If you're planning a special event like a wedding or a holiday party with a vendor that codes as a restaurant and you can max out the $25K at 10x (I always recommend a smaller test purchase to be sure the vendor codes properly!), you could earn a total of 375,000 points from that offer. While not as many points as I earned buying a minivan earlier this year, that's still an awesome deal.
The Resy version of the Gold card may be more appealing if you only value Membership Rewards points at our Reasonable Redemption Value, though if you value Membership Rewards points a bit higher than our conservative values, you will probably prefer the additional points from the referral offer.
Speaking of referrals, keep in mind that once again only some cardholders have the ability to refer to these offers. Despite having a plethora of cards, we were not targeted for the direct links to these increased offers in my household. And once again, we are asking readers for their referral links so that we can rotate in new reader links every day on our Best Offers page. If you have the direct link to either the 90K Gold card offer or the 150K Platinum card offer, find the appropriate referral threads in our Frequent Miler Insiders group and leave your link as a reply to the first comment as per the thread instructions you'll read there. Only direct links to those two offers please and be sure to follow the lead of others and post your referral link only in the appropriate place under the current referral threads. Links left in the comments on this post will get caught in our spam filter and will not publish.
Overall, I'm glad to see Amex march on with more easy points. The fact that they are keeping around these massive elevated offers as the decreased offers gives me hope that we haven't yet neared the end of the points parade.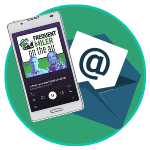 Want to learn more about miles and points?
Subscribe to email updates
 or check out 
our podcast
 on your favorite podcast platform.