Airline miles offer us flying experiences we would never dream of paying cash for.  Pictured above is me flying Etihad's First Class Apartment last year.  While other passengers probably paid around $7,000 for the same flight from Abu Dhabi to London, I paid only 80,000 American Airlines miles (and that included a business class flight from the Seychelles to Abu Dhabi).
We often write about sweet spot awards like the one above.  It's not hard to find opportunities like these that you'd like to try out.  The hard part is finding saver award availability.  Most airlines have multiple award pricing tiers and only the cheapest awards (often referred to as "saver awards") are available to book with partner miles.  And that's key.  The best deals with airline miles often involve using one airline's miles to book awards on a partner airline.  To take advantage of those opportunities, you have to find saver award availability on the partner airline's flight.  Often, that's very hard to do.  Enter award search tools…
Award Search Tools: Quick Compare
Several online tools have been developed over the years to try to make award searches easier.  In this roundup, I'll cover four popular options: Expert Flyer, AwardLogic, point.me, and SeatSpy.  Disclosure: Frequent Miler will earn a commission if you sign up for Expert Flyer, point.me, or SeatSpy through our links.  I had originally intended to also include a free tool called award.flights (a Chrome plug-in), but I couldn't get it to work on any of the searches I ran (despite having had success in the past), so that tool was not included.
Expert Flyer
AwardLogic
point.me
SeatSpy
Cost
$9.99 per month* or $99.99 per year
$4.99 per day, or $19.99 per month
$5 per day, $12 per month, or $129 per year
Starts at $3.99 per month
Search Date Range
7 Days
Specific Date Only
Specific Date Only
365 Days
Number of Airlines/Programs Supported
91
(Details Here)
20+
30+
7
Award Alerts
Yes
No
No
Yes
Multi-Leg Awards?
Yes
Yes
Yes
No
Display Award Prices?
No
Yes
Yes
Yes
Search Across Carriers at Once?
No
Yes
Yes
No
* Expert Flyer also offers a $4.99 per month option, but that option doesn't include multi-day searches or award alerts.
The above tools approach award searches in different ways.  Expert Flyer and SeatSpy require you to know which airline you want to fly.  And both simply show whether awards are available, not which miles are best for booking those awards.  Meanwhile, AwardLogic and point.me are more like standard paid flight search tools (like Kayak, for example) where you enter your origin, destination, and date of travel and you get back a list of available flights and award prices.  That's great, but neither tool currently lets you search across a range of dates and neither allows setting alerts.
Each of the tools in this round-up have pros and cons…
Expert Flyer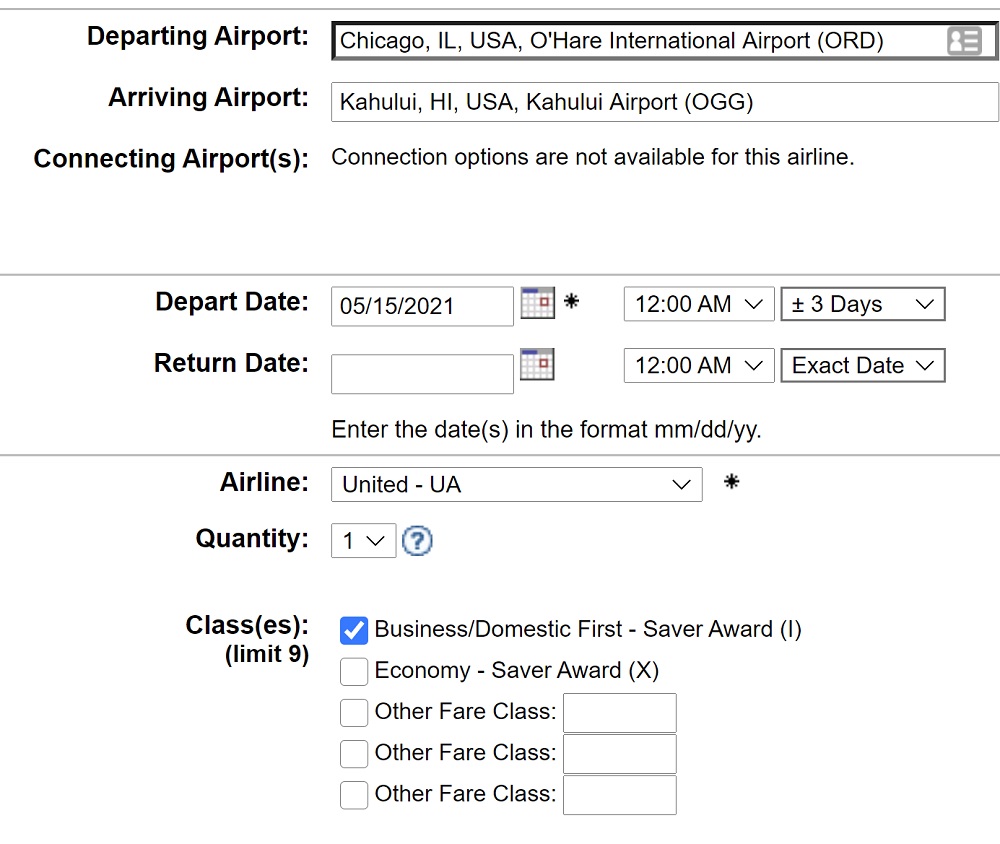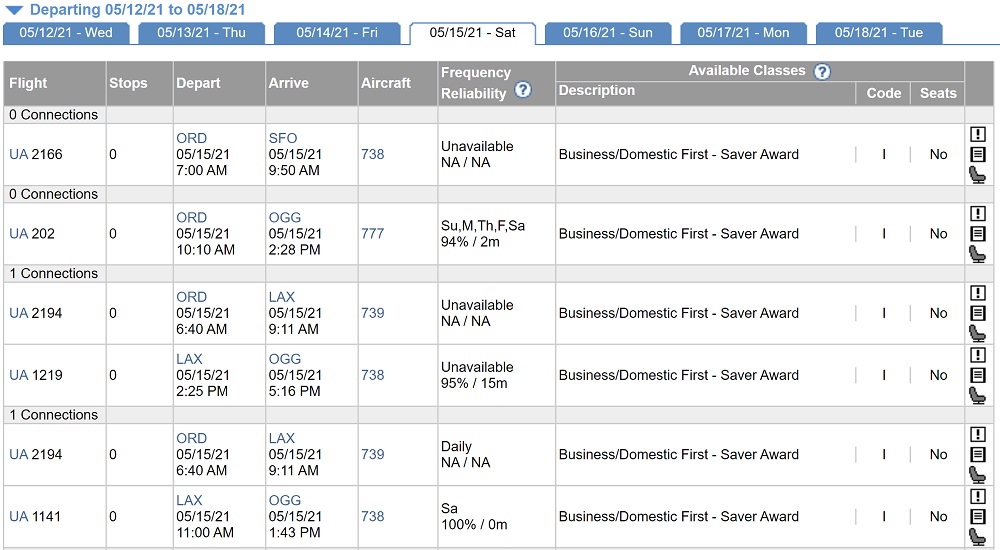 Pros
Supports a huge list of airlines (91 at the time of this writing)
Identifies multi-leg awards, not just non-stop
Provides many other flight features besides award searches
Cons
Requires you to know which airline you want to fly
Doesn't display award prices
Doesn't help identify best points or miles to use to book a given award
Setting alerts can be a painstaking process: You need to setup a separate alert for each and every flight + date of interest.  For example, if there are three flights per day that would work for you and you're open to flying on any of 4 different days, then you would need to setup 12 different alerts.
AwardLogic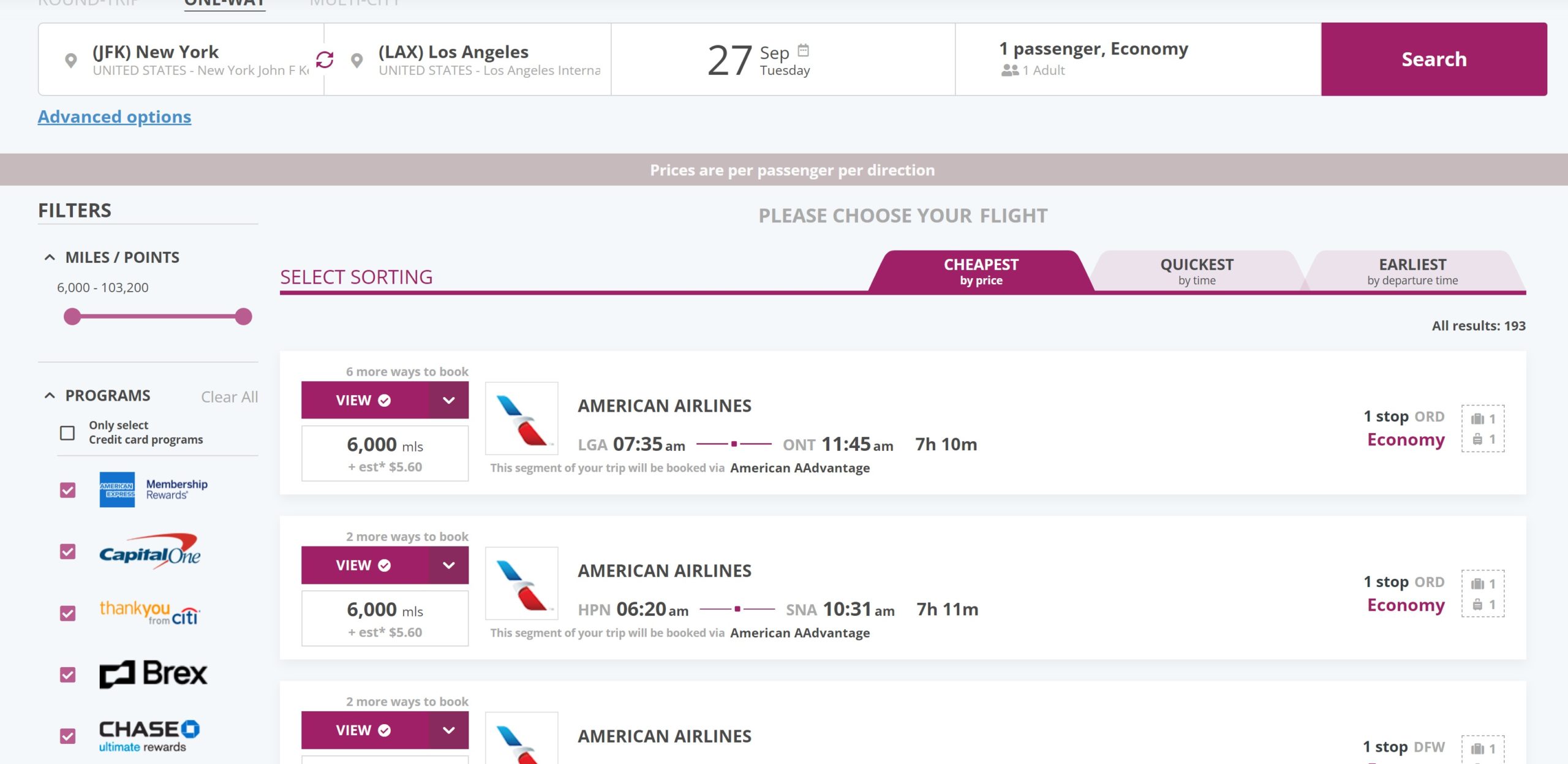 Pros
Supports most relevant points & miles currencies
Each search spans all supported mileage and points programs. The tool doesn't require picking a single airline to search at a time.
Displays number of miles required for each award
Displays estimated taxes and fees for each award
Supports transferable points programs
Includes Southwest Airlines (that's rare even for paid flight searches)
Results include itineraries that involve multiple airlines.  For example, a Star Alliance award may include a segment flown on United Airlines, followed by a segment flown on Turkish Airlines.
Cons
Can't search a range of dates
Can't set alerts: it's necessary to come back to rerun searches over and over to see if awards have opened up.
Can only search a single class of service at a time
Most expensive tool in this round up
SeatSpy

Pros
Displays an entire year of results at a time
Very fast results (especially considering that it shows an entire year at once!)
Displays award prices when you click on a date
Alerts are easy to set up and can be set for an almost unlimited date range
Inexpensive compared to the other tools
Cons
Relatively few airlines supported so far: Air France, American Airlines, British Airways, Etihad, KLM, United Airlines, and Virgin Atlantic
Searches only for non-stop flights
Which is Best?
In my opinion, AwardLogic and point.me are far better than the other programs, and of the two I like point.me better but it's close.  That said, neither tool is best for all purposes.  Their biggest limitation is the fact that you can only search a single day at a time and for one class of service at a time.  Consider the situation where you're open to flying anytime within a 3 week period and you'd consider either economy or business class.  Even if you only have a single destination in mind, you would still have to run 42 different searches to cover all possibilities.  If you were only interested in a single airline, though, Expert Flyer could support your needs with just three separate searches, and Seatspy could do it with one search (in the relatively rare case that they support your airline of interest).  So, this brings me to my recommendations of the best tool based on needs:
point.me or AwardLogic is best if you know when you want to travel
With either AwardLogic or point.me, running award searches is as simple as running a paid flight search on a tool like Kayak or Google Flights.  Of the two options, point.me supports many more award programs and offers more thorough guides for booking awards once you find them.
You can read more about each tool here:
SeatSpy is best if you want to fly a specific non-stop route on a specific airline
Of course, SeatSpy is only best for this if it happens to support the specific airline you want.  As an example of how to make the most of SeatSpy, I recently showed how SeatSpy could be used to find lie-flat United awards to Hawaii.
If you're interested in finding non-stop awards on any of the supported airlines (Air France, American Airlines, British Airways, Etihad, KLM, United Airlines, Virgin Atlantic) then SeatSpy is an incredible tool for that purpose.
You can read more about SeatSpy here: SeatSpy -An awesome tool for finding non-stop awards.
Expert Flyer is best if you want to fly a specific airline
Expert Flyer supports far more airlines than SeatSpy, and it's great for finding both non-stop and connecting awards.  One great thing about Expert Flyer is that you can try out a premium subscription for free for 5 days without inputting a credit card number.  So, unlike most free trials, there's no fear that forgetting to cancel in time will result in getting charged.  Expert Flyer also offers a free service for seat alerts.  This free service is not for finding awards, but rather for finding availability of a specific seat of interest on a flight that you are booked on.