I find that US residents are often skittish about foreign frequent flyer programs.  Many don't realize that foreign programs are often the best options for booking domestic flights.  "Avios" is the name of the point currency shared by multiple foreign airline frequent flyer programs: British Airways, Iberia, and Aer Lingus.  Points earned in any of those three programs (or transferred from transferable points programs) can be moved to the other programs.  For example, if you have Aer Lingus Avios, you can move those points to your British Airways account.  In this article, we'll talk about how best to use Avios to book domestic flights on American Airlines and Alaska Airlines, as well as international flights on many different airlines.
Each of the three Avios programs have different rules and pricing for booking awards.  In some cases British Airways (BA) is the best choice.  Other times, Iberia has better options.  Aer Lingus is rarely best.
Here's (almost) everything you need to know…
Register
You can't earn or spend Avios until you've signed up to be a member with the loyalty programs that use Avios as their reward currency.  Registration is free, but there are no signup bonuses for registering.  Some deals require having had an account open for a certain amount of time before you can participate, so it's a good idea to sign up for all three programs right now just in case.
Important: Make sure that all of your personal information is exactly the same with each program.  Use the exact same name, email address, phone number, and home address with each program. This will make it easier to move points between programs later on.
Registration links:
After registering, I recommend keeping track of each program with a free tool called AwardWallet.  Click here for details.
Earn Avios
One of the easiest and quickest way to earn Avios is through credit card signup bonuses.  Below are the current cards that directly earn Avios (see the next section for cards that earn points transferable to Avios).
Earn Avios via transfer partners
Amex Membership Rewards and Chase Ultimate Rewards points can be transferred to Avios 1 to 1.  Even better, they are occasionally known to offer transfer bonuses so that you'll get even more Avios.  There are many ways to earn points in each of those programs.  For full details, see these guides:
Another option is to transfer Marriott Bonvoy points to Avios at a rate of 60,000 Marriott points to 25,000 Avios.  For details about Marriott Bonvoy, please see;
Current transfer bonuses
If there are any current transfer bonuses to Avios (from any program, not just Amex, Chase, or Marriott), it will appear here:
Earn Avios via shopping portals
British Airways offers a shopping portal designed for US customers: www.shopping.ba.com.  When you plan to buy something online anyway, you can start your shopping at this portal then click through to the store where you want to shop. This way you'll earn extra rewards above those earned with your credit card.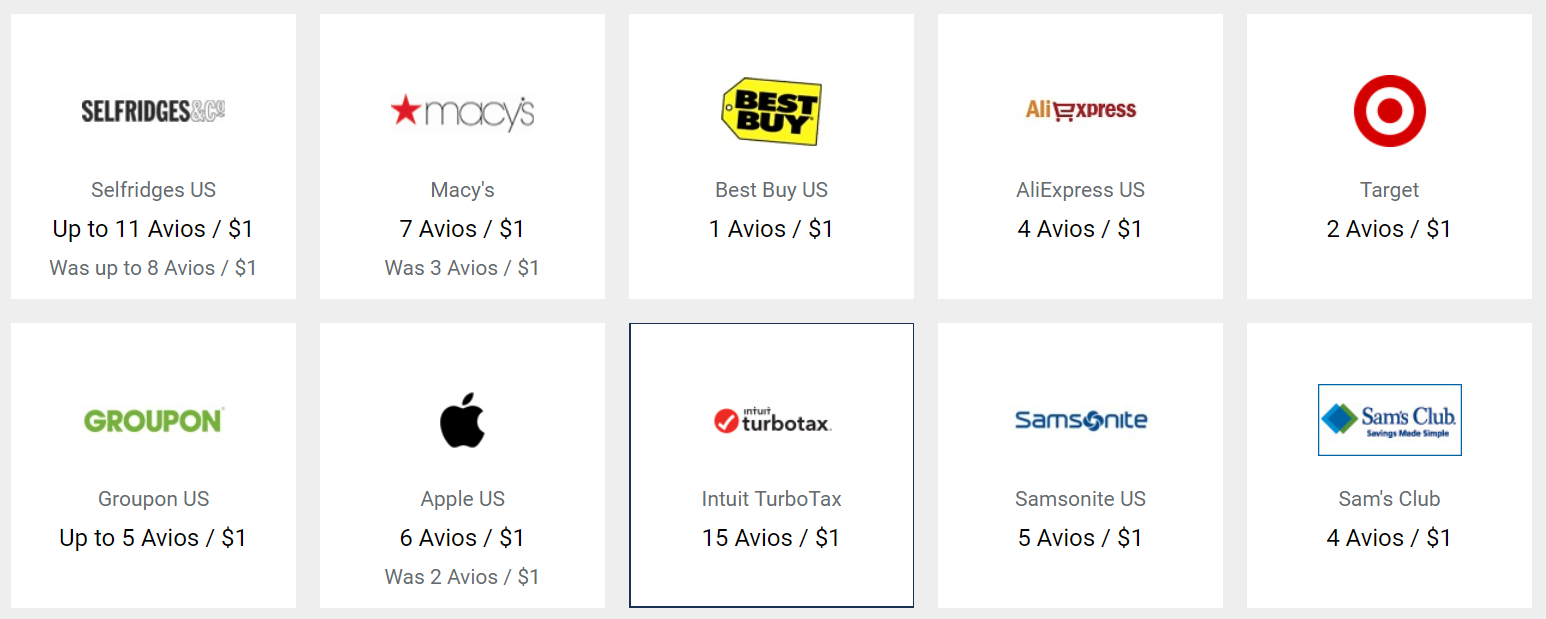 Iberia also offers a shopping portal (found here), but it's designed for European shoppers.  Sometimes this portal comes in handy when the Spanish version of Groupon offers a sale on Avios.
Earn Avios via travel
Flights
When booking paid flights on British Airways, Aer Lingus, Iberia or on any of their partners (such as American Airlines, Alaska Airlines, etc.) you can earn Avios by entering your British Airways Executive Club number (or Iberia or Aer Lingus number) in the reservation.  Keep in mind, though, that in some instances you'll earn more or more valuable miles by crediting your flight to another program.  Once you know the booking class you plan to book, a great way to decide where to credit your miles is via this website: wheretocredit.com.
Hotels

A number of websites offer bonus miles when you book hotels through their sites.  Sometimes they'll charge more than other options, though, so always compare prices before booking.  Here are the sites that I know of that offer British Airways Executive Club Avios as an earning option:
Rocketmiles (this is a refer-a-friend link. We'll both earn 1,000 bonus miles when you complete your first stay)
PointsHound is another similar program, but it does not offer Avios as an earning option
Redeem Avios
Introduction to redeeming Avios
Each of the three Avios programs are distance based.  This means that they charge more points for longer flights.  And, unlike zone-based programs, they don't charge more for crossing borders.  For example, a short flight from the US to Mexico costs the same in Avios as the same distance flight entirely within the US (but taxes and fees may be different).
In general, Avios are great for booking short-distance flights on OneWorld member airlines (and other partner airlines), but not usually great for very long distance flights (but there are exceptions).
Each Avios program has its own award charts and award booking rules.  British Airways tends to be best for relatively short direct flights.  Iberia tends to be better for flights with connections when booking OneWorld partners (such as American Airlines), but they require these awards to be round trip.  Aer Lingus has the same award chart as British Airways, but with fewer airlines that can be booked.  As a result, only British Airways and Iberia are covered below.
Avios Award Charts
When booking an award on British Airways or Iberia operated flights, the number of Avios required depends on which airline you want to fly.  Whether you book the award from your BA account or you Iberia account, the number of required Avios will be the same.  Strangely, the taxes and fees may be different though, so it makes sense to lookup award prices on both websites to find the cheapest option.
The British Airways (BA) and Iberia (IB) award charts are similar but not identical.  Both offer peak and off-peak pricing based on the date flown.  Each has different charts for flying partner airlines such as American Airlines (covered below).
If you intend to fly British Airways or Iberia, then the following award charts are in effect: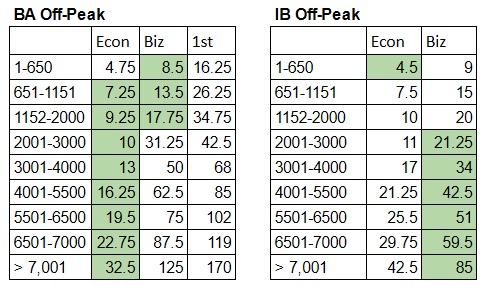 As you can see above, during off-peak dates it is almost always a bit cheaper to fly BA economy vs. Iberia economy.  However, to fly business class, BA is only cheaper for short flights whereas Iberia is much cheaper for long flights (32% cheaper where highlighted in green, above).
Peak dates follow a similar pattern, but the award price differences are more modest: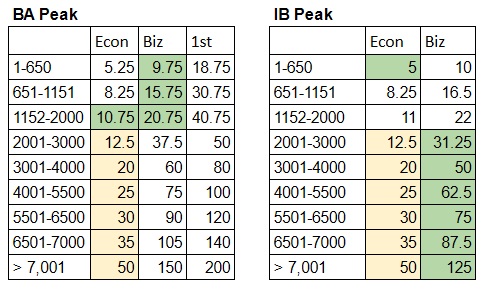 How to book flights via British Airways Executive Club
British Airways lets you book almost all of their partners online.  One notable exception for US based flyers is Alaska Airlines.  To book a flight on Alaska, you can search for award space on AA.com, then call British Airways to book the award.  If they try to charge a phone booking fee, ask for the fee to be waived since Alaska Airlines awards can't be booked online.
To book flights online with BA Avios, you must log into your British Airways Executive Club account (at BA.com), then hover over the "Book" menu item and click "Book a flight with Avios."  This will bring you to a dialog box that lets you input your desired airports, dates, class of service, etc.
Book flights via Iberia Plus
Iberia shows an option to book with Avios directly on their home screen.  Fill out your flight details and make sure to click "Pay with Avios."  You will have to log in before you can go further.
Important: If you want to book flights on any OneWorld carrier other than BA, Iberia, or Aer Lingus, you must search for round-trip awards.  Iberia's website won't show availability on other carriers if you search one-way.
Book flights via Aer Lingus AerClub
With Aer Lingus AerClub, you should use your Aer Lingus log-in credentials to log into Avios.com.  That's right, the same credentials you would use to log into aerlingus.com should work at Avios.com.  There, you'll find an easy award search tool:
Keep in mind that this will only reveal Aer Lingus, BA, and Iberia flights.  If you want to book other partners us BA.com for one-way flights or Iberia.com for round-trip.
Upgrade with Avios
If you pay cash for a British Airways flight, it may be possible to upgrade to the next level of service with Avios.  For example, you can use Avios to upgrade from economy to premium economy; or from premium economy to business; or from business to first class.
The only paid British Airways flights that are not upgradeable in this way are the discount economy fares: Q, O and G.
All other fare classes are upgradeable as long as an award is available in the next level of service.  The price for the upgrade is the difference in price between the awards.  For example, if you want to upgrade from premium economy to business class, you can lookup the cost of a business class award and an economy award.  The upgrade cost will be the difference between those two results.
Sweet spot awards
Fly American Airlines for as few as 11,000 Avios round-trip (including flights to the Caribbean)
When looking for short round-trip American Airlines flights, Iberia.com is a great place to look.  With their distance based award chart, American Airlines flights start at only 11,000 Avios round-trip.  Most real world flights will be a bit more, but many fall in the 1,000 to 2,000 mile band and price out at only 17,000 Avios round-trip.  Full details can be found here: From 11K RT on American: A sweet spot for North American flight redemptions.
Fly American Airlines domestic first class for 34,000 Avios or less. Includes flights to Canada, Mexico, Caribbean.
When looking for medium length round-trip American Airlines flights, Iberia is a great option for booking first class.  With Iberia's distance based award chart, American Airlines flights up to 2,000 miles round trip cost only 34,000 Avios (compare to AA's usual price of 50K miles).  Shorter flights can cost as little as 22,000 Avios round-trip.
Fly American Airlines business class to western Europe or northern South America for 100,000 Avios or less.
A sweet spot in Iberia's American Airlines award chart is to fly up to 8,000 miles round-trip in business class for only 100,000 Avios.  See this post for full details: Searching for business class sweet-spots in Iberia's OneWorld award chart.
Fly west coast to Hawaii on AA or Alaska for only 13,000 Avios each way
Many of the routes from the US west coast to Hawaii fall just under 3,000 miles each way.  As a result, British Airways prices those awards at only 13,000 Avios.
Fly Montreal to Dublin one-way for only 13,000 Avios economy or 38,750 Avios business class
Flights between Montreal and Dublin are just short enough to fall into this very cheap award band.  Full details can be found here.
Fly within Japan one-way for only 6K Avios
When visiting Japan, you can buy a rail pass to get around the country by train.  Alternatively, you can fly around the country for only 6K Avios for each leg.  Full details can be found here.
Note that United offers an even better sweet spot for flights within Japan for only 5K miles.  Details here
Manage Avios
Combine Avios across programs (e.g. move points from Iberia to BA)
Avios can be freely moved across programs: BA, Iberia, and Aer Lingus.  To do so, you must have an account with each program.  And, it's very important to ensure that all of your personal information (name, email, birth date, address, phone) is exactly the same  with each program.
If you want to move points to/from Iberia, note these additional requirements:
You cannot move points to/from Iberia within 90 days of joining the 

Iberia

 Plus program.  So, this is a good reason to enroll in Iberia Plus now, even if you don't have any immediate need for it.
Your Iberia account must have had some activity within the past 36 months (points earned or redeemed). An easy option is to transfer 1,000 points from Amex Membership Rewards or Chase Ultimate Rewards.
If moving points from Iberia to British Airways, your British Airways account cannot be a household account (but you may be able to get around this by transferring points first to Aer Lingus and then to British Airways).
Full details about moving points from one program to another can be found here: How to transfer Avios between Aer Lingus, BA, and Iberia.
Combine Avios across people (share points with family members)
The best way to share Avios with others is via a Household Account.  With a Household Account, Avios held previously in separate accounts are pooled together.  Full details about Household Accounts can be found on BA's website here.