Transfer Partner Master List Update 10/4/20: As of 1/1/2021, Amex Membership Rewards points will no longer transfer to El Al (H/T Travel With Grant).  El Al had awful award prices anyway, so I don't see this as much of a loss.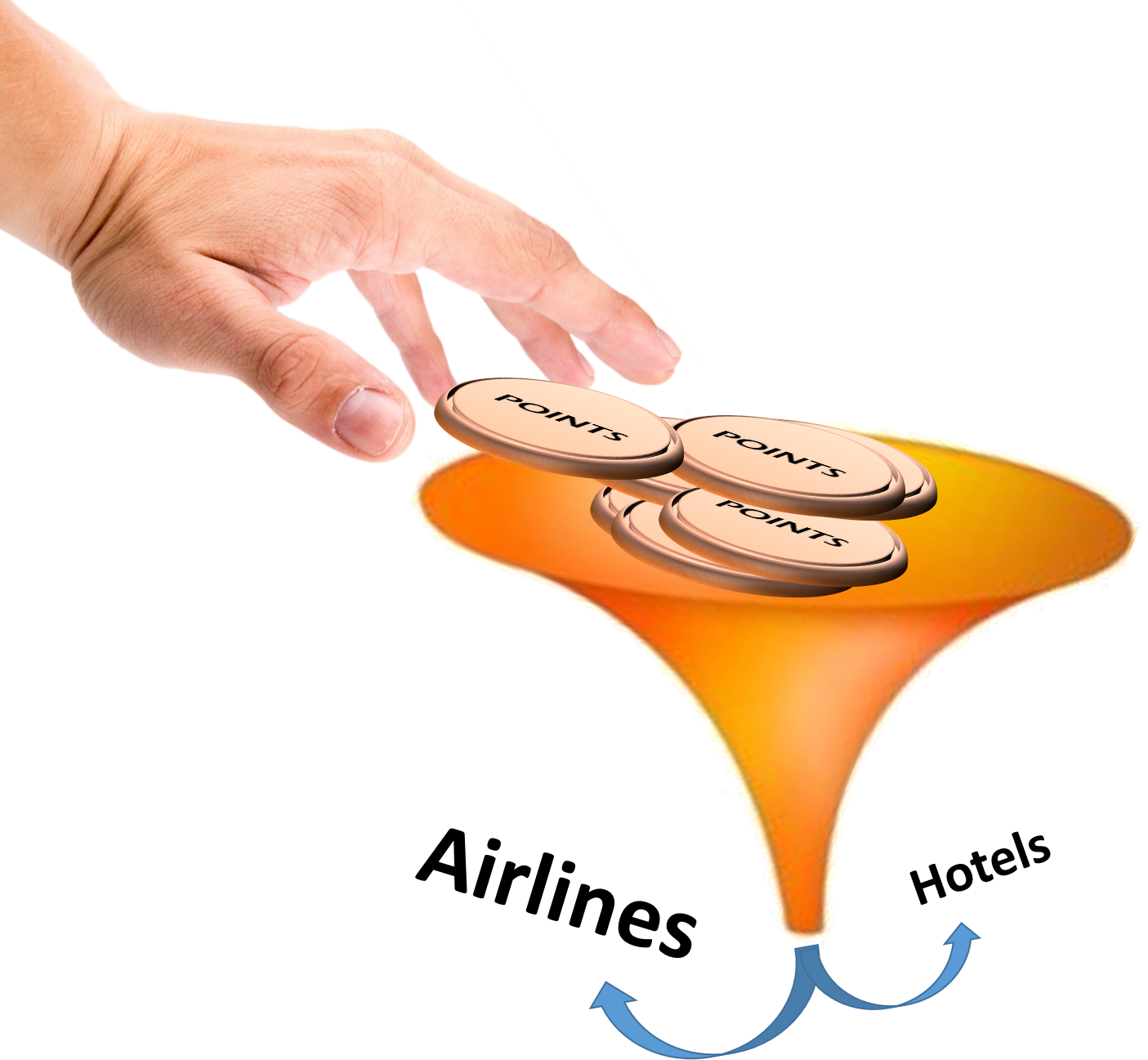 In my opinion, transferable points programs are the most valuable points to accumulate.  These points can often be used at better than 1 cent per point value to book travel.  Even better, points can be strategically transferred to airline and hotel programs when valuable awards are available.  This page details all of the point transfers available from a number of bank programs as well as from Marriott Bonvoy.
If you prefer spreadsheets, you can find the Google Docs version of this post here.
For more about transferable points programs, please see: Transferable Points Programs Compared.
Tips
Read all about each program:
Don't transfer yet: Don't transfer points until high value awards are available and you are ready to book them.  Transfers are one-way only.  Transferable points are valuable for their flexibility. Once you transfer, you are locked into a single program that may or may not have awards available.
Share points: Each of the guides listed above detail how to share points with others.
Watch for transfer bonuses: Amex and Citi often offer improved transfer ratios through limited time transfer bonuses.  And, sometimes airlines offer bonuses for transfers from hotels so that can be a good way to use Marriott points.
It's sometimes cheaper to pay with points: Each of the bank programs offer ways to pay for travel with points rather than transferring those points to airline or hotel programs. Sometimes you'll spend fewer points this way.
Current Transfer Bonuses
Here is a list of all of the current transfer bonuses we're aware of:
Transfer Points to Hotel Loyalty Programs
| Rewards Program | Amex Transfer Ratio | Chase Transfer Ratio | Capital One Transfer Ratio | Indirect Transfer Notes |
| --- | --- | --- | --- | --- |
| Accor Live Limitless | | | 1000 to 500 | |
| Choice | 1 to 1 | | | |
| Hilton | 1 to 2 | 2 to 3* | | * Transfer first to Virgin Atlantic, then convert Virgin Atlantic miles 1 to 1.5 to Hilton. Since Hilton points are usually worth only around .45 cents each towards free nights, this isn't usually a good idea. |
| Hyatt | | 1 to 1 | | |
| IHG | 1 to 1* | 1 to 1 | | * Transfer first to Virgin Atlantic, then convert Virgin Atlantic miles 1 to 1 to IHG. Note: I do not recommend this. See: Virgin Atlantic transfers to IHG no longer count towards status |
| Marriott Bonvoy | 1 to 1 | 1 to 1 | | |
| Wyndham | 2 to 1* | | 1000 to 750 | * Transfer to Hawaiian Airlines miles, then to Caesar's Total Rewards 2 to 1, then to Wyndham 1 to 1. Details here. |
* In some cases it is possible to transfer to a hotel program indirectly by first transferring to a different program.  Transfer ratios with asterisks are the indirect transfers.
Transfer Points to Airline Loyalty Programs
In most cases it is free to transfer points.  One exception is with Amex.  For transfers to US airlines only, Amex usually charges an "excise tax offset fee" of $0.0006 per point (with a maximum fee of $99). Airlines subject to this fee are noted below.  Note though that Amex has waived these fees through 12/31/2020.
Only the first 10 airline programs in our database are shown below automatically.  Click "next" or use the search box to find what you're looking for.
Rewards Program
Amex Transfer Ratio
Chase Transfer Ratio
Citi Transfer Ratio
Marriott Transfer Ratio
Capital One Transfer Ratio
Aegean Miles + Bonus
60K to 25K
Aeroflot Bonus
60K to 25K
AeroMexico ClubPremier
1 to 1.6
1 to 1
60K to 25K
1000 to 750
Air Canada Aeroplan
1 to 1
60K to 25K
1000 to 750
Air China Phoenix Miles
60K to 25K
Air France KLM Flying Blue
1 to 1
1 to 1
1 to 1
(instant)
60K to 25K
1000 to 750
Air New Zealand Air Points
60K to 307
Alaska MileagePlan
60K to 25K
Alitalia MilleMiglia
1 to 1
60K to 25K
1000 to 750
American AAdvantage
60K to 25K
ANA Mileage Club
1 to 1
60K to 25K
Asiana
60K to 25K
Avianca LifeMiles
1 to 1
1 to 1
(instant)
60K to 25K
1000 to 750
Avios
1 to 1
1 to 1
60K to 25K
6000 to 3000*
Cathay Pacific Asia Miles
1 to 1
1 to 1
(instant)
60K to 25K
1000 to 750
China Eastern Airlines
60K to 25K
China Southern Airlines' Sky Pearl Club
60K to 25K
Copa Airlines ConnectMiles
60K to 25K
Delta SkyMiles
1 to 1 plus excise tax
60K to 25K
Emirates Skywards
1 to 1
1 to 1
(instant)
1 to 1
60K to 25K
1000 to 500
Etihad Guest
1 to 1
1 to 1
(~1 week)
60K to 25K
1000 to 750
EVA Air Infinity MileageLands
1 to 1
(~2 days)
1000 to 750
Finnair Plus+
1000 to 750
Frontier Miles
60K to 25K
Hainan Airlines
60K to 25K
Hawaiian Miles
1 to 1 plus excise tax
60K to 25K
JAL (Japan Airlines) Mileage Bank
60K to 25K
Jet Airways Inter Miles
1 to 1
(instant)
60K to 25K
JetBlue
250 to 200 plus excise tax
1 to 1
1 to 1
(instant)
60K to 12.5K
1000 to 750
Korean Airlines
60K to 25K
LATAM Pass
60K to 25K
Malaysia Enrich
1 to 1
(~2 days)
Miles & More
Suspended
Multiplus
60K to 25K
Qantas Frequent Flyer
1 to 1
1 to 1
(~2 days)
60K to 25K
1000 to 750
Qatar Privilege Club
1 to 1
(~2 days)
60K to 25K
Saudia Airlines
60K to 25K
Singapore Airlines KrisFlyer
1 to 1
1 to 1
1 to 1
(~2 days)
60K to 25K
1000 to 500
South African Airways Voyager
60K to 25K
Southwest Rapid Rewards
1 to 1
60K to 25K
TAP Air Portugal
60K to 25K
Thai Airways International Royal Orchid Plus
1 to 1
(~1 week)
60K to 25K
Turkish Airlines Miles & Smiles
1 to 1
(~2 days)
60K to 25K
United MileagePlus
1 to 1
(instant)
60K to 27.5K
Virgin Atlantic Flying Club
1 to 1
1 to 1
1 to 1
(instant)
60K to 25K
Virgin Australia Velocity Frequent Flyer
60K to 25K
8000 to 4000*
Vueling Club
60K to 25K
See Also