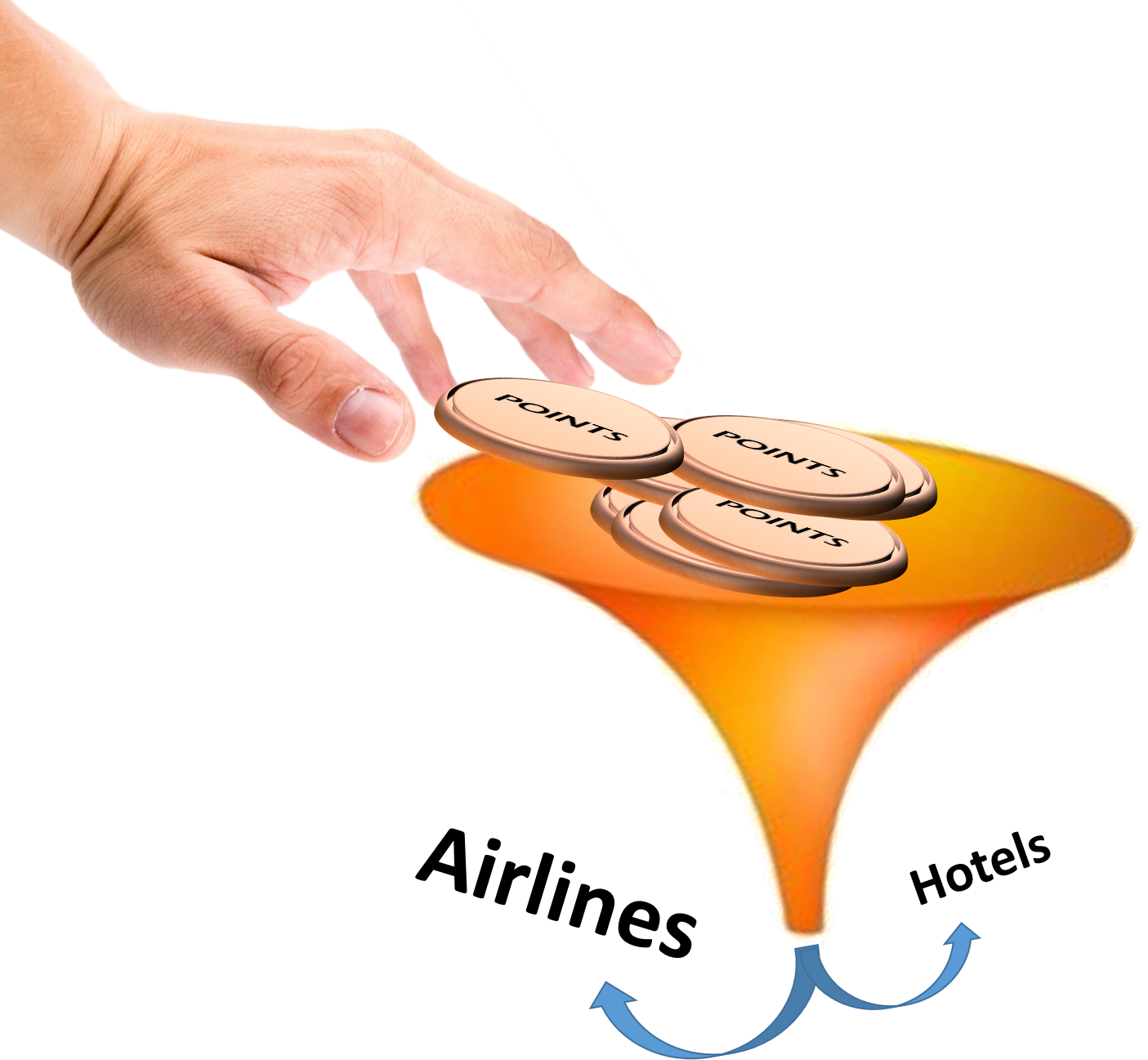 In my opinion, transferable points programs are the most valuable points to accumulate.  These points can often be used at better than 1 cent per point value to book travel.  Even better, points can be strategically transferred to airline and hotel programs when valuable awards are available.  This page details all of the point transfers available from a number of bank programs.
If you prefer spreadsheets, you can find the Google Docs version of this post here.
For more about transferable points programs, please see: Transferable Points Programs Compared.
Where did Marriott go?
Marriott offers a huge number of transfer partners, most of which transfer from Marriott 3 to 1.  I decided that this "Master List" page would be easier to read if I limited it to transferable points programs that offer 1 to 1 transfers to most programs.  All Marriott transfer options can be found here: Marriott Bonvoy Transfer Partners.
Tips
Read all about each program:
Don't transfer yet: Don't transfer points until high value awards are available and you are ready to book them.  Transfers are one-way only.  Transferable points are valuable for their flexibility. Once you transfer, you are locked into a single program that may or may not have awards available.
Share points: Most of the guides listed above detail how to share points with others.
Watch for transfer bonuses: Amex, Capital One, and Citi often offer improved transfer ratios through limited time transfer bonuses.
It's sometimes cheaper to pay with points: Most bank programs offer ways to pay for travel with points rather than transferring those points to airline or hotel programs. Sometimes you'll spend fewer points this way.
Current Transfer Bonuses
Here is a list of all of the current transfer bonuses we're aware of:
Best Transfer Partners
The following list of transfer partners are limited to those that we find most useful. Plenty of other programs are useful for select purposes and so you'll find details about those later in this post.
Airline Loyalty Programs
In most cases it is free to transfer points.  One exception is with Amex.  For transfers to US airlines only, Amex usually charges an "excise tax offset fee" of $0.0006 per point (with a maximum fee of $99). Airlines subject to this fee are noted below.
Direct Transfers to Airline Loyalty Programs
Only the first 10 airline programs in our database are shown below automatically.  Click "next" or use the search box to find what you're looking for.
Indirect Transfers to Airline Loyalty Programs
It's often possible to transfer first to one program and from there transfer to another.  Only the first 5 indirect transfer options in our database are shown below automatically.  Click "next" or use the search box to find what you're looking for.
| Rewards Program | Amex Indirect Transfer | Chase Indirect Transfer | Citi Indirect Transfer | Capital One Indirect Transfer | Brex Indirect Transfer | Bilt Indirect Transfer |
| --- | --- | --- | --- | --- | --- | --- |
| AeroMexico ClubPremier | | 50K to 50K via Hyatt | | | | 50K to 50K via Hyatt |
| Air China Phoenix Miles | | 50K to 40K via Hyatt | | | | 50K to 40K via Hyatt |
| American AAdvantage | | 50K to 25K via Hyatt | | | | |
| ANA Mileage Club | | 50K to 25K via Hyatt | | | | 50K to 25K via Hyatt |
| Asiana | | 50K to 25K via Hyatt | | | | 50K to 25K via Hyatt |
| Cathay Pacific Asia Miles | | 50K to 25K via Hyatt | | | | 50K to 25K via Hyatt |
| China Southern Airlines' Sky Pearl Club | | 50K to 25K via Hyatt | | | | 50K to 25K via Hyatt |
| Delta SkyMiles | | 50K to 25K via Hyatt | | | | 50K to 25K via Hyatt |
| Etihad Guest | | 50K to 25K via Hyatt | | | | 50K to 25K via Hyatt |
| Hawaiian Miles | | 50K to 25K via Hyatt | | | | 50K to 25K via Hyatt |
| JAL (Japan Airlines) Mileage Bank | | 50K to 25K via Hyatt | | | | 50K to 25K via Hyatt |
| Korean Airlines | | 50K to 25K via Hyatt | | | | 50K to 25K via Hyatt |
| Qantas Frequent Flyer | | 50K to 30K via Hyatt | | 6K to 3K via Accor | | 50K to 30K via Hyatt |
| Royal Brunei Royal Skies | | 50K to 25K via Hyatt | | | | 50K to 25K via Hyatt |
| Thai Airways International Royal Orchid Plus | | 50K to 25K via Hyatt | | | | 50K to 25K via Hyatt |
| Virgin Australia Velocity Frequent Flyer | | | | 8K to 4K via Accor | | |
Hotel Loyalty Programs
Direct Transfers to Hotel Loyalty Programs
Rewards Program
Amex Transfer Ratio
(and transfer time)
Chase Transfer Ratio
(and transfer time)
Citi Transfer Ratio
(and transfer time)
Capital One Transfer Ratio
(and transfer time)
Brex Transfer Ratio
(and transfer time)
Bilt Transfer Ratio
(and transfer time)
Accor Live Limitless
1000 to 500 (Unknown)
Choice
1 to 1 (Instant)
1 to 2 (Instant)
1 to 1 (Instant)
Hilton
1 to 2 (1 day)
Hyatt
1 to 1 (Instant)
1 to 1 (~1 Minute)
IHG
1 to 1 (5 hours)
1 to 1 (~1 Minute)
Marriott Bonvoy
1 to 1 (~1 day)
1 to 1 (~1 day)
Wyndham
1 to 1 (Instant)
1 to 1 (Instant)
Indirect Transfers to Hotel Loyalty Programs
It's often possible to transfer first to one program and from there transfer to another:
| Rewards Program | Amex Indirect Transfer | Chase Indirect Transfer | Citi Indirect Transfer | Capital One Indirect Transfer | Brex Indirect Transfer | Bilt Indirect Transfer |
| --- | --- | --- | --- | --- | --- | --- |
| Hilton | | 10K to 15K via Virgin Atlantic | 10K to 15K via Virgin Atlantic | 10K to 15K via Virgin Atlantic | | 10K to 15K via Virgin Atlantic |
| IHG | 10K to 10K via Virgin Atlantic | | 10K to 10K via Virgin Atlantic | 10K to 10K via Virgin Atlantic | | 10K to 10K via Virgin Atlantic |
| Wyndham | 2 to 1 via Hawaiian (1 to 1) then Caesar's Total Rewards (2 to 1) | | | | | |
Other Loyalty Programs
Direct Transfers to Other Loyalty Programs
Rewards Program
Amex Transfer Ratio
(and transfer time)
Chase Transfer Ratio
(and transfer time)
Citi Transfer Ratio
(and transfer time)
Capital One Transfer Ratio
(and transfer time)
Brex Transfer Ratio
(and transfer time)
Bilt Transfer Ratio
(and transfer time)
Shop Your Way Rewards
1 to 10 (Instant)
Indirect Transfers to Other Loyalty Programs
It's often possible to transfer first to one program and from there transfer to another:
| | | | | | | |
| --- | --- | --- | --- | --- | --- | --- |
| Rewards Program | Amex Indirect Transfer | Chase Indirect Transfer | Citi Indirect Transfer | Capital One Indirect Transfer | Brex Indirect Transfer | Bilt Indirect Transfer |
See Also