Capital One Miles have become a premier transferable currency system over the past several years. In addition to Capital One's long-popular ability to cover travel charges with points, Capital One miles cards feature 1:1 transfers to a range of valuable airline and hotel partners. Furthermore, Capital One makes it very easy to combine rewards between your cards or even between cardholders. Capital One's "Miles" rewards compete directly with other transferable points programs such as Chase Ultimate Rewards, Citi ThankYou Points, and Amex Membership Rewards.
Capital One Miles can be redeemed for $0.01 each toward travel purchases or transferred 1:1 to most airline and hotel partners. Miles can be earned via credit card bonuses and ongoing spend and cash back can be converted to miles if transferred to a miles-earning card. In addition to being used to cover travel purchases or transferred to partners, Capital One Miles can redeemed for gift cards or converted to cash back (Note: cash back redemptions are a horrible value).
What's new? This guide has been updated to include the latest information about earning and redeeming Capital One miles as well as to add information about Capital One Entertainment and both Capital One Shopping and Capital One Offers.
Earning Capital One "Miles"
Earn Capital One Miles from credit cards
The easiest and quickest way to earn Capital One "miles" is through Capital One® Venture® and Capital One® Spark® Miles credit card welcome offers.  Below are the current Capital One cards that earn Capital One miles.
Move rewards: Cash back can be converted to miles and rewards can be moved between cards and cardholders
Capital One makes it very easy to move / combine rewards. It is easy to combine rewards among your own accounts online. Moving rewards to other cardholders is also quite easily done over the phone.
Of note, cash back earned on Capital One cards like the Capital One Savor Card can be converted to miles if you have one of the above miles-earning cards or you transfer your rewards to someone who does. While it is not a published program benefit, we know from personal experience as well as the experience of readers that cash back can be converted to miles at a rate of $0.01 to 1 mile. This means that cash back earned from spend and welcome bonuses on cash back cards can potentially become airline miles when award tickets yield significantly more value.
For instance, see the screen shot below from a cardholder who has cash back earned on a Spark Miles card. The same cardholder has a Venture card and can convert (as an example) $100 in cash back to 10,000 miles.
Note that you can make this conversion between your own accounts by first clicking "Redeem" under your rewards balance.
Then choose "Move Rewards".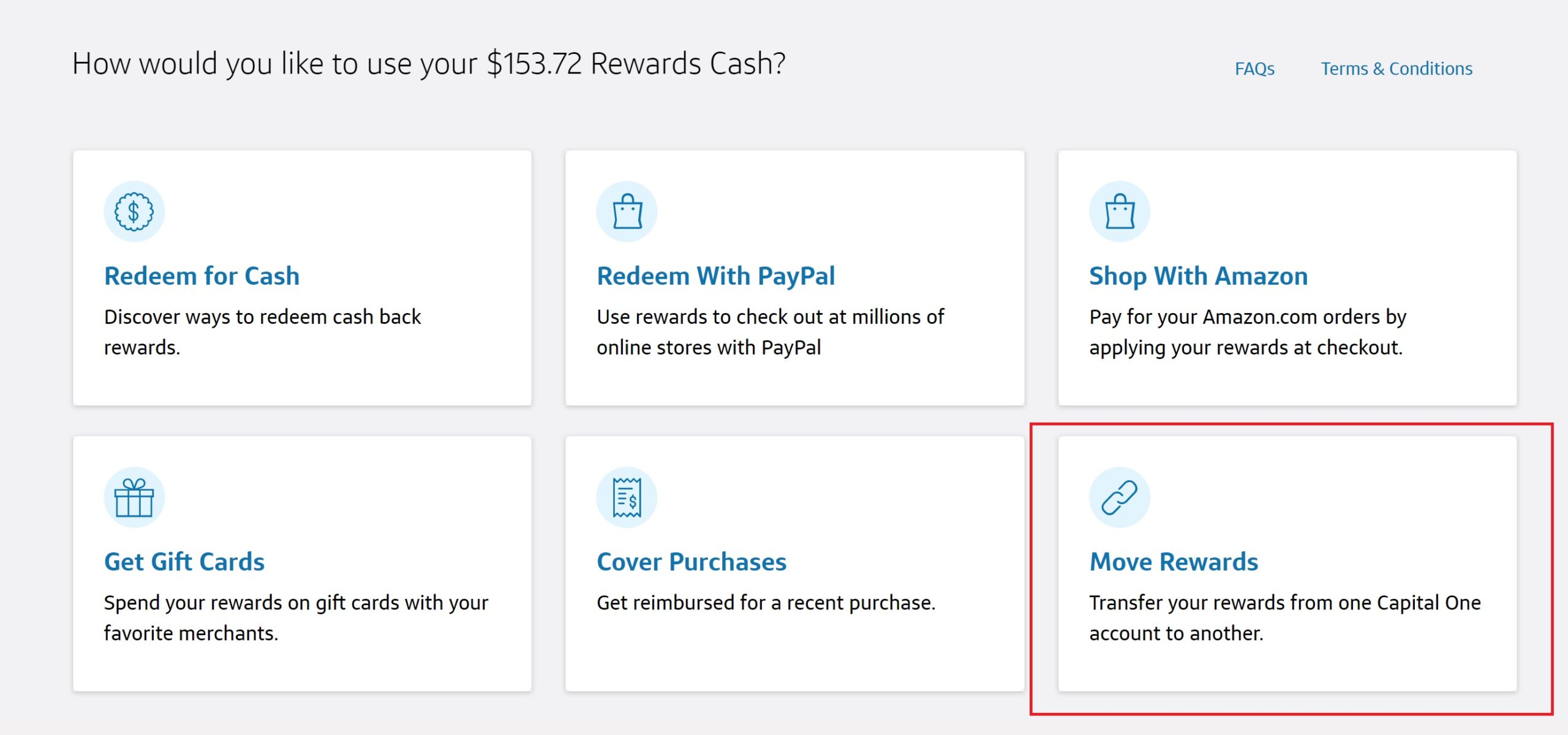 From there you can choose an account to which you would like to move rewards.
Note that cash back can be moved to miles cards, but miles can not be moved to cash back cards. The conversion is one-way-only.
Also note that while a cardholder can self-serve for transfers between their own accounts, you will need to call the number on the back of your card to move rewards to another cardholder. Capital One allows unlimited transfers from cardholder to cardholder and my wife has even been able to call and move cash back from her Spark card directly to miles on my Venture card. Again, this isn't a published benefit and there is always a chance that a phone representative may not know how to do it, but personal experience shows that it can be done and is typically easy.,
Redeem Capital One "Miles"
Capital One "miles" are worth 1 cent each when redeemed to cover travel purchases. Miles can also be redeemed for gift cards (most gift cards offer $0.01 in value per mile in fixed denominations). It is possible to get even more value by transferring points to airline partners.
Erase travel purchases
Purchases made from airlines, hotels, rail lines, car rental agencies, limousine services, bus lines, cruise lines, taxi cabs, travel agents and time shares are generally considered to be travel purchases for the purposes of requesting a statement credit via Capital One's "Cover Travel Purchases" (though note that this is based on the merchant category code assigned to them by the merchant). "Cover Travel Purchase" requests for a statement credit must be made within 90 days of the date your travel purchase posts to your account and can be done easily online.
Since you can make your purchases directly from travel providers, you can make bookings that qualify for elite credit / benefits and then apply your Capital One Rewards "miles" after the fact. Another somewhat unique feature in the Capital One system is that you do not need to have earned the necessary miles before making a booking since you have 90 days from the date the charge posts to your account to make a redemption.
Book through Capital One Travel
Miles can be used to book travel at a value of $0.01 per 1 mile to book travel through Capital One Travel, the card issuer's travel-booking portal. While cardholders can already book travel through other channels and redeem miles at a value of $0.01 per mile, there are some reasons one might consider booking through the Capital One Travel portal.
For starters, one can book travel redeeming miles from the start through the portal, eliminating the need to remember to go back and erase the charges after they finalize/post to your account. Venture X cardholders will want to book through Capital One Travel each year because they receive an annual $300 credit for travel purchases made through Capital One Travel. Furthermore, we've seen the Capital One Travel portal offer travel-booking bonuses / discounts that could be appealing. Additionally, Capital One Venture X cardholders earn 10x miles for booking paid travel through Capital One Travel (Capital One Venture Credit Card holders earn 5x miles for Capital One Travel purchases).
The Capital One Travel portal also comes with some interesting benefits. These include price matching and price drop protection on flights when you book at a time that Capital One recommends.
Price matching within 24hrs of booking is a pretty standard practice in the online travel agency business but is less common via credit card booking portals. It's great to see that feature here.
While we haven't yet tested out price drop protection on flights, it sounds interesting from the Capital One Frequently Asked Questions:
What is price drop protection?

We're so confident in our price prediction tool for flights that if you 'book now' when we recommend, we automatically offer free price drop protection. With price drop protection, we keep monitoring the price of the flight after you buy it, and if the price drops, we'll give you a refund up to the maximum amount specified when you booked.
That could make it worthwhile to book via Capital One Travel even on cash tickets if you expect there may be some price volatility.
Transfer Capital One Miles to airline and hotel partners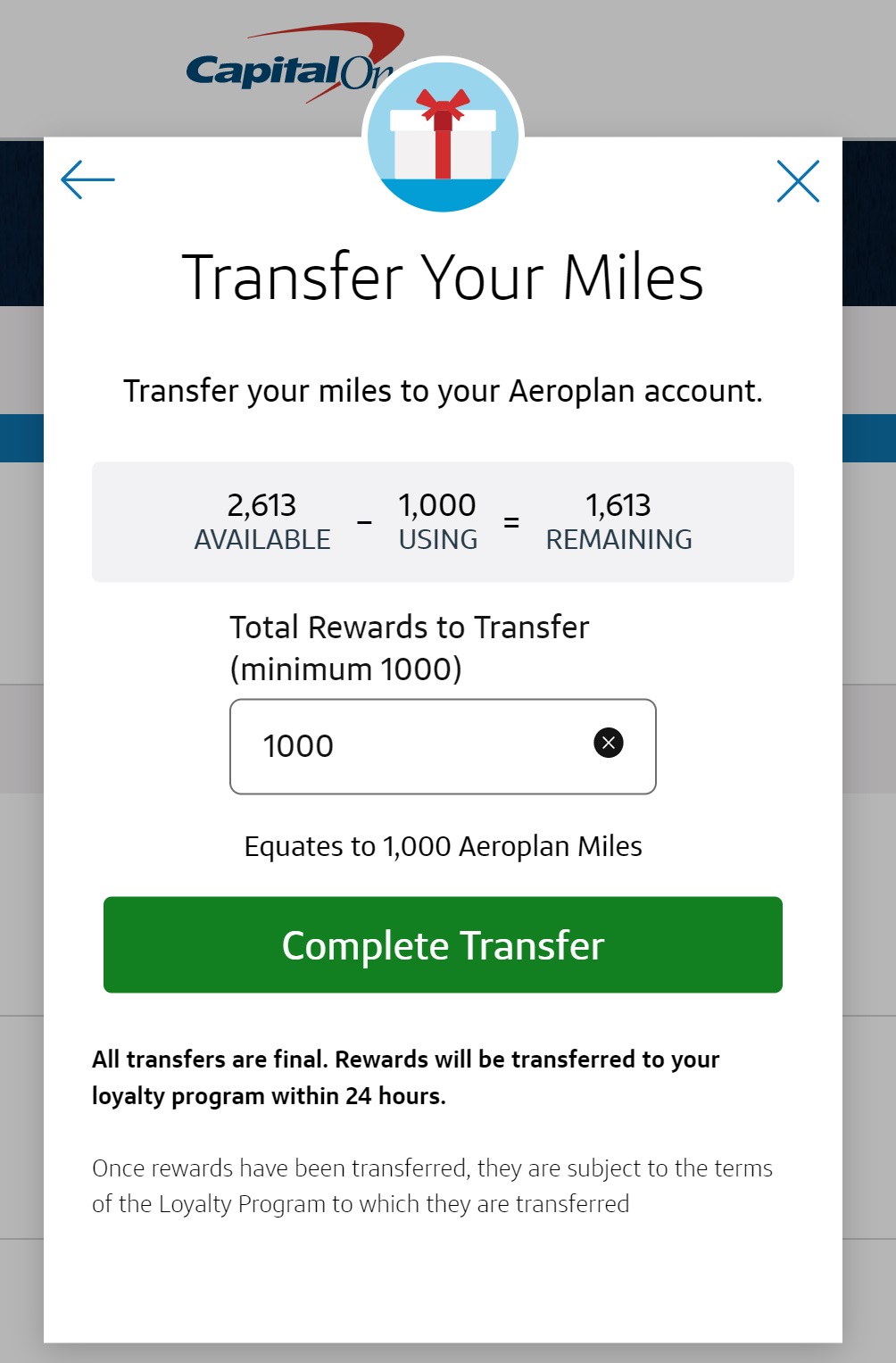 Often the best use of a transferable currency is to transfer points to airline partners in order to book high value awards.  Your best bet is usually to wait until you find a great flight award before transferring points.
Transferring to your chosen program is simple: log in to your credit card account, click "Redeem" under your Rewards Miles balance, then choose "Convert Rewards" to transfer to airline and hotel partners.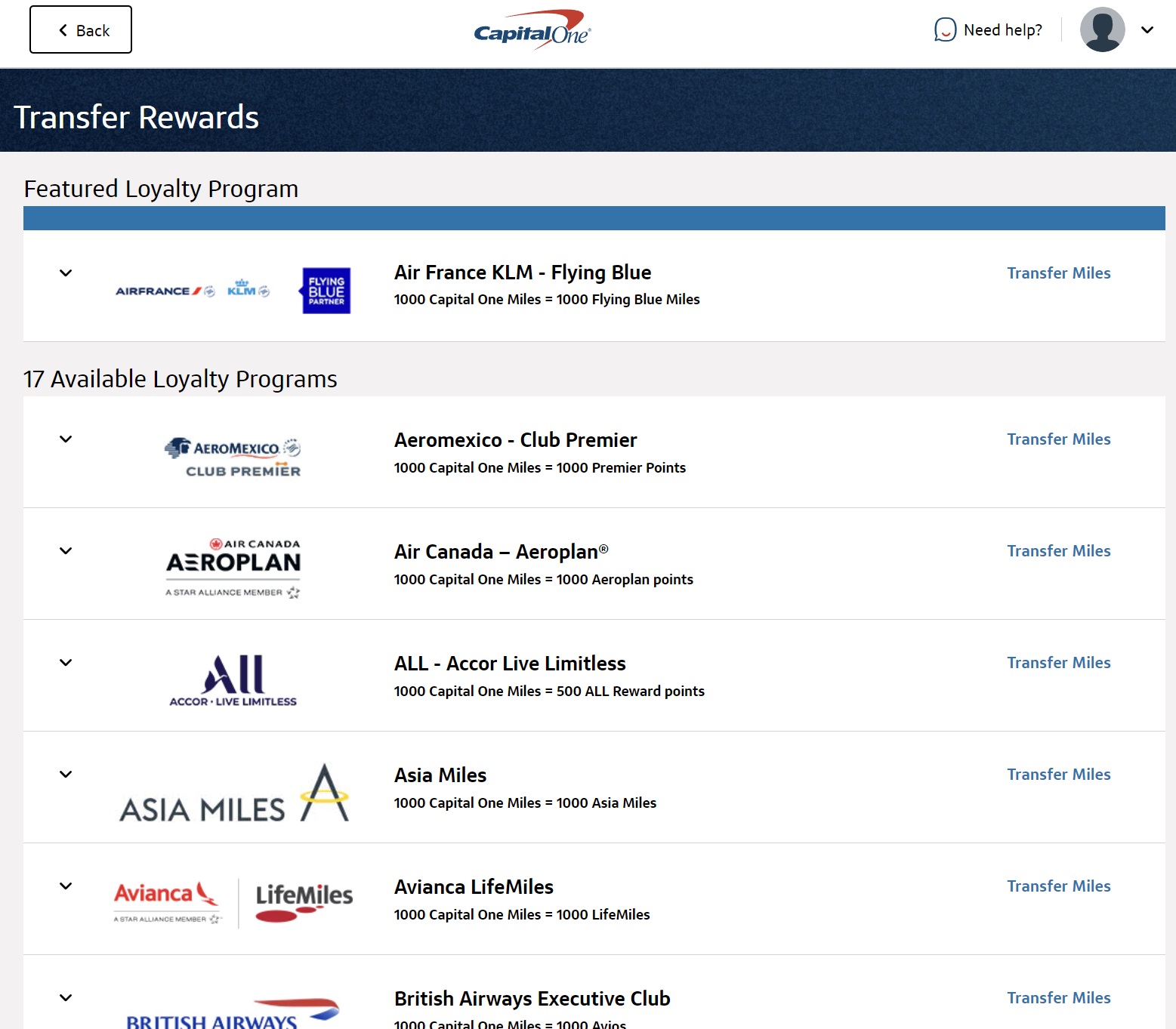 From there, select your chosen program and enter your loyalty account information as well as the number of miles you wish to transfer in increments of 100. For more on this process, see: How to transfer Capital one miles to partners.
It is notable that Capital One allows transfers in increments of just 100 miles (with a minimum of 1,000 miles). This makes it easier to top off an account more precisely and avoid orphaning extra miles.
Current Transfer Bonuses
Capital One has frequently offered transfer bonuses. Any current transfer bonuses are listed here:
| | |
| --- | --- |
| Transfer Bonus Details | End Date |
Transfer Partners
| Rewards Program | Capital One Transfer Ratio | Best Uses |
| --- | --- | --- |
| Accor Live Limitless | 1000 to 500 | Use to pay hotel bill with value of 2 Euro cents per point. In some cases (such as hotel to airline transfer bonuses) it may make sense to convert Accor points to the following airline miles at a 1 to 1 ratio: Finnair, Iberia, Qantas, or Virgin Australia |
| Aer Lingus Avios | 1 to 1 via BA | Fuel surcharges are sometimes lower when booking with Aer Lingus (Avios.com) rather than British Airways, Qatar, or Iberia. It's possible to move points (Avios) between Iberia, British Airways, Aer Lingus, and Qatar.  See also: Avios Sweet Spots for Award Tickets. |
| AeroMexico ClubPremier | 1 to 1 | AeroMexico is a SkyTeam partner. Club Premier points can be used to book flights on AeroMexico, SkyTeam alliance members (such as Delta or Korean Air), or on select partner airlines. Unfortunately many have reported that awards are extremely difficult to book through AeroMexico so we do not recommend transferring points to this program. If you want to fly AeroMexico, look to transfer points to another SkyTeam partner (such as Air France) and then book AeroMexico with that program. |
| Air Canada Aeroplan | 1 to 1 | Redeem for Star Alliance flights and/or flights with Air Canada partners (such as Etihad). No fuel surcharges; $39 CAD award booking fee; 5,000 points to add stopover on one-way award. See: Air Canada Aeroplan: Everything you need to know. |
| Air France KLM Flying Blue | 1 to 1 | Monthly Air France Promo Awards often represent very good value. Air France miles can be used to book Sky Team awards, including Delta awards. Air France often offers very good business class award pricing between the US and Europe & Israel. |
| Avianca LifeMiles | 1 to 1 | Avianca LifeMiles can be great for Star Alliance awards. They offer reasonable award prices and no fuel surcharges on awards. They also offer shorthaul awards within the US (for flying United, for example) for as few as 7,500 miles one-way. Best of all, their mixed-cabin pricing can lead to fantastic first-class award prices. See this post for details. |
| British Airways Avios | 1 to 1 | While flights on British Airways itself often incur outrageously high fuel surcharges, many BA partners charge low or no fuel surcharges. Excellent value can be had in redeeming BA points for short distance flights. It's possible to move points (Avios) between Iberia, British Airways, Aer Lingus, and Qatar. See also: Avios Sweet Spots for Award Tickets. |
| Cathay Pacific Asia Miles | 1 to 1 | Cathay Pacific has a decent distance based award chart, but they no longer allow stopovers longer than 24 hours. Cathay Pacific Asia Miles can be a good option for booking American Airlines flights with a distance based award chart, especially if other OneWorld Alliance miles aren't available. For long distance flights, it is possible to reduce the cost of a premium cabin award by adding on a lower cabin segment. See this post for details. |
| Choice | 1 to 1 | Choice Privileges points seem to be randomly valuable within the US, but dependably valuable internationally in expensive locations such as Scandinavia and Japan. Points can sometimes offer great value when used towards participating Preferred Hotels of the World. |
| Emirates Skywards | 1 to 1 | The best use of Emirates miles has been to fly Emirates itself. Unfortunately fuel surcharges can be steep. See: Emirates Sweet Spot Awards - First class from 30K miles round trip. |
| Etihad Guest | 1 to 1 | Etihad offers a distance based award chart for flying Etihad and another for its partners. Points may offer good value for expensive but short-distance flights. |
| EVA Air Infinity MileageLands | 1000 to 750 | If you want to fly one of the best business class products in the sky, the best way to snag EVA flights is with their own miles since they release more award space to their own members. One-way business class flights from the US to Taipei cost 75K to 80K miles. Fuel surcharges are very low on these routes. |
| Finnair Plus+ | 1 to 1 | Award prices are quite high compared to competing programs. Interestingly, miles can be exchanged for tier points (towards elite status). |
| Iberia Avios | 1 to 1 via BA | Iberia offers very low award prices on their own flights and a very reasonable 25 Euro cancellation fee. Partner awards can offer good value under some circumstances as well, but these are usually nonrefundable. Fuel surcharges are sometimes lower when booking with Iberia rather than British Airways, Aer Lingus, or Qatar. It's possible to move points (Avios) between Iberia, British Airways, Aer Lingus, and Qatar. See also: Avios Sweet Spots for Award Tickets. |
| Qantas Frequent Flyer | 1 to 1 | Best use is probably for flights on El Al with no fuel surcharges. Also useful for short AA flights. Qantas offers distance based award charts similar to Cathay Pacific. Both are OneWorld Alliance members. I recommend comparing award prices across both programs before transferring to either. Qantas offers round the world business class awards for only 280,000 points (but with many restrictions) |
| Qatar Privilege Club Avios | 1 to 1 via BA | Qatar has reasonable award prices for flying Qatar itself. Points are now transferable 1 to 1 to British Airways (and from there to Aer Lingus or Iberia) |
| Singapore Airlines KrisFlyer | 1 to 1 | Use to book Singapore Airlines First Class awards (generally reserved for their own members), Alaska Airlines economy awards, or for Star Alliance awards (including United Airlines). |
| TAP Air Portugal | 1 to 1 | |
| Turkish Airlines Miles & Smiles | 1 to 1 | Miles & Smiles offers a number of awesome sweet-spot awards including 7.5K one-way anywhere within the US, even to Hawaii. Many awards cannot be booked online but can be booked via phone or email. See: Turkish Miles & Smiles Complete Guide and Turkish business class sweet spots from the US. |
| Virgin Atlantic Flying Club | 1 to 1 | Virgin Atlantic offers a few great sweet spot awards including US to Europe on Delta One business class for 50K points one-way. See: Best uses for Virgin Atlantic points (Sweet Spot Spotlight). |
| Wyndham | 1 to 1 | Wyndham often allows booking multi-room suites for the same price as a standard room. It's sometimes possible to get great value from points in that way. Bonus: award nights are not subject to resort fees. Additionally, you can book Vacasa vacation rentals for only 15K points per room per night. Wyndham Earner cards offer automatic 10% discount on award stays. |
Capital One Entertainment experiences (baseball games, concerts, and more)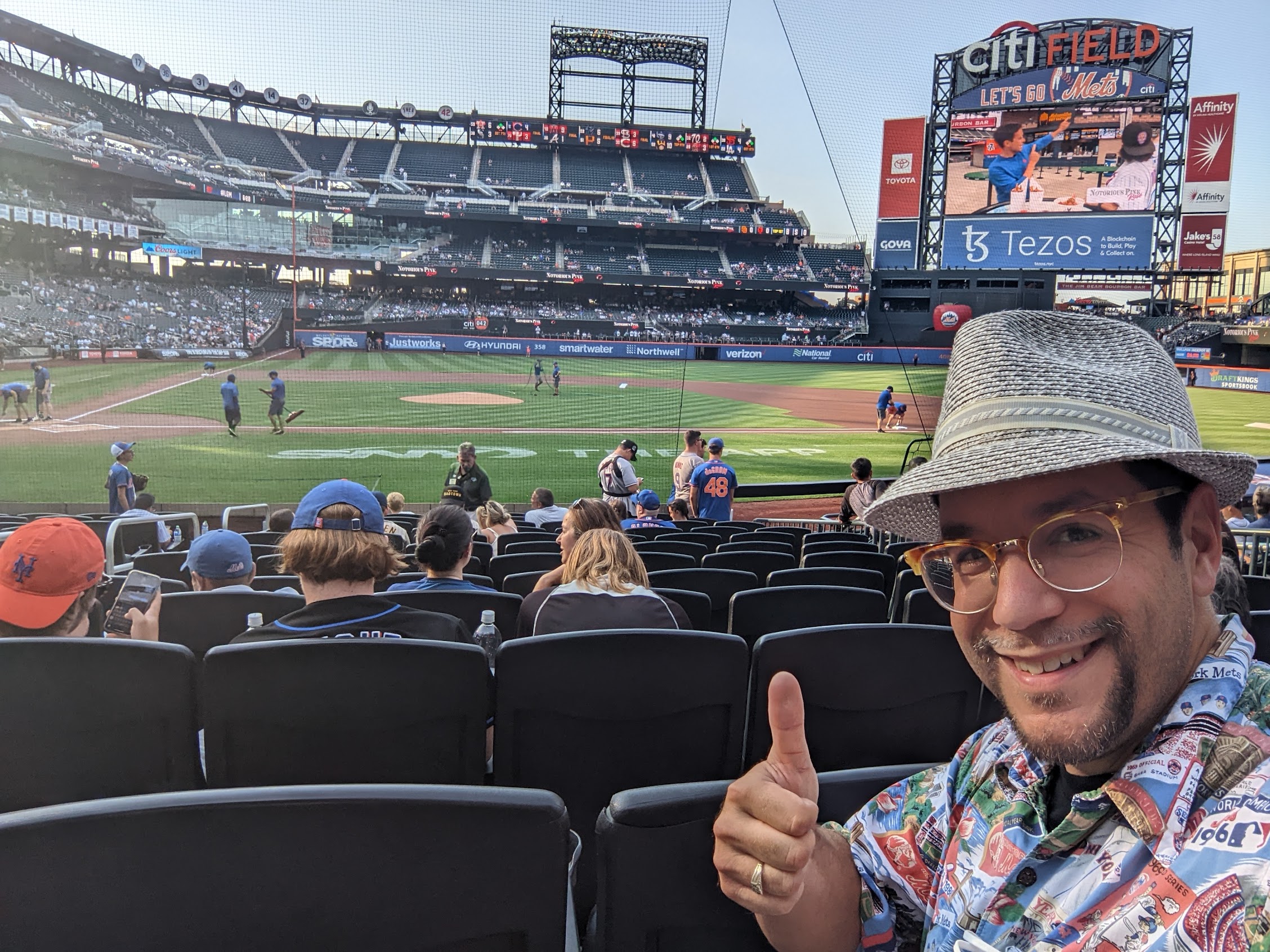 Capital One Entertainment is a portal for booking tickets to events and experiences. While many of these event tickets offer poor value for miles, some offer outstanding value.
For instance, we have seen Capital One Entertainment offer an incredible deal on great seats to Major League Baseball games: during 2022, they offered great seats (each stadium offered the same 4 seats for each game in that stadium and the special cardholder exclusive seats were within a few rows of the field, sometimes including club access) for 5,000 miles per ticket.
We don't yet know whether those same tickets will be available for the 2023 season, but Capital One Entertainment does have the baseball schedule loaded, so it is worth keeping an eye out. See this post for more detail as to how this redemption worked in 2022 so you know how to find the 5K seats.
We have also seen a number of unique ticket opportunities to other events like concerts and dining experiences, often times including meet & greet access or other special perks. Tickets using points have been available to events like the NCAA Final Four and college bowl games. If you like attending events, it is worth keeping your eye on the "Cardholder Exclusives" section at Capital One Entertainment.
Redeem Capital One miles for cash back
Capital One Rewards Miles can be redeemed for 0.5 cents each either as statement credits or as cash back via check. That's a very poor value and not recommended.
Other ways to redeem Capital One miles
Through the Capital One Rewards portal you can redeem Rewards miles for gift cards. Most merchant gift cards (like Amazon, Best Buy, etc) yield exactly $0.01 per mile — that is to say that a $25 gift card costs 2,500 Rewards Miles. We generally don't recommend redeeming for gift cards unless you value the gift cards at very near face value since you can get a full $0.01 per mile toward travel bookings or potentially more value yet with transfer partners and some brands of gift cards are frequently available for purchase below face value.
One notable exception is the ability for some (very small number of) cardholders to redeem for "Special Hotel Offers", which are specific hotel gift cards offered at much better rates. At the time of writing, this section of the Rewards portal offers a $900 gift card to Fairmont, Marriott, Ritz-Carlton, or St. Regis for 64,250 miles (note that Marriott, Ritz, and St. Regis cards are practically the same as any of them can be used at any Marriott property; there used to be options to redeem for Four Seasons and Raffles gift cards but those have disappeared). This redemption yields a value of 1.4 cents per Rewards mile and certainly might be worth considering for those few cardholders targeted. We believe that this capability only exists on some old Capital One cards that were opened during a specific window of time when this benefit was offered, so this redemption capability won't apply to most cardholders. Still, if you have an old Capital One account, it can be worth checking your account.
Those targeted for this redemption will not find the Special Hotel Offers under the "gift cards" section. To find these offers, log in to your credit card account, click on your Rewards miles balance, and then choose "Get Special Hotel Offers" as seen below (if you do not see this option, you won't have access to this redemption).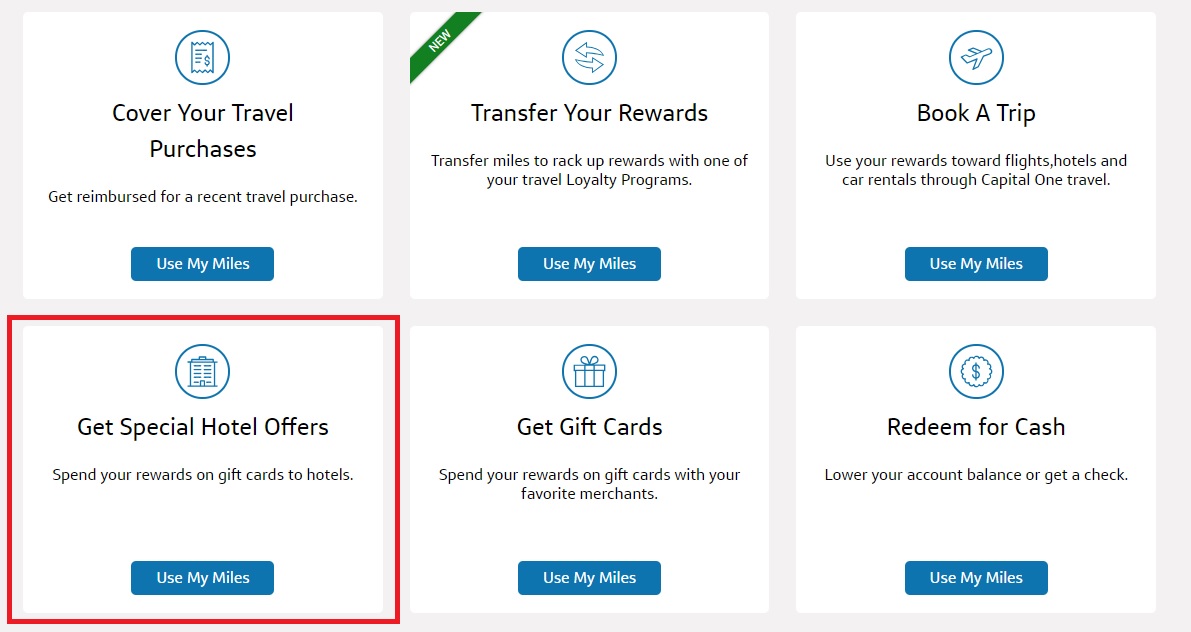 Sweet spot awards
Our post, Capital One Miles Sweet Spots, details the best value uses of Capital One "Miles".  Either click here or click below to jump to a section of the post:
Manage Capital One "Miles"
Combine Points Across Cards
Capital One makes it very easy to combine Rewards among your own accounts. To do so (for example, to move Rewards miles from your Venture One card to your Capital One® Spark® Miles card), simply open the card account from which you wish to move the miles, click on "Redeem" under your Rewards miles balance, and choose "Move Rewards".
This will give you a drop-down menu where you can choose the account to which you want to send your Rewards miles. You can then enter the exact amount you wish to transfer. There is no minimum transfer. The maximum is simply your current available Rewards miles balance.
See: Now share Capital One miles with others for more on this.
Note that you can also move cash back earned on Capital One cash back cards to miles. While not a published program feature, if you click "Redeem" under your cash back rewards and choose "Move Rewards", you can move cash back to your miles card at a value of $0.01 to 1 mile.
Share Points Across Cardholders
Capital One very generously allows people to transfer Rewards to anyone else, for free. There are no minimums and no limits as to the number of Rewards miles you can transfer to another cardholder.
Unfortunately, this can not be done online. You'll need to call the number on the back of your card and provide the agent with the name and card number of the person to whom you would like to transfer your Rewards miles. Keep in mind that the recipient will need to have a Capital One Rewards Miles-earning card to receive your miles.
This is valuable because:
If your spouse/sibling/parent/neighbor/cousin/friend is a few thousand miles short of having enough for a business or first class ticket when transferred to a partner, this program feature makes it easy to top up and/or to combine with other transferable points to put together the desired award. Along the same lines, if you are redeeming points for several travelers and you would rather have them all on one PNR rather than booking multiple tickets out of separate accounts, combining points across cardholders can make this easier.
If a friend has elite status with a particular program, there may be instances where it could be beneficial to transfer your Capital One rewards miles to your friend so that they can transfer to the desired airline or hotel program and make the booking for you (for instance, a friend with Air Canada elite status may have access to additional award inventory or preferential pricing on Air Canada flights).
See: Now share Capital One miles with others for more on this.
How to Keep Points Alive
Capital One Rewards Miles do not expire as long as your account is open and in good standing. If you cancel an account with a Rewards miles balance, you will forfeit those rewards. For this reason, you'll want to transfer to an airline partner or another Capital One miles-earning card via the methods above before canceling an account.
Earn Rewards through Capital One Shopping and Capital One Offers
Separate from its rewards programs, Capital One also offers a couple of ways to earn rewards through shopping, both for cardholders and non-cardholders alike. For a more detailed comparison of these rewards programs, see: "C" is for confusion: Capital One Shopping vs Offers vs Travel offers.
Capital One Shopping portal: desktop, standalone app, and browser extension (no Capital One card required)
Capital One Shopping is a public shopping portal that does not require a Capital One card or account. Rewards earned through Capital One Shopping are not in any way connected to a Capital One account (I include this shopping portal in the Capital One Miles guide mostly to keep the distinction clear as the portal is otherwise irrelevant to Capital One credit cards). Instead, cash back rewards earned through Capital One Shopping are banked in your shopping portal account and can only be redeemed for gift cards. Note that Capital One Shopping exists as a desktop website, a standalone Capital One Shopping app (not affiliated with the Capital One app), and a browser extension. We have seen some very good targeted offers for those with the extension installed (See: Digging the Capital One Shopping Browser Extension).
Capital One Offers for cardholders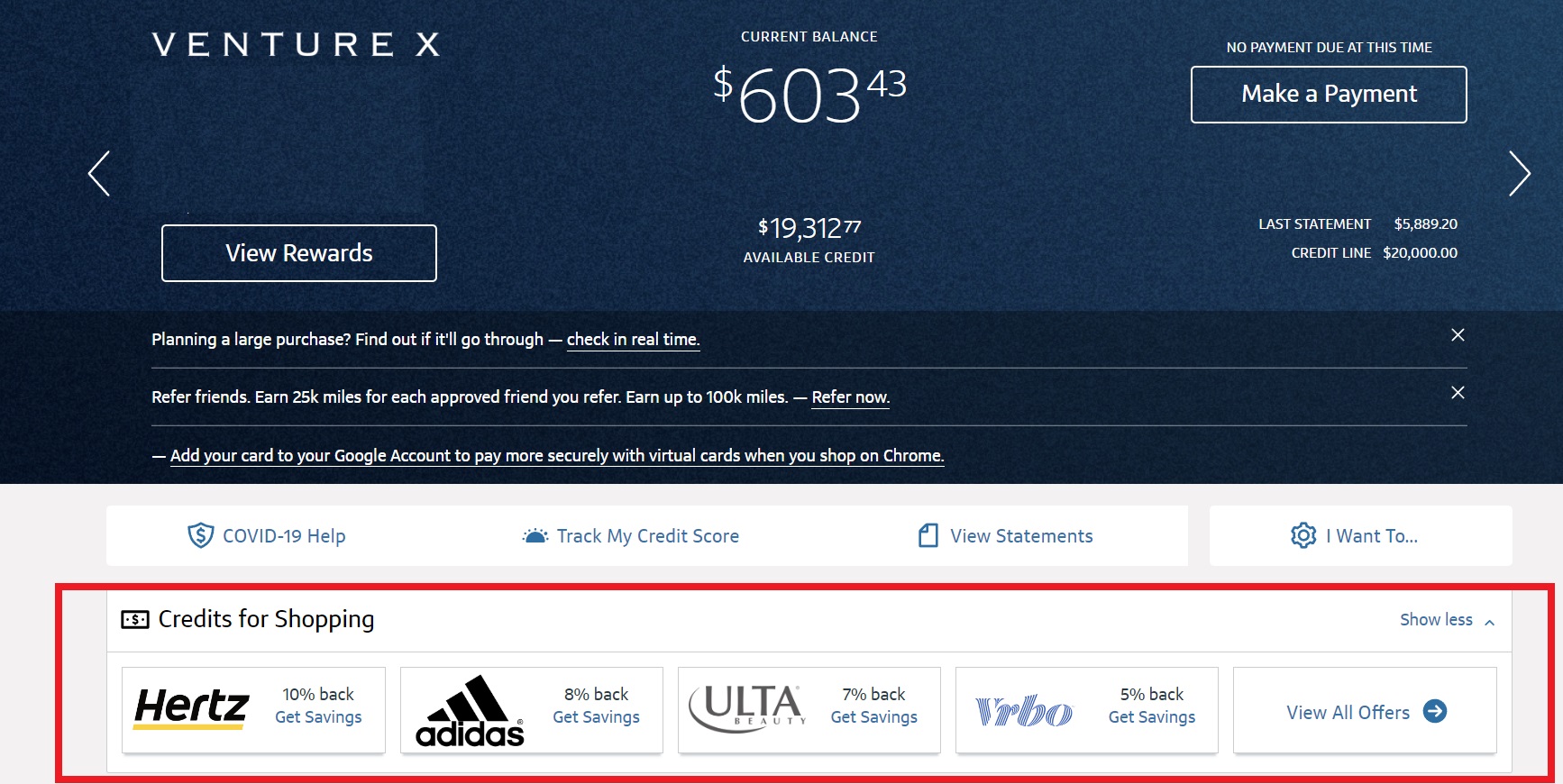 Capital One credit card holders can find shopping portal-like offers within their online login. Clicking "View All Offers" brings you to a "Capital One Offers" page. This page works like a shopping portal in that you'll need to click through the buttons found on that page to go to a retailer and make a purchase. The associated cash back rewards are applied to your Capital One account as a statement credit within a few billing cycles.
In my experience, I have only earned rewards on these purchases when using the associated Capital One card to pay at checkout. However, we have had a positive reader report from someone who clicked through from these Capital One offers and used a non-Capital One card to pay for their purchase and still received the statement credit rewards from Capital One. YMMV.
More information
You can find the full terms and conditions for your card by logging in to your account, clicking on your rewards balance, and clicking on "Terms and Conditions" or "FAQ".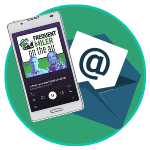 Want to learn more about miles and points?
Subscribe to email updates
 or check out 
our podcast
 on your favorite podcast platform.