On the heels of my publication of the US Bank Altitude Reserve Complete Guide., Doctor of Credit asked an important question: Will the card offer 3X for Samsung Pay MST purchases?
@FrequentMiler Also what about MST (looppay) purchases? Do you have full access to the guide to benefits or similar?

— Doctor Of Credit (@Drofcredit) April 20, 2017
For review, the US Bank Altitude Reserve card (to be released in May) will offer 3X points for travel and mobile wallet payments.  Points will be worth 1 cent each when redeemed for cash, or 1.5 cents each when redeemed for travel.  This makes the 3X categories worth either 3 cents or 4.5 cents per dollar, depending upon how the points are used.  See also: Surprising details about the US Bank Altitude Reserve.
What is MST and why do we care? (3X everywhere)
MST is a Samsung Pay technology, previously known as LoopPay, which sends a magnetic signal from a phone to an old fashioned credit card swipe reader to make it think that a credit card swipe transaction has happened.  Surprisingly (to me, anyway), MST is known to work even with terminals that accept EMV (as long as they still support old fashioned swipes as well).
This is huge because it means that, unlike rivals Apple Pay and Android Pay, Samsung Pay can work nearly anywhere.  It will work with NFC (near field communication) if present or with MST otherwise.  This means that US Bank's Altitude Reserve (which offers 3X points for mobile wallet payments) would very nearly be a "3X everywhere" card, for in-person payments, via Samsung Pay.  That is, it would be if the card really offers 3X for MST payments.
Unfortunately for many of us, Samsung Pay is available only with Samsung phones.
The Answer: Yes, 3X for LoopPay / MST
After Randy Petersen's huge interview with US Bank, I had a chance to ask followup questions.  One of the questions I asked was about Samsung Pay / MST / LoopPay, as follows:
Question: What happens if someone pays with LoopPay (technology used with Samsung Pay)?  Do those purchases count for 3X?  These devices use MST (magnetic secure transmission) to simulate a credit card swipe.
Answer: LoopPay will earn 3X
There you have it.
What is MST (Magnetic Secure Transmission)?
Magnetic Secure Transmission (MST) is a technology that emits a magnetic signal that mimics the magnetic strip on a traditional payment card. MST sends a magnetic signal from your device to the payment terminal's card reader (to emulate swiping a physical card without having to upgrade the terminal's software or hardware). MST technology is accepted at nearly all payment terminals with a card reader. Some payment terminals may require software updates. Simply select a card from Samsung Pay, and transmit the payment information by moving your device within an inch of the payment terminal. Your transaction and payment information will be kept private and secure with the use of tokenization. MST is more secure than using a traditional payment card and is as secure as paying with Near Field Communication (NFC).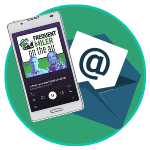 Want to learn more about miles and points?
Subscribe to email updates
 or check out 
our podcast
 on your favorite podcast platform.