Last week Greg had a terrific post on Hacking Walt Disney World with some great tips provided by his resident expert in all things Disney. Definitely check it out if you haven't read it already.
Now, I will admit to having spent some time in Disney parks, as my girlfriend has been a fan for years and is moving towards becoming a Disney-focused travel agent herself. Between her love of Disney and my love of travel (and our never-ending supply of miles and points), we've found ourselves visiting not only all the U.S. Disney parks in the last two years but also Disneyland Paris and Tokyo Disneyland. If they ever build a Disneyland Cairo, I suspect we'll be there pretty fast.
When you take a Disney trip, it can be challenging (though not impossible) to use points on your trip. But there are more than a few ways to earn extra points on practically every expense at a Disney Resort.
Today I'm going to cover three simple tricks for earning more points at Disney, and I invite readers to share others in the comments below.
Tip #1: Earning points on Disney gift cards
Practically everything that can be purchased at a Disney Resort — from tickets to food to hotel rooms to merchandise — can be paid for with Disney gift cards. Last week's Disney post covered tricks for using Disney gift cards and getting discounts on them, but how can we maximize our points when buying them?
Disney gift cards can routinely be found at stores that fall into standard credit card bonus categories. For instance, many Office Max stores stock Disney gift cards, and we all know Chase Ink cards get 5x Ultimate Rewards points at office supply stores. So if you buy your Disney gift cards at Office Max with an Ink card, you can score 5x points on your entire Disney vacation (or at least the portion that takes place once you get to Disney).
Is this better than using the Target trick outlined in last week's post, which can get you 5% off Disney gift cards (plus a little more if you buy them with Target gift cards from a reseller)? (UPDATE: Thanks to commenters Pam and Kayla for clarifying that this Target trick works only online at target.com, not in a Target store, and that the REDbird specifically does not work. You need a standard Target Redcard instead). You're getting a cash discount via the Target method, but Ultimate Rewards points are worth a lot more than 1 cent per point. Even if you think UR points are only worth 1.5 cents per point, that's an effective 7.5% return per dollar.
But there's no reason we can't have both the discount and the UR points.
We can use an Ink card to buy Target eGift cards online at staples.com, then use those eGift cards to buy Disney gift cards at target.com with the Target trick. That will get us not only the 5x UR points at Staples but also the 5% discount at Target.
Not bad… but we can do even better.
Here's the grand slam — go through a shopping portal to staples.com to also earn a portal bonus. Greg reports that Cartera portals still pay out on merchant gift cards at Staples, though not Visa or Mastercard gift cards — as always YMMV so use caution.
(UPDATE: As of 6/12/2015 it appears there are few if any portals left that are paying out on the purchase of third party gift cards at Staples, which means the next two paragraphs are no longer applicable. Of course, you can still get 5x UR points buying Target eGift Cards at OfficeMax or staples.com with an Ink card. Check the Frequent Miler Laboratory for the most up to date information on shopping portals. You can also get additional discounts instead of points by buying Target gift cards at a reseller — see this update post for more details.)
As it happens, if you're subscribed to Frequent Miler's QuickDeals (and if you're not, you should be!), you already know that the AAdvantage portal is offering 5x points at staples.com through this Sunday (3/15).  The terms and conditions exclude the purchase of gift cards… but AAdvantage is a Cartera portal.  So… (UPDATE: Commenters Dave and Pam have helpfully provided data points that indicate the Alaska portal is confirmed to be paying out on gift cards as recently as a month ago, but the AAdvantage portal is possibly not. The Frequent Miler Laboratory also indicates that the Southwest portal has worked recently for eGift cards from Staples as well. So you might want to stick to those safer options and accept a slightly lower portal bonus).
If you bought $500 in Target eGift cards on an Ink card using the above method and the portal successfully pays out, you'd end up with 2,500 American miles (UPDATE: the safer options would result in 1,000 Alaska or Southwest points), 2,500 Ultimate Rewards points, and another 5% discount when buying Disney gift cards with the Target eGift cards.  That kind of return is my own personal Happiest Place on Earth.
Of course, the downside is having to deal with a large number of Disney gift cards, which tend to come in $25 and $50 amounts. Disney is pretty good about accepting multiple gift cards at once to pay for a single reservation (which will be useful when we get to our other tips below) or you can load them into a Disney Vacation Savings Account as discussed in last week's post. But it can still be a pain. Plus you'll have to estimate how much you plan to spend at Disney and then prepay that amount in gift cards. You'll likely want to be a bit conservative so that you don't buy more Disney gift cards than you need, but you can still cover a majority of your trip this way.
Tip #2: Disney Resort hotels through a portal
Disney prefers that you book their resort hotels through their own Disney website, but most of those resort hotels can also be booked at the same prices via an online travel agency such as Expedia, Orbitz, or Hotels.com. This opens up the possibility of not only earning cashback through a shopping portal, but also extra rewards such as Orbucks at Orbitz or Welcome Rewards at Hotels.com (which effectively gives you a 10% rebate towards a future hotel booking).
Unfortunately we've recently seen most of the OTA's disappear from the major travel shopping portals, but there's still quite a few options for cashback. Here's a look at just the first dozen possibilities for cashback at Expedia as of today, courtesy of Cashback Monitor.  Note that some of these cashback rates apply to different types of bookings at Expedia, such as cars, flights, vacations, and so on. So make sure you double check the terms and conditions of any cashback portal before using it to make sure it'll pay at the expected rate for what you're booking.
The good news is that on occasion, Disney resort hotels are eligible for some of the OTA discount codes constantly floating around. For instance, I was actually able to use a 15% off Orbitz discount code on my recent booking for Disney's All-Star Sports Resort. Not only that, but I also picked up cashback through a shopping portal (which still paid out even with the use of a discount code in this case) and another $11.72 in Orbucks!
The bad news is that when booking a Disney Resort hotel through an OTA, you'll likely have to prepay the entire amount at booking. Even though most of the time you can cancel for free up until a few days before your stay and get a full refund of the prepaid amount, it still eliminates the possibility of using Disney gift cards to pay for your hotel. Depending on how much you earn for buying Disney gift cards, you might be better off booking direct and paying at the resort. But for folks who'd prefer not to deal in Disney gift cards (or when a high value OTA discount code is in play), booking via an OTA can be a good way to go.
Remember also that a few credit cards (specifically the Chase Sapphire Preferred and the Citi Prestige) include OTA's in their travel category, which makes these bookings eligible for those bonus points as well.
Tip #3: Getting 2x or 3x on Disney spend with Magic Bands
As with the tricks in last week's Hacking Walt Disney World post, this particular tip only works at Walt Disney World in Orlando, FL, due to the fact that it's tied to the use of Magic Bands. Eventually Disney plans to roll out Magic Bands to all their theme parks, but for the moment, they're only in Florida.
The Magic Band system is not without its detractors in online Disney forums, but I thought they were pretty good when we used them last month during our trip to Epcot and the Magic Kingdom. Disney has designed the system so that if you're staying at a Disney Resort hotel (as opposed to an offsite hotel) you can charge anything on Disney property to your Magic Band and settle up the bill at the end.
Obviously Disney is hoping the ease of this system will encourage people to spend more, much like credit cards tend to promote higher spending levels. Of course, readers of Frequent Miler are too savvy and disciplined to fall for that old trick — we're experienced in controlling our spend and not getting ourselves into debt when it comes to credit cards. So Disney won't get much extra Magic out of us.
But what is useful for us points hounds is that all charges to your Magic Band end up on your hotel bill, which means that if you use a credit card that has hotels as a bonus category to settle up at your resort hotel, everything you charged to your Magic Band will also get that bonus multiplier. Or you can use Disney gift cards to pay the majority of your hotel bill, then use a credit card with a hotel bonus to pay off anything that's left over.
You can find Frequent Miler's list of Best Hotel Category Bonuses here to see which credit cards have hotel bonuses. And yes, you can use this Magic Band trick even if you prepaid for your Disney Resort stay via an OTA as discussed in Tip #2. Magic Band charges are treated as hotel incidentals and charged to the credit card you give them when you check in.
By maximizing your points or discounts, you can make your Disney vacation a bit more affordable and even more rewarding. Though is anything more rewarding than the first time your kids meet a somewhat temperamental duck who only occasionally wears pants?

Loading ...
Other Recent Posts From The "Bet You Didn't Know" Series:
Waitlisting for United First or Business Class
Using Hipmunk to book ITA Matrix flights
Original routing credit (and a little extra)
Find all the "Bet You Didn't Know" posts here.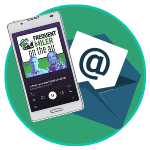 Want to learn more about miles and points?
Subscribe to email updates
 or check out 
our podcast
 on your favorite podcast platform.