Yet another investment app has increased their Swagbucks offer. Investr is offering 5000 Swagbucks ($50) on new account sign-ups and then sweetening the deal with an additional $30 in Bitcoin if you make an opening deposit of $100.  Investr is an investment app (similar to Public) but with a debit card tied to a brokerage account and without any particularly noteworthy incentives outside of the sign-up bonus.  I signed-up for this offer in about 5 moinutes and the SB showed as pending on my account within 10 minutes.
The Deal
Earn 5,000 SwagBucks (worth $50) and $30 in Bitcoin when clicking through the portal, opening a new Investr account and making an initial deposit of $100 or more.
Key Terms
Must complete the following steps:
1) On your mobile device, download Investr app through Swagbucks portal.
2) Enroll in new account (takes about 5 minutes)
3) Deposit $100 via ACH, Plaid, Venmo or Paypal and receive $30 in Bitcoin and 5000 Swagbucks ($50)
Terms which are applicable:

Cashing out your deposit within the first month of opening your Invstr+ account will result in no SB.
SB will appear as Pending for 32 days.
This offer is only available to new Invstr customers.
Must install the Invstr app through Swagbucks affiliate link.
Must enter valid sign-up information, including account funding information to earn SB.
Must deposit $5 or more into your Invstr+ account to earn SB.
Offer may only be redeemed once (1) per user.
If you are not credited within 32 days of offer completion, you have 14 days to contact the Swagbucks Help Center for further investigation. Help Center tickets submitted after the 14 day grace period are not eligible for further investigation and SB.
Quick Thoughts
This isn't quite as lucrative as the Swagbucks offers that we've seen for Public, Chime and SoFi, but it's still worthwhile for the easy $80 on just a $100 deposit (and with only a 32 day wait for SB to post). Note that, although you can't cash out your account for one month, there's nothing saying that you can't immediately sell your Bitcoin for $30 and there's also no requirement that you actually invest the $100 deposit.
Although bank account bonuses are much more common in the blogoshpere, I've found the online investment app sign-ups to be fairly lucrative over the first quarter of the year, but with less hoops to jump through and lower deposit requirements than a traditional checking/savings welcome offer. This is another one that's easy money in the bank.
(h/t: DOC)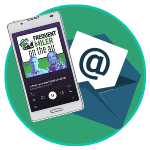 Want to learn more about miles and points?
Subscribe to email updates
 or check out 
our podcast
 on your favorite podcast platform.