TopCashBack is offering a promotion for Frequent Miler readers: Join TopCashBack through this link by June 24, 2019 at 23:59 PST and earn $10 in cash back (by shopping through TCB) and you will receive a $25 bonus. To be clear, Frequent Miler does not earn any sort of commission here — TopCashBack reached out with the offer and it looked like a good deal for readers, so we are passing it on.
The Deal
Join TopCashBack through this link by June 24th, 2019 at 23:59 PST. Then, get a $25 sign-up bonus after you earn your first $10 in cash back through TopCashBack
Key Details
Only open to new members who join TopCashBack
Must earn $10 in cash back to trigger the $25 bonus
Quick Thoughts
I used to use several other portals more often than TopCashBack, but over the past 2-3 years, it has become one of my 2 or 3 go-to portals when I shop online. I always use a tool like CashBackMonitor.com to determine the best rate. That said, the truth is that there is something to be said about reliability and TCB has been reliable for me. Sometimes when there is a small difference between TCB and a new or unknown portal, I'll go with the "sure thing" so to speak. Over the years, I've used so many portals that I've also found it easier to just condense a bit and focus on 2 or 3 so I don't lose track of my cash back.
I further like that TopCashBack periodically offers bonuses for cashing out via certain payment methods — like e-Visa GCs or Amex gift cards, etc.
While I imagine many readers have been using TCB for years, this might be a good opportunity to sign up for those who haven't. You only have to sign up by June 24th — then you have to earn $10 in cash back based on your shopping to trigger the bonus.
For example, at the time of writing, TopCashBack is offering 10% back at Sak's Fifth Avenue. If you signed up today and spent $100 on merchandise at Sak's, you'd earn $10 cash back from that transaction and additionally trigger this promotion for another $25 back. That's $35 back on $100. If you then also have a personal Amex Platinum card and haven't yet used your $50 Sak's credit for this half of the year, you could potentially use that card (assuming you've enrolled in the benefit) and get another $50 back for a net $85 off of $100 (or wait until July, when you should be eligible again if you've already used it for this half of the year). That's a pretty slick deal.
If you don't yet use TopCashBack, it might be worth a look with this promo.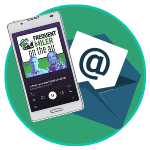 Want to learn more about miles and points?
Subscribe to email updates
 or check out 
our podcast
 on your favorite podcast platform.