When the Hyatt / Small Luxury Hotels of the World partnership formed last year, I said I wasn't excited. That was mostly because I think it set up Hyatt to introduce a new category since some SLH properties currently cost 40K Hyatt points per night (more than anything on the Hyatt award chart, with top properties like the Park Hyatt New York or Tokyo costing only 30K per night) — but also because I said I generally prefer the predictability of a chain hotel over not knowing exactly what I'm going to get. After my first SLH stay last week, I'd say that the partnership was a bigger deal than I'd realized. If I can count on other SLH properties being this nice, maybe they have my kind of predictability after all.
Schlosshotel Kronberg
Early last week I had two extra nights in Europe and I was really trying to make Budapest work so I could get to the place Greg wrote about last Thursday. Unfortunately, timing just wasn't going to work well for Budapest. Frankfurt ended up being the easiest option in terms of flights. When I went to the Hyatt website, I found this for 20K per night:
Schlosshotel Kronberg, you had me at "available".
The hotel description did a decent job of selling the place:
Experience the elegance of a royal palace at Schlosshotel Kronberg—the former home to Empress Victoria Friedrich. The enchanting grounds boast an 18-hole golf course, a fine dining restaurant, and a beauty salon. Enjoy a traditional English tea in the library surrounded by the empress' original antiques.
After a bit more (Wikipedia) research, I learned that the Schlosshotel was built for German Empress Victoria and she lived there towards the end of her life. When the US occupied Germany after World War II, this apparently became an officer's club and Dwight Eisenhower lived here for about 7 years (and also designed the golf course). That all translated to "interesting enough" in my book to book it.
Notably, this property isn't the highest value for Hyatt points. The lowest room category (i.e. the one you'll book with Hyatt points) is often available for about 235 Euro per night (about $265 at the time of writing). That's only a value of about 1.325c per point, which is relatively poor for Hyatt points. Personally, I'm flush enough with points that were mostly earned at 5x, so I was OK with booking this for one night at suboptimal value — and after my stay, I'd probably consider it again as I'd definitely like to come back and generally prefer not to spend that much on a night.
Getting there from FRA (Frankfurt Airport)
This place is a super easy drive from Frankfurt Airport — it's about 28 minutes by car from the airport. A 2-day car rental booked through Autoslash cost us less than $50. Parking is free and with the hotel having only 62 guest rooms, it probablty won't be difficult to find a spot. There's even a grocery store just a couple of miles before you get to the hotel if you need any supplies on your way.
Arrival and check-in
I had written an email in advance (something I often do before arrival) and asked for a crib and a room with a little extra space for it. Since we began traveling with a baby, I've made this a general habit. I find that even with standard rooms, there is often a room on a corner or laid out with just a little extra space and I'd rather at least lock that down in advance if possible. We didn't always value suites and larger rooms, but now that we have to be in the room for an afternoon nap and put our son to sleep a few hours before we go to sleep, extra space is huge (pun intended). The hotel had written back confirming that they had a very nice room lined up for us and would have a baby bed ready. That was non-specific, but it achieved my main goal when I write to a hotel in advance: it assured that a human picked it rather than a computer, which means we'd likely at least get that corner-type room.
The gentleman at check-in (whose name I unfortunately missed) had a deep voice with exceptionally well-annunciated English. I went to offer my passport and credit card and he promptly let me know that those things "wouldn't be necessary". I kind of chuckled inside a bit — apparently, they aren't concerned that SLH guests won't pay for their incidentals.
I'm not quite sure how to describe it, but there was a clear air of luxury in the check-in process that came from a slow and deliberate confidence in the way things were explained. Breakfast would be served from 7am to 11am in the dining room and would of course be complimentary for us. That's courtesy of booking through Hyatt: all World of Hyatt members, even those with no status, get free breakfast and 2pm late checkout at SLH properties. Breakfast was really good (more on that below), making it well worthwhile to book through Hyatt.
At the end of the check-in process, the agent walked us to our room. Pictures don't really do it justice: walking through the halls made this place look really impressive.
But we did have to walk. As our agent was quite tall (and I am quite not tall), I felt like I was really hustling to keep up. My wife carrying our oversized bowling ball of a baby was getting winded as well when the check-in rep mentioned that our room was literally at the other end of the hotel. We walked in and the room was fine — there was a small hallway, with a bathroom off one side of it and a bedroom off the other side. The room felt semi-sauna-like — I was quite surprised that the AC hadn't been turned on in advance. I was further surprised not to find a crib in the room on arrival — those are precisely the kinds of things that lead me to generally prefer chain hotels over indie properties. The agent left and I went to work trying to figure out how to turn on the AC.
About 5 minutes later and before I'd even finished figuring out the AC situation, I heard a knock on the door and barely looked up before our check-in agent had burst into the room huffing and puffing and spitting something out about how he was hoping he could get back before we started unpacking so it wouldn't be unpleasant to move. He apologized — we had inadvertently been assigned the wrong room. He had literally walked all the way back to reception, which I'll re-emhpasize was at the total opposite end of the castle, realized there was a mistake, and must have sprinted down the halls of the castle to stop us from unpacking in the room that was probably in the category that we actually booked. We later said amongst ourselves that we just can't see that happening at most hotels: we certainly didn't complain or express any disappointment in our room; I have to imagine most hotels would think, "oh well — they seem to be fine with the room they got" and move on and upgrade someone else. The fact that the agent didn't even call but rather ran down the hallways to fix it seemed above and beyond what I'd expect.
At any rate, I'm somewhat hopeful that we weren't just lucky in getting an upgrade: he later mentioned that as he walked back to reception he began questioning our room assignment because they "never assign that room to SLH members". I'm sure that isn't entirely true — with only 62 total rooms, if the hotel is any sort of busy I would imagine you may indeed get the room you booked (as is the case with any busy hotel), but it sounds like folks booking through Hyatt are fairly likely to score an upgrade of some sort if available.
Our suite
I was even less upset to have used Hyatt points at relatively poor value when I saw our suite. Here's the description from the hotel:
Delight in the history of this sprawling suite, which includes a separate living area, double bed, and large bathroom. The 65-square-meter space once served as a living room to Czar Nicholas II, a frequent guest of the empress.
While it's not necessarily where I'd put up the Czar, the room was quite nice.
Also very interesting: in the first room, I thought the check-in agent said that everything in the minibar was complimentary, but when I opened it I realized I must have misunderstood since it was fully stocked. I was going to re-inquire at the desk, but when we moved into the suite he reiterated that everything in the minibar is complimentary and it is replenished daily.
Here's the contents of the minibar:
We enjoyed that little bottle of Moet very much indeed. Reisling isn't really my thing, but that wasn't bad, either.
Breakfast
Breakfast was included since we booked through Hyatt. It was in the main dining room, which is also a gourmet restaurant by night and a more casual bistro-style during the day. The entrance and dining room are grand.
However, they had tables set up on the rear patio for breakfast, so we ate outside to enjoy the nice weather and beautiful grounds. The buffet was quite good for a European breakfast (I find breakfast in Europe to generally be pretty light compared to American standards, and certainly compared to what you get at luxury hotels in Asia). There was honey on an actual honeycomb, plenty of breads, eggs, etc. You won't walk away hungry or disappointed.
The grounds
Just meandering the grounds and hotel here was really nice. In addition to the 18-hole golf course, there is a rose garden and a number of walking paths. While strolling through the gardens in the morning, we heard the whinny of a horse. Of course there's a stable — what kind of respectable castle *doesn't* have horses?
Here are some more pictures of the place as I just couldn't get enough of the way it looked.
Bottom line
This hotel was nice. I would definitely stay here again if my travels took me to Frankfurt. In fact, I'd even purposefully build in an overnight stopover just to go back. The place was just cool. I'd always wanted to spend a night in a castle; I never thought that Hyatt points would get me there. Furthermore, I was really impressed with the experience, from check-in to breakfast. I met a guest at a different hotel the other day who has stayed at many SLH properties and in speaking with him about them, it sounds like Schlosshotel Kronberg's location is unique but not the level of service or amenities (even the free minibar isn't unprecedented according to his experience, though of course that isn't true everywhere). Maybe I didn't give this tie-up enough credit as the Schlosshotel Kronberg has me checking into other SLH properties and much more interested in Hyatt for my next trip to Europe, a continent where they've long had an inferior footprint and they now have quite a few other similarly-unique places that look fittingly small and luxurious. Perhaps Greg's irrational excitement was justified after all (See: On my mind (Hyatt and Small Luxury Hotels of the World edition). I think I was wrong in my disappointment with the SLH partnership — and this is the kind of wrong that I'm happy to be.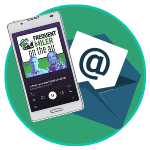 Want to learn more about miles and points?
Subscribe to email updates
 or check out 
our podcast
 on your favorite podcast platform.