A couple of months ago, I wrote about an app called Seated, which offers users a gift card after making a restaurant reservation through the app and dining out. At the time, Seated offered a $15-$20 Amazon, Starbucks, or Uber gift card for dining out. Deals We Like reports that they have now increased this to $25 at most restaurants and as high as $50 at some. They have also instituted minimum order requirements (and minimum party size remains at 2), so be sure to check the terms of your chosen restaurant.
In review
As a reminder, Seated is an app that allows you to make restaurant reservations. The interesting thing about Seated is that you can earn an Amazon, Starbucks, or Uber gift card every time you dine. Terms vary a little bit — weekend reservations may be restricted or minimum orders may vary, so check the terms of the restaurant you choose. Seated is only available in limited cities (and they seem to have lost New Orleans since I last wrote about them), but there seems to be a fair number of restaurants available in each city. The app is worth a look if you live in or travel to one of the cities served by Seated. What's more, several users in the Frequent Miler Insiders Facebook group have reported that they've gotten great seats thanks to the app. For more on how it works, see that previous post.
Cities where Seated is available:
New York
Providence
Philadelphia
Boston
Washington, DC
Chicago
Atlanta
Miami
Houston
Austin
Denver
Seattle
Los Angeles
San Francisco
Increased Rewards
The last time I wrote about Seated, the "standard" reward offered at a restaurant was $15. Now, many restaurants are offering a $25 gift card for making a reservation and dining — and some are offering as much as $50. The minimum spend requirement varies. General trends look like restaurants fit into these categories:
$40 minimum spend requirement = $25 gift card
$50-60 minimum spend requirement = $30-$35 gift card
$100 minimum spend requirement = $50 gift card
The "minimum spend" is before tax and tip. Those ranges are approximate — I didn't look at every restaurant in every city, but rather selected a bunch of random places in four cities (New York, Philadelphia, Chicago, and Atlanta). While some will be disappointed to see the minimum spend requirements (and the fact that they apply before tax & tip), I still think this looks like a great deal if you plan on eating at one of the restaurants listed anyway. How often can you get $25-$50 back on your dinner out? I recognize that some will say that a $25-$50 gift card is not the same as cash — though an Amazon gift card at this time of year is nearly the same as cash to me.
Sign up is via Facebook or Instagram
One thing I don't like about the Seated app: it requires signup via Facebook or Instagram. I wish you could sign up with just an email address. Is the return worth giving up some privacy? It's all a matter of your perspective on that.
Other options
The last time I wrote about this deal, a couple of readers mentioned some other options for getting a return on your dining spend — like Table Savvy and Rewards Network. I haven't yet used Table Savvy or had the time to see if a double dip with Rewards Network is possible (though I suspect it is if you can find a restaurant in both networks). Also noted was the fact that drinks-only tabs are not eligible for the gift card rewards.
Bottom line
This app looked intriguing to me to begin with — it only looks more interesting to me now that the payouts are increased. I'm sure that not every restaurant listed is magnificent and some are probably overpriced. I don't think this is necessarily an app to use to find a restaurant; it just looks like a good way to get a nice rebate if you were going to be hitting these spending thresholds at a place listed anyway. I wish it were available in more cities (or that I had more travel planned in cities where it exists!), but I've got a trip planned to New York City in a couple of weeks and already had plans to visit a restaurant listed on the app. Now that the payouts have increased, I'll be happy to get a few bucks more back.
If you haven't yet signed up for Seated, you can use a referral code and get an extra $5 gift card after your first reservation and dine. If you're looking to do that, feel free to use one of these referral codes with our thanks:
SAMANTHA358 (my wife, who again provided screen shots for this post)
AMOL4 (Amol from Travel Codex, who originally shared this deal with us)
H/T: Deals We Like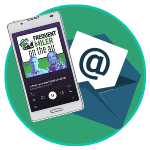 Want to learn more about miles and points?
Subscribe to email updates
 or check out 
our podcast
 on your favorite podcast platform.