Update: Greg reports being able to add these offers to more than one Marriott Bonvoy card in the same Amex login. It looks like you may be able to add these to every Amex Bonvoy card you have.
There are new Amex Offers out on the Marriott business and consumer cards that make for a total of 10x Marriott Bonvoy points on purchases at US gas stations, US restaurants, and at Marriott Hotels & Resorts on up to $7500 spent in each category.
The Deal
There are new Amex Offers out today on Amex Marriott Bonvoy credit cards that add additional points per dollar spent to reach the following totals between base earning, existing category bonuses, and the additional bonus points:

10x at participating Marriott Bonvoy Hotels on up to $7500 in purchases
10x at US gas stations on up to $7500 in purchases
10x at US restaurants on up to $7500 in purchases
Key Terms
Superstores, supermarkets and warehouse clubs that sell gasoline are not considered "gas stations" per offer terms (YMMV)
For the restaurant offer: "the purchase must be at a restaurant located in the United States. You will NOT earn additional points for purchases made at a restaurant owned by a U.S. company but located outside the U.S. (e.g., Hard Rock Café in Paris). You also will NOT earn additional points for purchases at nightclubs, convenience stores, grocery stores or supermarkets. You may not earn additional points for purchases at a restaurant located within another establishment (e.g., a restaurant inside a hotel, casino, or event venue). Purchases made at a restaurant located within a hotel may be recognized as a purchase at a hotel, not a restaurant."
For the Marriott offer, you will receive the bonus on "purchases when charged directly with participating Marriott Bonvoy properties (excluding home share properties), standalone Marriott branded retail establishments, and Marriott branded online stores (including online purchases of Marriott branded gift cards) that, in each case, are wholly owned or managed by Marriott International, Inc and its affiliates."
Quick Thoughts
All of these offers are good and represent solid return in the given bonus categories. The caps are more generous than the Chase caps and unlike the Chase offer which many cardholders have been unable to register for (including on all of the cards in my household), these Marriott offers have shown up on all of the Amex Marriott cards we've checked. Note that the image above shows the offers from a Bonvoy Business card (which already bonuses gas station and restaurant spend), so you'll see slightly different additions on a Bonvoy Briilliant or plain Bonvoy (old SPG) card — any way you slice it, they add up to 10x in each of the included categories).
I am particularly glad to see Amex note that Marriott-branded gift cards purchased from the Marriott website will earn the bonus. We've known for a long time that those purchases earn the bonus as though they were Marriott hotel spend (which has long been good news for those with the Amex Bonvoy Brilliant card and its $300 annual Marriott credit), but it's great to see it acknowledged here that those purchases are indeed intended to trigger the bonus. Hopefully we'll see Marriott offer a third gift card sale this year, which could make for a nice stack.
Since I have been unable to register any of the Chase cards in our household for the Chase Marriott gas station bonus, one would think I'd be excited to see this offer. The problem for me is that we have tried multiple times to buy gift cards at a gas station using an Amex Bonvoy Business credit card and the purchases have been declined every time. Your luck may be better than mine, but I'd keep Amex's recent clawback history in mind if you're going that route.
Overall, these offers are valuable for those who like Marriott points. I'd argue that even those who have been somewhat disillusioned by Marriott in recent times should probably consider these offers if they have Amex Bonvoy credit cards: while everyday earning on the Marriott credit cards isn't exciting, these 10x offers make for solid enough return to consider using your Marriott credit cards for the included categories.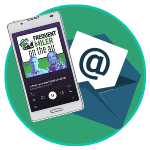 Want to learn more about miles and points?
Subscribe to email updates
 or check out 
our podcast
 on your favorite podcast platform.