Often the best way to get optimal value from airline miles both in terms of maximum luxury and absolute value against the cost of cash tickets is using them to book partner award flights. Some of the top luxury airline experiences in the world are best unlocked by using miles from another airline to book. However, this can be a confusing prospect for newcomers to the game. This guide is meant to walk you through the steps to searching for your first partner award flight.
A reader recently sent in the following question and this guide will walk you though the basics of searching for partner awards through the lens of this real-world example.
I live in Traverse City, MI which has a very nice but small airport (TVC). We only have American, Delta, United and Allegiant flight options. How do I utilize transfer partners? I've tried searching flights out of TVC on partner airlines but don't have success. Would I need to search from a major airport like ORD or DTW and then figure out how to get from TVC to ORD or DTW separately? Any insight you have into maximizing miles when you don't live near a major airport would be very helpful.
Thanks,
Jen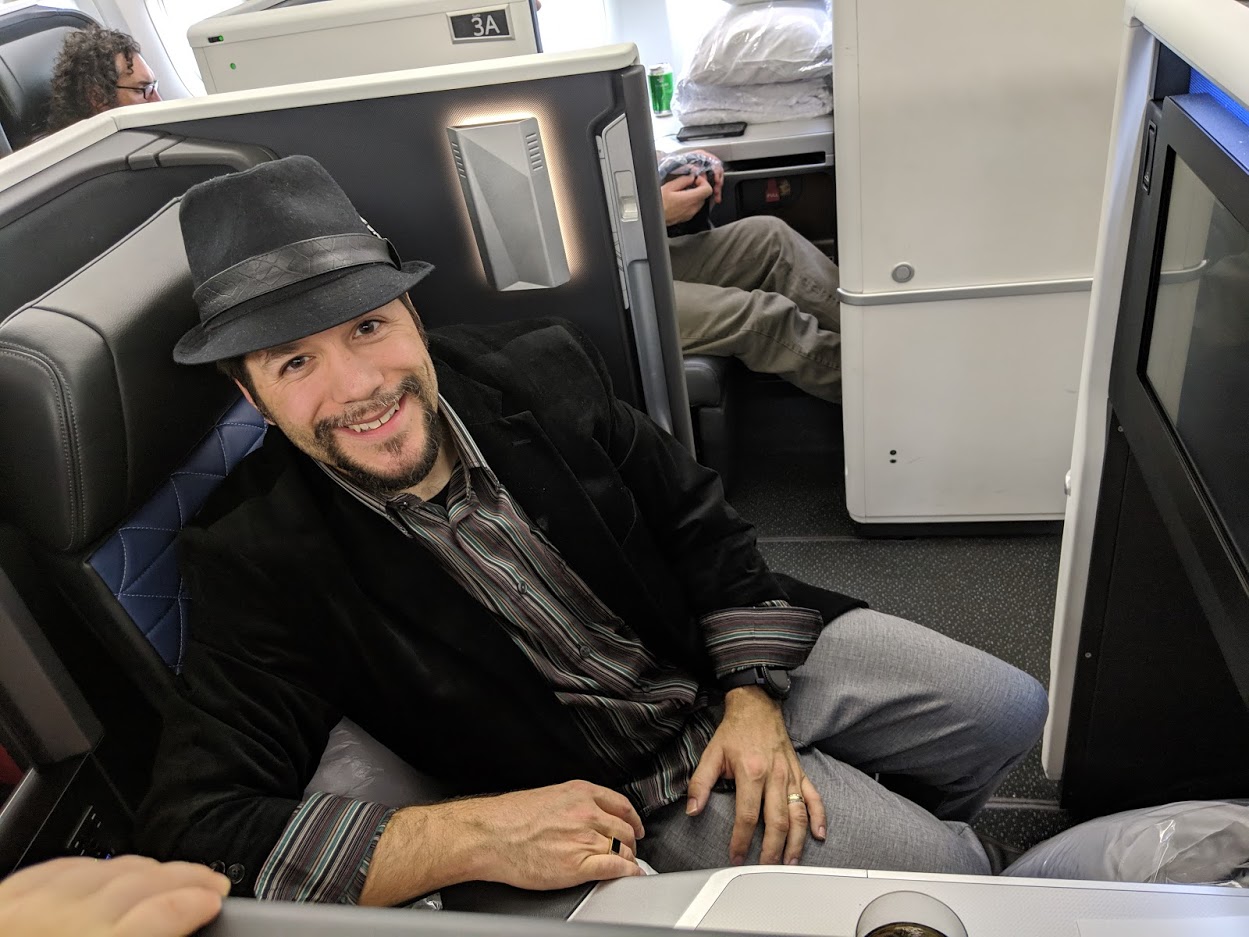 Understanding airline alliances and partnerships
No single airline flies everywhere and each airline has different route networks and strengths, so most major international airlines partner with other airlines to sell tickets together. This makes sense for airlines since it increases business for both sides. For instance, if you live in the United States and you'd like to travel to Dusseldorf, Germany, you would be unable to buy a ticket without airline alliances. No airline flies between Dusseldorf and the United States. That's where alliances come in. If you search for a ticket between Traverse City, Michigan and Dusseldorf, you'll find results that combine United with Lufthansa or Austrian or that combine American with Aer Lingus, British Airways, or Iberia or Delta flights mixed with Air France as just a few examples:
A quick glance at results like those illustrate the power of alliances: United can carry someone from Traverse City to Chicago and then either United or Lufthansa can carry them to Frankfurt and then Lufthansa can carry them on to Dusseldorf. This enables both airlines to reach those customers in Traverse City and Dusseldorf rather than being limited to carrying passengers between major cities.
For award travelers, the nice thing about alliances is that these partnerships mean that we can, for example, use our United MileagePlus miles to fly on any of United's partner airlines. The same is true in reverse — we can use miles in a foreign partner program to book flights on United (and sometimes that can be a better deal than using United miles for their own flights!).
Thus, the first step in understanding partner award travel is being aware of alliances. There are three major world alliances with many members:
Star Alliance: 26 member airlines (think of this as "United's alliance")
oneworld: 14 member airlines (think of this as "American Airlines / Alaska's alliance")
SkyTeam: 19 member airlines (think of this as "Delta's alliance")
Remember that you can use miles from any airline in the alliance to fly any other airline in the alliance. In other words, as an example, you can use United Mileage Plus miles to fly on any of the 26 airlines in the alliance.
Partnerships also extend beyond alliances; many major airlines additionally maintain partnerships with airlines that are not members of their alliance. For instance, in addition to the 25 other Star Alliance members, United also partners with Hawaiian airlines, Aer Lingus, Azul, Air Dolomiti, and quite a few other airlines (they have 40 airline partners in total). This is good business for the airlines because it means that United can sell you a ticket to almost any corner of the world, but it is also good news for award travelers because it means that you can use your United miles to fly on airlines that in some cases may provide a better onboard experience or more convenient itinerary.
To be clear, United and Star Alliance are not the best game in town, I simply use them to give a concrete example here. The same would be said about your American Airlines miles or to some extent Delta miles and that same logic is applicable even more broadly to your American Express Membership Rewards points, Chase Ultimate Rewards points, Capital One miles, or Citi ThankYou rewards points since those points can be transferable to various airline programs and leveraged through partner award redemptions.
For the purposes of this section, the key thing to understand is that you can use your United miles to fly on United or to fly on Lufthansa or Turkish or Austrian or any of its other partners and even on combinations of more than one partner on a single ticket. The same is true in reverse: if you have Turkish miles, you can use them to book travel on United or Lufthansa or Austrian or the many other Star Alliance airlines.
The same concept holds true for other alliances. You can use your American Airlines miles to fly on American Airlines or you can use them to fly on what are widely regarded as some of the best airlines in the world, like Cathay Pacific, Qatar, Qantas, and Etihad thanks to partnerships.
Mileage savings through airline partnerships and partner award flights
An easily tangible example that illustrates the value of partner awards is someone looking to fly on United to Hawaii. If you want to travel to Hawaii from the mainland US, United will typically charge you 22,500 miles when there are the lowest regular-level saver awards available. Here's an example from New York-Newark (EWR) to Honolulu, Hawaii (HNL).
Note that United awards are dynamically-priced, so they occasionally run specials priced for fewer miles, but generally a "saver" award costs 22,500 miles (and during periods of high demand, United offers tickets for far more miles).
More importantly, awards labeled as "Saver Award" should be available to partners for booking. For instance, that same flight shown above could alternatively be booked by Air Canada Aeroplan for the same 22,500 miles one way.
Fees would be a bit higher though Aeroplan since Aeroplan charges a $25 partner booking fee, but booking through Air Canada may be desirable if you don't have United miles since you can transfer to Air Canada Aeroplan from American Express, Chase, Capital One, or Bilt Rewards.
However, if you have some of those transferable currencies, you can do even better. You could book that same United flight from New York to Honolulu for just 17,500 Singapore KrisFlyer miles since Singapore is also a Star Alliance airline.
You could transfer American Express Membership Rewards points, Capital One miles, Chase Ultimate Rewards, or Citi ThankYou points to Singapore and save 5,000 miles over what United would charge for the same flight.
However, if you have Capital One miles, Citi ThankYou points, or Bilt Rewards points, you can do even better. The same United Airlines flight from New York to Honolulu is at least theoretically bookable for just 7,500 Turkish Miles & Smiles miles.
Unfortunately, the Turkish Airlines website does not function well, so I couldn't find a screenshot of that nonstop flight for this post, but these itineraries that connect through San Francisco on another day confirm the concept. I can confirm that I have booked the nonstop for the same price (including not long before writing this guide).
As you can see, transferring your Capital One miles or Bilt Rewards points to Turkish Miles & Smiles to book your United flight to Hawaii can save you 15,000 miles per passenger one way over what you would need to pay United.
While Turkish is a notoriously difficult program with which to book, it helps to illustrate why you should care about partner awards. Using the right partner could save you 15,000 miles per passenger each way — which is enough for another round trip ticket to Hawaii in the future.
At the other end of the spectrum, mastering partner awards can make it possible to book some of the most luxurious experiences in the world, like Etihad apartments, Cathay Pacific or Lufthansa first class, and many more.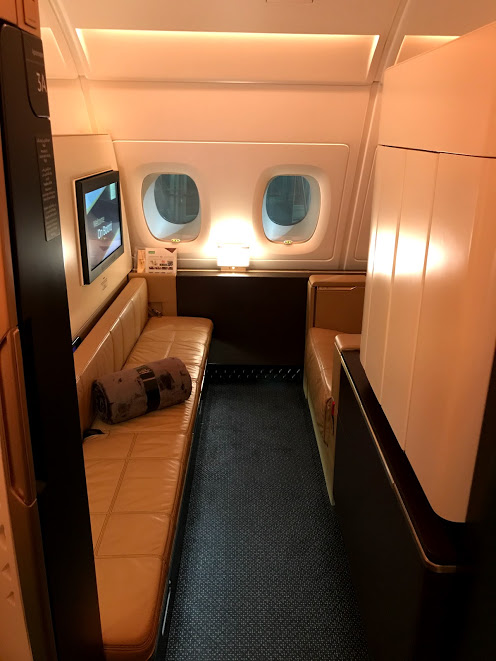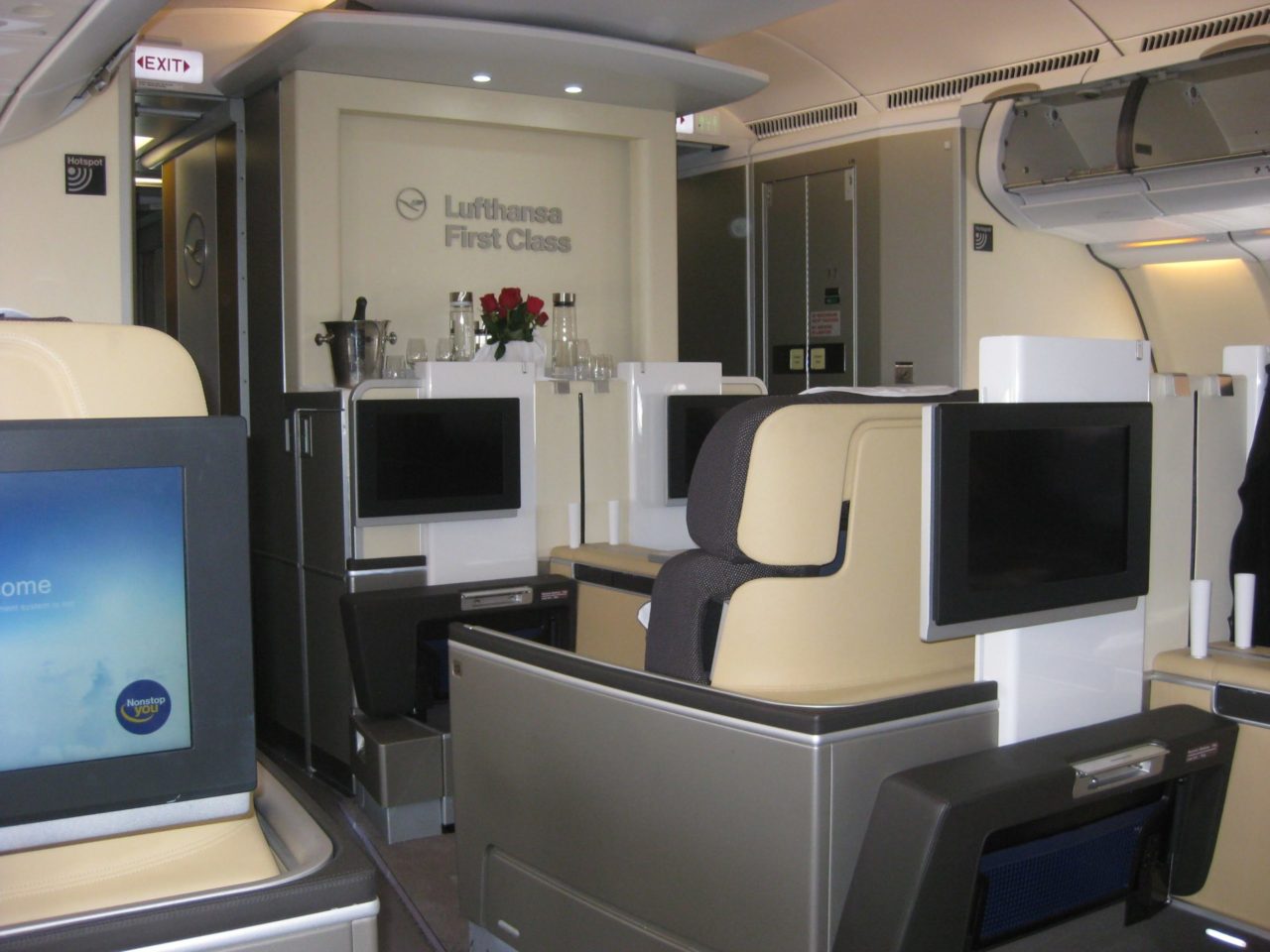 You already have miles in many airline programs
If you have a card in your wallet that earns Amex Membership Rewards points, Bilt Rewards points, Capital One Miles, Chase Ultimate Rewards points or Citi ThankYou points, you have points that can be transferred to many different airline and hotel loyalty programs. See the following resources for more information on the points you have:
Sweet spot awards
We have previously published guides to sweet spot awards using each of the major transferrable currencies. Many of these sweet spot awards involve partner award bookings. For ideas about where your miles can take you with partner awards, see these resources:
Keys to finding partner award flights
There are several things to know about partner awards:
In most cases, airlines only make their lowest redemption level seats available for booking with partners. Note that this does not mean the flight must have a low cash price (quite the contrary, you can sometimes get incredible value for last-minute flights that would otherwise cost an arm and a leg).
Flexibility is key. You may need to be willing to fly on a different day or during a shoulder season to find award availability (though this isn't always true).
Availability ebbs and flows, so what you see available (or unavailable) right now might not match what you see tomorrow.
When booking a partner award, you pay the price charged by the carrier from whom you buy your ticket, not the airline operating your flight.
That last point is a common area of confusion. If you want to book the flight to Hawaii shown in the previous section, the price you pay depends on which airline miles you have. If you have United miles, there is no way to "transfer" those miles to Turkish to take advantage of lower pricing — if you use United miles, you pay the United price.
If you want to pay the (cheaper) Turkish price, you'll need to have Turkish miles, which you can get by transferring from your Capital One, Citi or Bilt Rewards account to your Turkish Miles & Smiles account when you are ready to buy your ticket. Again, you'll be buying a ticket to fly on United Airlines, but you're buying the ticket from Turkish Miles & Smiles. I should note that this is just one example used to illustrate — in reality, there are some challenges in booking awards via Turkish Miles & Smiles specifically.
The best analogy I can give here is that you might want to buy a 32oz Coca Cola. You can buy it from any place that sells Coca Cola, but the price you pay depends on where you buy it. If you want to buy it at a gas station, it might cost you a buck or two. If you want to buy it at a sports stadium, it might cost you five or ten bucks. You're ultimately getting the same product (a 32oz Coca-Cola), but the point of purchase matters. The worker at the sports stadium isn't going to care that you can buy it at 7-11 down the block for $0.99 — you can't get the 7-11 price if you're buying from the stadium concession stand — you've got to go to 7-11 and accept whatever hassles are involved with that if you want to pay the 7-11 price.
Understanding carrier-imposed surcharges vs taxes
All airline tickets incur taxes and even when traveling on an award ticket you will need to pay mandatory taxes. Taxes vary wildly by country of departure. For instance, when departing the United States, you'll typically pay only $5.60 in taxes. However, many countries around the world levy a departure tax of somewhere around $100 (some less, some more). Everyone pays that tax whether it is rolled into the price of your cash ticket or charged in addition to the miles on your award ticket.
Some airlines levy additional charges on award tickets. These additional fees were once referred to as "fuel surcharges" because the airlines that impose them began collecting them because of rising fuel prices. However, when fuel prices decreased, those surcharges weren't eliminated, proving that they weren't really about the cost of fuel. Therefore, it is more accurate to refer to these surcharges as "carrier-imposed surcharges".
Some airlines never charge surcharges on their own flights (for example, American, Delta, and United never impose these surcharges). Some airline award programs never add surcharges on award tickets (for example, United and Avianca are two programs that never collect fuel surcharges even on partner awards). Other airlines impose surcharges that are passed on by most of their partners (British Airways is a good example).
Of airlines that impose surcharges, the most exorbitant tend to be British Airways and the Lufthansa Group, though Lufthansa surcharges can be totally avoided by booking through Star Alliance programs that do not pass on surcharges like United, Avianca, and Aeroplan. If you are new to award booking, it is worth being aware that there will be some cost beyond the miles and that the associated cost can vary quite dramatically between airlines.
Start with the long-haul flights and then widen the net
The first step to finding partner awards is usually finding the long-haul flights. That is to say that you need to find the dates where the long flights across oceans are available since those are the flights carrying you most of the way. This is especially true for those of us who are primarily focused on booking premium cabin seats since you want those long-haul flights in comfortable / flat-bed seats. There are situations where this methodology may not work best, but more on that later. Checking the long-haul routes is generally a good starting point.
It's worth mentioning here that many who use miles and points primarily focus on flying business and first class because the difference in price between economy class and business or first class award tickets (using airline miles) is often far less than the difference in cash price if you were to buy a ticket. As an example, a one-way economy class ticket to Europe might cost you $500, whereas a one-way business class ticket would likely cost north of $2,000. Economy class award tickets can commonly be found for 25,000 or 30,000 miles. Business class award tickets to Europe from the United States can be had as cheaply as 34,000 miles one-way (or more commonly for 45K-70K miles one way).
For argument's sake, let's say that Jen, our reader from Michigan, wants to get from Traverse City to Dusseldorf, Germany. I would start by figuring out which airlines serve Dusseldorf so that I know which partnerships to search. The website FlightConnections.com will show you all of the nonstop flight options from any given airport. Using that site, we can see that Dusseldorf is served by almost all of the major European airlines.
The good news is that this means that we can search all of the major alliances knowing that we could connect on British Airways, Aer Lingus, Finnair, or Iberia if booking via oneworld or on Lufthansa, Austrian, SAS, or LOT Polish if booking via Star Alliance or Air France / KLM if booking via SkyTeam, etc.
My next step is going to be to find which US gateways will be the easiest to reach for someone originating in Traverse City. Good news for Jen: Traverse City is served by all of the major US carriers, so she could easily fly from Traverse City to cities like Chicago, Detroit, or Boston to position for an international flight.
Jen really has easy access to multiple US gateways.
My next step would be to look for awards from those US gateways to Europe. Those who live in smaller cities sometimes need to book a separate positioning flight to get to the international gateway (like Chicago, Detroit, New York, etc) and other times it will be possible for that leg to be part of the larger award ticket. Since the most important flight is the transatlantic one, I would search from the US gateways with a focus on finding the long-haul availability to start.
To save myself a little time, I will sometimes start by searching from those major US gateways to the final destination (for instance, from Chicago to Dusseldorf or from Boston to Dusseldorf). If I can't find any availability, I might narrow the search to just long-haul flights like Chicago to Frankfurt or Boston to Amsterdam to see if I can find the longest sections of the award I want.
The best sites for finding partner award flight availability in each alliance
Finding partner availability can be tricky. Some airlines make partner availability easy to see online, others require a phone call to search and book partner awards. Thankfully, even in cases where you will ultimately need to call to book over the phone, you can get a good idea as to what is available by using the right site for each alliance.
oneworld partner award flights: BritishAirways.com and/or Qantas.com
When it comes to searching for oneworld partner awards, the American Airlines website is actually pretty good. You can search and book partner awards with quite of few of AA's partners on AA.com.
However, the American Airlines website doesn't show all oneworld partners and it is known to sometimes show phantom availability (seats that show up in an award search but aren't actually bookable).
More reliable options for searching for oneworld award availability are BritishAirways.com and Qantas.com. You will need to create a British Airways Executive Club account to log in and search for awards at the British Airways website and the same is true for the Qantas site (that is to say that you'll need to create a Qantas Frequent Flyer account to search at Qantas.com).
As an example, head to Qantas.com and select flexible dates in the search tool on the home page and make sure that the "Use Points" option is toggled on like this:
Then you'll catch an easy look at award availability at a glance for a month at a time with an easy key to see which dates have seats in economy, premium economy, business class, or first class.
Unfortunately, you'll sometimes find that the business class availability is actually mixed-cabin, like this award where the long-haul flight from Chicago to London would be in economy class (followed by "business class" on the leg from London to Dusseldorf; whereas business class on intercontinental flights means flat bed seats, on flights within Europe, "business class" just means an economy class seat with the middle seat blocked).
However, searching from New York on the same date shows business class availability on both legs for this itinerary (business class is the column on the far right here).
Shown above is a search for two passengers in business class from New York (JFK) to Dusseldorf (DUS). Again, I searched that at oneworld partner Qantas.com. Since those seats are available to oneworld airline Qantas, they should be available when booking via any oneworld program. The price you pay will depend on the program with which you book.
Qantas will charge 75,000 miles per passenger one way.
American Airlines charges 57,500 miles per passenger (ignore the high taxes & fees for now — British Airways is notorious for its high surcharges. British Airways isn't a great award booking option in this case, it's just an example to illustrate the way things work).
The same exercise could be repeated with any oneworld airline.
The next step for Jen would be figuring out how to get to New York. Unfortunately, award options are slim and there are no nonstop flights between Traverse City and New York. Jen might be best off booking a paid flight to New York if she wanted to travel on that specific day.
However, she might rather consider looking for something that departs the United States from Chicago since Chicago is a short nonstop flight away that can be booked for a very reasonable number of miles as a separate positioning flight.
Of course, if you're going to position with a United flight, it might be worth looking at Star Alliance options from the get-go.
Star Alliance partner award flights: United.com* or AirCanada.com
United.com has long been the go-to site for seeking out Star Alliance award space. That's still true, albeit with a couple of caveats.
First, note the asterisk above. United elite status and credit card holders get access to expanded availability on United flights that isn't accessible to partners. That's no problem if you're looking to use your United Mileage Plus miles to book your flight. If you ultimately want to use partner miles, then you don't want to be looking at expanded award availability. The solution to this problem is that you do not log in to your United account during the search process (despite being prompted to do so, you can hit an "x" in the top right corner of the login prompt to dismiss it).
The second reason for the asterisk is the United tool isn't as intuitive as it once was. You can sort results by price in business class, but it isn't plainly obvious how to do so.
Still, it can be a great starter tool for finding award space.
I would typically use the same method shown in the oneworld section above. That is to say that to start, I would look for award availability on long-haul Star Alliance flights from Chicago, Boston, etc. For example, knowing that Lufthansa flies to Dusseldorf from Frankfurt, I may search Chicago to Frankfurt, Boston to Frankfurt, etc.
However, since I knew that there was award availability for the Traverse City-to-Chicago flight shown in the previous section and I further suspected that Star Alliance space might exist on the long-haul routes, I decided to try searching Traverse City all the way to Dusseldorf on United.com.
Sure enough, United.com came up with that an itinerary connecting the Traverse City-to-Chicago flight with flights on LOT Air Polish from Chicago to Warsaw to Dusseldorf for 77,000 miles + $25 one way.
                                                                                                                                    While those awards are listed as "mixed cabin", note that the only segment in economy is the short flight from Traverse City to Chicago.
Flights on partners like LOT Polish that are available to one Star Alliance partner (United in this case) should in theory be available to any Star Alliance partner.
Sure enough, I found the same itinerary bookable via Air Canada Aeroplan (business class is in the right hand column).
As you can see above, while United charges 77,000 miles for the example flight, that same itinerary could be booked for 7,000 fewer miles through Air Canada (though in total you will pay 71 Canadian dollars in taxes and fees – about $56 USD at the time of writing). Aeroplan has a partner booking fee, hence the difference in the cash component.
Neither of the above represent the (potentially) cheapest ways to book the same itinerary. There are other Star Alliance airline programs that offer an even better deal:
Avianca LifeMiles should charge 63K miles each way in business class (or less if you include a leg in economy class)
Turkish Miles & Smiles charges 45K miles each way in business class (though this itinerary would come with around $200 in surcharges for the LOT Polish flights)
ANA Mileage Club charges 88K miles round trip, but you must book round trip and you'll be on the hook ~$200 in surcharges
Unfortunately, partner award bookings can sometimes be difficult / frustrating. Sometimes you'll run into phantom space that appears to be bookable but isn't. See this post for more information.
In this case, the itinerary shown above at United.com and AirCanada.com did not show up in my searches at the Avianca LifeMiles, Turkish Miles & Smiles, or ANA websites. That's not altogether surprising as the Avianca and Turkish websites are known to be quirky and not display some flights that should otherwise be available.
That said, in most cases you will find that partner flights found at United.com should be available to other partners. For instance, on the way back, I had no difficulty finding LOT Polish flights from Dusseldorf to Warsaw to Chicago via LifeMiles.com for 63,000 miles and $12.91.
SkyTeam partner award flights: Delta.com for airlines other than Delta
SkyTeam can be more challenging in terms of finding partner award availability. Delta.com displays most SkyTeam members. Unfortunately, prices through Delta can be absurdly high. As an example, starting from US gateway Boston, I saw that Delta.com showed a number of itineraries available on KLM for 120K miles and $23 one way.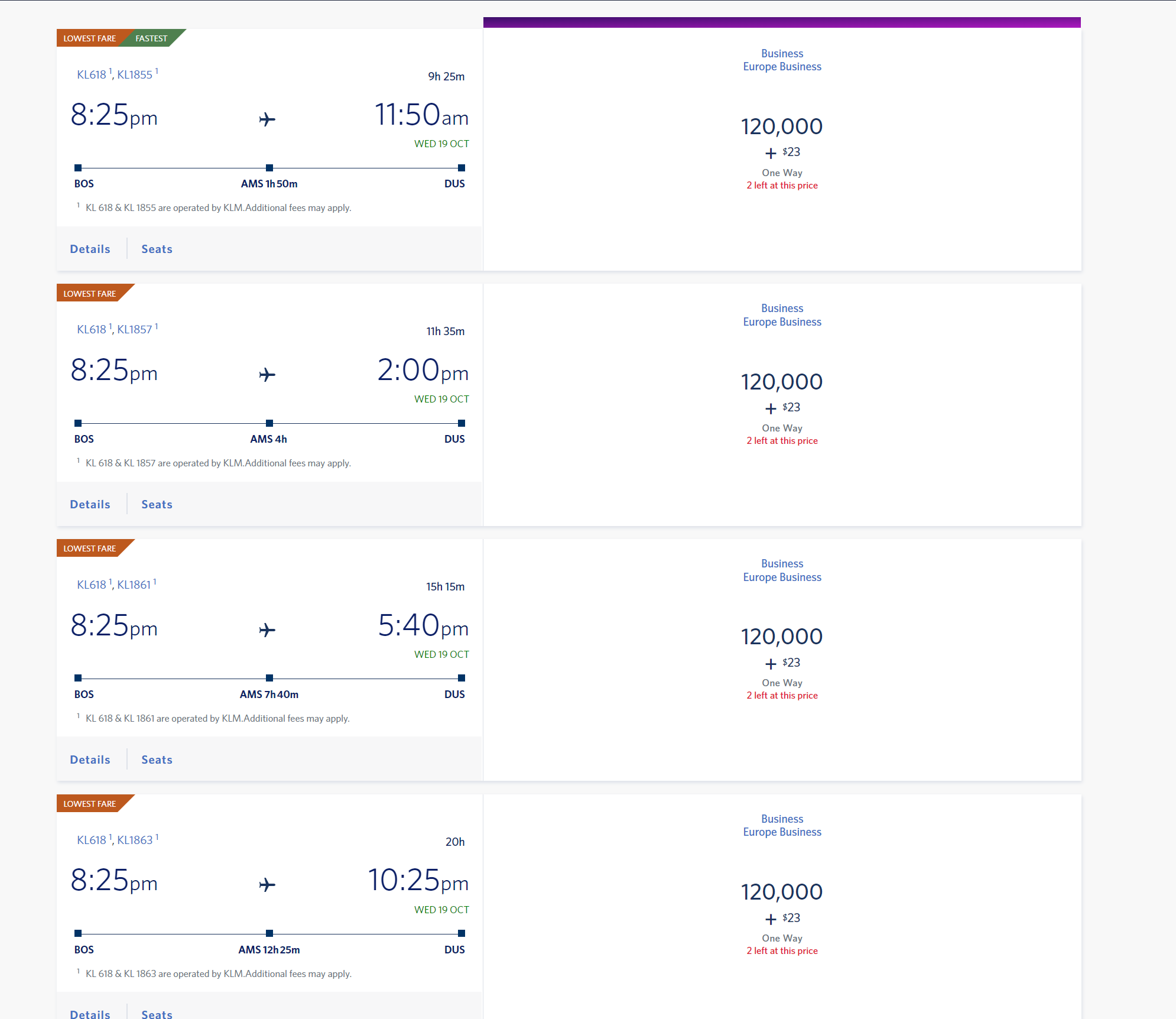 I expected that those same KLM flights would likely be available to other KLM partner airlines. Virgin Atlantic is not a SkyTeam member, but they do partner with both Delta and Air France / KLM. Sure enough, the same KLM flights are indeed available via Virgin Atlantic for 56,500 miles plus $266.40.
Of course those same KLM flights are available via AirFrance / KLM Flying Blue directly as well.
If those were the only flights that Jen could find, she would have to consider whether she would like to book a positioning flight to Boston or keep searching for a better option (keeping in mind that availability ebbs and flows).
The best award deals by region
We have a series of posts to help you find the best potential deals on award tickets for travel between the United States and various regions around the world:
Point.me and Award Logic to save time when searching for partner award flights
The above steps can become time-consuming, particularly if you are flexible on dates and gateways. A couple of tools exist that can help save you some time on award searches.
Two of the most user-friendly options on the market are Point.me and Award Logic. Both of these sites help you search award availability across multiple airline loyalty programs at once. We've written about those tools in these posts:
These are not the only two useful tools on the market. We've also written about SeatSpy, which can be useful for searching a year of award availability at a time on select airlines, and ExpertFlyer remains a popular tool in the award search community. I think that for beginners, Point.me is probably the most user-friendly option of the bunch as it walks you through creating a loyalty account and transferring miles with easy-to-understand animations, but all of the above services have their use cases.
Bottom line
Partner awards are where we often find the greatest values in the points and miles world. It is often possible to save miles and/or fly in greater comfort and luxury by mastering the art of booking partner awards. This guide is meant to get you started and we will add to it over time. The amount of information can seem overwhelming at first, but the chances for outsized value are high enough to make the juice worth the squeeze — if you're going to collect credit card rewards, it is worth sending some time studying partner awards and our many sweet spot posts to get the most out of your miles.