Per CashBackMonitor.com, HP payouts have once again jumped up as high as 14 miles per dollar. You may be able to double-dip that for 28 miles per dollar. Stacked with the current Amex Offer for $74 back on $350 or more, this can be a great deal if you're looking for HP products or cheap miles.
HP payouts reached similar levels last week, when we also posted a quick deal alerting readers to the above-average payouts (See: Nice HP Payouts stack with Amex Offer). As noted in that post, this deal can be stacked with the current Amex Offer. Once again, stacking this offer looks like this:
Step 1: Amex Offer at HP.com
Amex currently has a widely available offer for $75 back on $350 or more at HP.com. See our Complete Guide to Amex Offers for information on how to sync this offer to multiple cards — I'm using the mult-tab method myself. On it's own, this offer is decent — good for more than 21% back. And it stacks with portal payouts….
Step 2: Shop through a portal
Portal payouts are higher than normal today for HP.com. According to CashBackMonitor.com, the American Airlines eShopping mall is offer 14 miles per dollar at HP. Alternatively. United is offering 12 miles per dollar and Alaska and Delta are each offer 10.
Additionally, remember that a purchase of $50 or more should get you an entry into the current drawings for 100,000 miles and $2500 at American, United, and Alaska shopping portals. See: Win 100,000 miles: enter by shopping or by mail for more details).
Step 3: Double dip
According to Stephen in the Frequent Miler Insiders Facebook group and most (though not all) results in our Laboratory, portals usually pay out on the purchase and use of HP.com gift cards. This means that you could theoretically go through the American Airlines shopping portal and buy $350 in HP eGift cards to earn 4,900 miles. Then, go back through the American Airlines shopping portal again to use your gift cards and earn another 4,900 miles. We can't guarantee this will work — portal terms often exclude the purchase of gift cards, and in this case they do exclude the purchase of gift cards. If your purchase doesn't automatically track, your chosen portal won't be any help. Also be aware that portal terms state that HP.com will pay out on no more than 10 orders per month (and that anything beyond 10 orders will be automatically cancelled).
Entries in each sweepstakes
If you're interested in the sweepstakes, you could buy your $350 in gift cards in 3 separate transactions through 3 separate portals to maximize your entries today. As I read the terms of the 100,000 mile drawings, all purchases made in a single day from a single merchant will count as a single purchase — so the most you'll get credit for is 1 purchase at HP.com through each portal (American, United, and Alaska). Since American has a higher payout, I would do this:
Buy a $50 eGC through the United Shopping portal: Earn 12x (600 miles) and 20 entries in the sweepstakes
Buy a $50 eGC through the Alaska shopping portal: Earn 10x (500 miles) and 20 entries in the sweepstakes
Buy a $250 eGC through the American shopping portal: Earn 14x (3500 miles) and 20 entries in the sweepstakes
The terms of the Amex offer state that you must spend $350 in "one or more transactions", so I would expect the three purchases above to trigger the $75 statement credit.
Double dip totals
If you purchased the gift cards as outlined above, you would earn 4,600 total miles on the purchase of the gift cards. If you then went through the American Airlines shopping portal to use those gift cards, you would get another 4,900 miles ($350 X 14). Of course, not all miles are created equally and you may prefer to make your purchases more heavily with Alaska or United. However, pretending for a moment that all miles are equal, that's 9,500 miles. You'll theoretically end up with $350 worth of stuff and 9,500 miles for $275. Of course, that's assuming that you're able to spend exactly $350 on stuff (unlikely) and that you're not paying additional sales tax (even more unlikely) and it is relying on the double dip to work (uncertain). Assuming it does work as intended, that's a pretty solid deal. Even if we just value the miles at 1.5c each, they're worth around $142.50. Of course, that's variable depending on how you use your miles — but it's a good rate of return on that amount of spend.
Amex Open Savings
Don't forget that those with Amex OPEN business cards can additionally enjoy a savings of 5% as a statement credit or choose to get 2 additional Membership Rewards points.
Update: Laptop Coupon
Charlie at Running with Miles reports there is a coupon available for 25% off laptops. That could be really useful if you're looking to buy a new computer. See his post at Running with Miles for more details.
Is there a resale opportunity?
This comes down to finding something(s) on which you can at least break even at your $275 cost for $350 worth of merchandise. Assuming you pay sales tax, that is probably tough – but it might not be impossible. If you can break even, you might be able to earn as many as 9,800 miles for free. On the other hand, if you lose another $75 and only sell your ~$350 worth of merchandise for $200, your cost per mile would be $75 / 9,800 miles or about 0.76 cents per mile (again, assuming no sales tax — you'll have to adjust to account for that based on your situation). It certainly could be worth buying miles at that rate depending on your plans for use and the number of Amex Offers that you have. However, note that this relies on the double dip to work. That's likely, but not a guarantee — so factor that risk into your equation as well.
Bottom line
These are great payouts to stack with the Amex Offer. If you need products that HP sells, the possibility of a double dip combined with the Amex Offer and Amex OPEN savings could make this a terrific deal. Even if the double dip fails and you only get miles once, 14 miles per dollar is a nice rebate to stack with the Amex statement credits.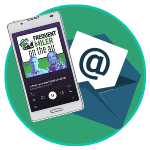 Want to learn more about miles and points?
Subscribe to email updates
 or check out 
our podcast
 on your favorite podcast platform.