A few years ago I published a post sharing how you can maximize orders with Grubhub by taking advantage of their partnerships, special offers and more.
A lot has changed since that was published, so with American Express adding a $20 monthly credit that can be used on Grubhub orders (among others) on the Business Gold card, it seemed like a good time revisit this topic now that even more people are likely to try Grubhub for the first time or use them more frequently from now on.
With discounts, free food, hotel points and more on offer, here are some tips and tricks for how to make the most of your Grubhub orders.
1) Discount For New Customer Via Referral
In the past it was sometimes possible to earn a high cashback rate on your very first Grubhub order by clicking through from a shopping portal. Nowadays, it seems like the best discount on your first order can be obtained by signing up via someone's referral link.
At the time of publishing this post the referral offer is that you get $10 off when spending $15+. Here are our referral links; we'll get $10 of Grubhub credit if you use one of our links.
2) Portal Rewards For New Customers
It's still possible to earn rewards via a shopping portal on your first order, although as mentioned earlier the rates on offer aren't anywhere near as high nowadays. You can find the latest rates here and here on Cashback Monitor.
It might be possible to get both the savings from a referral offer and shopping portal rewards. To do that, you'd want to click through from a shopping portal first, then copying and pasting a referral link in your browser's address bar. There's no guarantee that you will earn rewards from a portal, but this'll at least give you a chance.
3) Free Grubhub+ Membership
Grubhub has a subscription service called Grubhub+ which ordinarily costs $9.99 per month. This comes with a range of benefits such as free delivery, lower service fees, 5% back when placing pickup orders and more.
Grubhub has several partnerships that give you the opportunity to get a free year of Grubhub+. That includes Amazon Prime (our affiliate link), Bank of America (check your BankAmeriDeals) and Lyft Pink (which you can get for free through December 2024 with the Chase Sapphire Reserve card).
4) Monthly Statement Credits
For a number of years the personal Amex Gold card has come with a $10 monthly dining credit which can be used at a number of restaurants and services including Grubhub.
In October 2023 that was joined by the Amex Business Gold card with a new $20 monthly credit that can be used at FedEx, office supply stores or Grubhub.
Unlike the Uber/Uber Eats benefit on Amex Gold and Amex Platinum cards where all you have to do is link your card and you automatically get Uber Cash added each month, with the Grubhub benefit you have to use your personal Gold or Business Gold card as the payment method when checking out.
If you have a Citi AAdvantage Executive World Elite Mastercard, that also comes with a $10 monthly credit for Grubhub.
5) Free Or Discounted Food
Depending on where you live, there's a good chance that you can get free or discounted food courtesy of Grubhub Rewards. In the app, you'll see a tab at the bottom labeled 'Rewards' – tap on that.
You should then see all kinds of different special offers. Some are for Grubhub+ members only, but others are available for all users. You might see BOGO food items, $5 off $25, $10 off a future order when spending $100 in cumulative orders for a specific restaurant, etc.
These can stack nicely with credits on eligible Amex and Citi cards. For example, if you have an offer at a restaurant giving $5 off when spending $25, you could add $25 of food to your cart to get $5 off (the $25 is before taxes, fees, tips, etc.), then pay with an Amex Business Gold card to get $20 back. That meal wouldn't be "free" as such because a) there'll be taxes, fees, etc. tacked on and b) you're paying for some or all of the credits via the card's annual fee, but it does give you some decent savings.
6) Save Money With Pickup Orders
My wife and I rarely have food delivered by Grubhub even though we both currently have free Grubhub+ memberships. Despite Grubhub+ offering free delivery, if we ordered that way we'd still be tipping the drivers which increases the cost of the order.
Instead, we tend to place orders for pickup. That has a couple of benefits; one is that we don't have the cost of tipping a driver, the second is that Grubhub+ gives 5% back in rewards for future orders.
We each have an Amex Gold card which means we have two $10 dining credits to use each month which we normally use on Grubhub. You can only pay with one credit card per order, so we each have our own Grubhub account and place a $10+ order at the same time so that they're both ready for pickup at the same time.
7) Save With Discounted Grubhub Gift Cards
Grubhub gift cards sometimes go on sale, so that can be another good way to save on orders beyond just using credits from eligible credit cards. In addition to Grubhub gift cards specifically, there are other indirect ways of buying them at a discount. For example, at the time of publishing this post Grubhub is an eligible retailer on the following Happy and Choice gift card brands:
Happy #BestMomEver
Choice Pack & Go
Choice Treat Yourself
Choice Happy Holidays (red)
Choice Game & Grub
Choice Thank You
Choice Yay You!
Happy and Choice gift cards often go on sale online, at grocery stores, etc., so this can be a good method to save money on those. The way it works is that you redeem the Happy or Choice gift card online and can choose gift cards for any of the eligible retailers on that card.
Something to be aware of is that you can only split payment between a gift card and credit card to a certain extent. If your gift card balance can cover an entire order, it would have to be paid for either entirely with a gift card or entirely with a credit card. If your order comes to, say, $50 and you have a $25 gift card balance on your account, you can redeem that and then pay the balance with a credit card.
8) Save Money With Bonus Cards
Once or twice a year Grubhub runs a promotion online where you can buy a Grubhub gift card and get a bonus card free. For example, they might give a $10 bonus card free when buying a $50 gift card.
These can be good offers, but an important thing to be aware of is that the bonus cards expire. They usually last for a month or two, but always pay attention to the validity dates before purchasing and make sure you redeem them before they expire.
Seeing as the bonus cards are normally for lower amounts (e.g. $10 or $15), they can often stack nicely with $10 and $20 credit card credits depending on the size of your order.
9) 1 Month Grubhub+ Trial Via Choice Hotels
Discounted Choice gift cards aren't the only Choice choice for maximizing Grubhub orders. Grubhub also has a partnership with Choice Hotels which they're marketing as offering free delivery to participating Choice properties.
In reality, it appears to be a 30 day free trial of Grubhub+ which has free delivery as one of the benefits and so it shouldn't require that your order be sent to a participating Choice Hotels brand. However, to get the free trial via Choice you have to scan a QR code at one of their hotels.
10) Free Points From IHG One Rewards For New & Existing Customers
Grubhub has a partnership with IHG that offers bonus IHG One Rewards points when placing orders via this site.
New Grubhub customers get 500 bonus points for their first order, then you can earn 250 points per order on subsequent orders. While 250 bonus points is worth ~$1.25, it's still better than nothing now that shopping portals don't seem to offer rewards for existing customers.
11) Save With Amex Offers, Chase Offers, Etc.
We sometimes see card-linked offers for Grubhub from American Express, Chase, etc. With these, you might see an offer for something like 10% back as a statement credit or $10 back as a statement credit when spending $50. Those offers aren't very common, but it's worth keeping an eye out for them if you'll be ordering from Grubhub, especially if it's possible to load an Amex Offer to an Amex Gold or Business Gold card as it'll then stack with the $10 and $20 credits respectively.
12) Save With Promo Codes
Grubhub occasionally releases promo codes that offer savings on orders. These are sometimes valid for all users, while others are location-specific (e.g. only valid for orders in New York City.) We don't tend to cover those promo codes here, but Doctor of Credit has this post that gets updated with new ones.
13) Grubhub Guarantee
Grubhub has a feature called the Grubhub Guarantee that Mark shared about in the comments below. Here's his explanation.
I initially wasn't a big fan of GrubHub but when I discovered how to use the GrubHub Guarantee program to pricematch to various deals/promos on Uber Eats and Doordash it unlocked a whole new level for me. Now, the majority of my GrubHub delivery orders wind up being cheaper than if I went to the restaurant, ordered in person and then brought it home.
You just need the same restaurant on GrubHub and also on Uber Eats or Doordash.
You need a coupon or discount for Uber Eats or Doordash.
You place order via Grubhub and then take screenshots of cheaper order on Uber Eats or Doordash without actually placing the order and then submit the screenshots to Grub.
Get up to a $15 credit for a future Grubhub order in the form of a coupon. They price match the difference plus add $5 up to a max of $15.
Your Tips
That's a dozen tips for how to maximize your Grubhub orders, but I imagine there are even more ways to save money or earn rewards. Let us know of others in the comments below if you've got any and we'll get those added to the list above.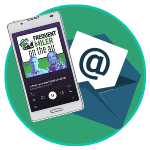 Want to learn more about miles and points?
Subscribe to email updates
 or check out 
our podcast
 on your favorite podcast platform.