Update: Readers have reported receiving this offer on other cards in the comments. Keep an eye out for this one if you hold any Barclaycard and let us know if you receive the offer on any additional cards.
Barclaycard has sent out a targeted offer on several credit cards: AAdvantage Aviator Red, Aviator Silver, and Arrival+ cardmembers have reported receiving the following offer (and it may appear in emails associated with other cards as well): Get a $150 statement credit by booking a Carnival Cruise between February 16, 2018 and March 15, 2018. This looks like a great deal as it specifically states that you can book through Carnival or your travel agent, allowing you to stack this with other offers. The promotion appears to be targeted, as my wife received the email and I did not.
The Deal
Book a Carnival cruise with your Barclaycard (see your offer for which card you must use) between February 16, 2018 and March 15, 2018 and receive a $150 statement credit
Key Terms
Offer applies to Carnival cruise purchases only
If using a Travel Agent, the qualifying cruise must be booked through a Carnival Approved Agent
The $150 statement credit will post to your account within 6-8 weeks after the promo period ends
Quick Thoughts
This seems like a great deal since there are no strings attached and you can stack with whatever deal your travel agent is able to offer and/or with portal rewards or mileage offers. You're giving up some of the Travel Insurance you might have when booking with premium cards, but the savings might outweigh those benefits for many. Carnival cruises start pretty cheap — without much searching, I saw 3-night cruises from less than $200 per person for interior rooms or ~$300 for a balcony room (surely there are taxes/fees that add to the cost, I didn't go into the booking process).
Even 5-night cruises can be had pretty cheaply.
With taxes and fees included, $150 back can still represent a significant rebate on many itineraries depending on what time of year you plan to set sail.
Personally, I'm not a cruise traveler (I'd be feeding the fish with Greg), but I imagine that some people might be able to stack up a nice savings if they have this offer on multiple cards within the household. I did take one Carnival cruise a few years ago. While I understand it to be less luxurious than other lines, I was as content as I'm going to be on a boat — everything was a bit better than I expected all things considered.
It's unclear whether or not this offer is targeted, though I imagine it is since my wife received the offer and I did not. Be on the lookout for an email with the subject line, "Special offer: Earn a $150 statement credit when you book a Carnival cruise" if you're looking to book a cruise. Don't forget that the promotion applies to bookings starting 2/16/18 — so you'll want to hold off on booking until tomorrow.
H/T to FlyinJaT for alerting me to look for the email.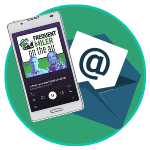 Want to learn more about miles and points?
Subscribe to email updates
 or check out 
our podcast
 on your favorite podcast platform.