It's only a few days until Valentine's Day, so if you've been procrastinating and need to order a (somewhat) last minute gift, here are all the ways you can save and/or be rewarded when ordering from 1-800 Flowers and its associated companies.
Promo Codes
Note that you can only use one promo code per order and using one of these codes will invalidate shopping portal earnings. In the past, the portal rewards would track initially but then they would be clawed back.
It therefore becomes important to decide which offers better rewards: the portal or the code. One non-obvious advantage of the portal approach is that the total charged to the card is higher than if you used a code for say 20% off. That can be good because it potentially means more rewards from card-linked offers and Chase/Amex Offers.
AAA – Save 25% with promo code 25AAA or get $20 off $79.99 or more with promo code AAA20.
AARP – Get 20% off with promo code AARP2 or get $20 off $79.99 or more with promo code AARP3.
Alaska Airlines – Earn 20 miles per dollar when you use promo code AKA3.
Amtrak – Earn 30 points per dollar with promo code AMT56.
Caesars Rewards – Earn 25 Reward Credits per dollar (or 30 per dollar for select holidays) with promo code CAE25.
Southwest – Earn 1,000 Rapid Rewards points for each order of $29.99+ with promo code RR22.
United – Earn 15 miles for every dollar spent on flowers and gifts when using promo code MP56.
Shopping Portals
Shopping portal rates for 1-800 Flowers can vary from day-to-day, so it's best to always compare rates on Cashback Monitor. At the time of writing this post, it looks like the best rate is 20%/20x from Rakuten.
Acorns
An alternative to clicking through from a shopping portal or using a promo code is to click through from Acorns, especially if you'll be placing lower-cost orders.
That's because Acorns offers $15 cashback in the form of Found Money (which gets invested in your Acorns Invest account) when spending $10+ with 1-800 Flowers. Be sure to check the terms when placing an order because at the time of writing this post there's an exclusion for purchases of alcohol (including wine), cookie cards, and popcorn cards.
This $15 rate is due to end on February 16, 2021, but might be extended beyond that; again, check the terms before clicking through.
If you're new to Acorns, feel free to use one of our referral codes with our thanks – you'll get $5 as will we when you invest at least $5:
Amex Offers
There's currently a couple of different 1-800 Flowers Amex Offers – one for personal cards and one for business cards:
These Amex Offers are eligible at 1800flowers.com, cheryls.com, thepopcornfactory.com, 1800baskets.com, fruitbouquets.com, harryanddavid.com, wolfermans.com, stockyards.com, personalizationmall.com, SimplyChocolate.com, and Goodsey.com.
The 1-800 Flowers Amex Offer on the personal card is best if you're spending $50-$66.67; if you're spending $66.67 or more, the Amex Offer available on business cards will save you more.
Chase Offer
If you don't have access to the Amex Offer, there's a targeted 1-800 Flowers Chase Offer giving 10% back on up to $120 of spend. This offer is also useful if you have the Amex Offer on a personal card but would be spending less than $50 and therefore wouldn't be spending enough to trigger the $15 statement credit.
Drop
The Drop app has a card-linked offer for 1-800 Flowers, giving 10,000 points (worth $10) when spending any amount.
The fact that this offer is card-linked is great because it means it stacks with other offers above and so doesn't invalidate promo codes or portal earnings.
You have to activate the offer in the app, so tap the 'Card' tab at the bottom of the app to access the offer. Update: It sounds like this is a targeted offer, so there's no guarantee that it'll show up in the app for you.
If you've not used Drop before, you can earn 5,000 points (worth $5) when signing up with a referral link and earning 1,000 points.
Gift Cards
If you don't have access to the Amex Offers and Chase Offer, you could save money or earn additional rewards by paying with 1-800 Flowers gift cards. One downside with this option is that you'd miss out on the 10,000 points in the Drop app.
As with any gift card brand, there are all kinds of ways to save or be rewarded, but here are some of the best options at the time of writing this post:
Discover Cashback Bonus – 30% discount. If you have Discover Cashback, you can redeem that for gift cards. 1-800 Flowers is one such option and they're offering a 30% discount right now.
Rakuten gift card shop – 9% cashback. If your Rakuten account is set up to earn Membership Rewards, you'll be earning 9x Membership Rewards.
Raise – 15% discount plus cashback/rewards when clicking through from a shopping portal.
Grocery stores – Earn fuel points (if applicable) and pay with a card that earns more at grocery stores.
Free Shipping
It used to be possible to get free shipping on 1-800 Flowers orders with ShopRunner, but that's sadly no longer an option.
The best option nowadays is to enroll in Celebrations Passport. That costs $19.99 per year and offers free standard shipping and no service charge throughout the year.
Paying for Celebrations Passport using the Amex Offer on a personal card can be a good option as that Amex Offer is valid on one or more transactions. You can therefore pay $19.99 for that initial transaction, then you only need to spend $30.01 more to trigger the statement credit on the Amex Offer.
There's no minimum order size when you have Celebrations Passport which can be particularly useful if you'll be placing cheaper orders and stacking with the $15 back via Acorns when spending $10+. It's also valid at all Celebrations Family of Brands.
Stacking Examples
Some of these offers stack with each other to maximize your savings and rewards. I've listed below some examples of deals which will stack; the best stacking opportunities for you will depend on which of these offers you have access to, how you value points/miles, what shopping portal rates are available on the day you place an order, etc.
Orders less than $50

Chase Offer – 10%
Drop – 10,000 points ($10)
Acorns – $15 Found Money

Orders $50-$66.67

Amex Offer on personal cards for $10 back on $50+
Drop – 10,000 points ($10)
One of the following:

Acorns – $15 Found Money
Shopping portal
Promo code

Orders $66.67+

Amex Offer on business cards for 15% back
Drop – 10,000 points ($10)
One of the following:

Acorns – $15 Found Money
Shopping portal
Promo code
Other Stacking Options?
Are you aware of any other ways to save or earn when placing 1-800 Flowers orders? Please let us know in the comments below so that we can add to this resource.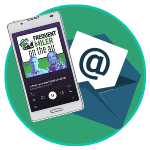 Want to learn more about miles and points?
Subscribe to email updates
 or check out 
our podcast
 on your favorite podcast platform.