Card Details and Application Link
IHG One Rewards Premier Business Credit Card
140K points $3K spend in 3 months$99 Annual Fee
Click here to learn how to apply
This is an affiliate offer. Frequent Miler may earn a commission if you are approved for this offer
Earning rate: 10X IHG ✦ 5X travel, gas stations, restaurants and dining, social media and search engine advertising, office supply stores ✦ 3X on all other purchases
Card Info: Mastercard World Elite issued by Chase. This card has no foreign transaction fees.
Big spend bonus: 10K bonus points + $100 statement credit after you spend $20K in a cardmember year + make one additional purchase. ✦ Diamond status after $40K in purchases + one additional purchase in a calendar year ✦ Free night certificate (up to 40K points) after $60K in purchases + one additional purchase in a calendar year
Noteworthy perks: Anniversary free night e-certificate good at IHG properties up to 40K points per night ✦ Ability to add an unlimited number of points to a free night certificate to book a higher-level hotel ✦ Fourth night free on award stays ✦ 20% discount on points purchases ✦ Platinum elite status ✦ Up to $50 in United TravelBank cash per year (must register your card with your United account) ✦ $10 monthly GoPuff credit (through 12/31/23)
Application Tips
Chase Application Tips
Shut-Down Caution: Signing up for new Chase cards can lead to Chase reviewing your accounts. This may lead to Chase shutting down all of your accounts if you appear to be a credit risk. See this post for details and recommendations: Why Chase shutdowns have increased and how to avoid them.
5/24 Rule: With most Chase cards, you won't get approved if your credit report shows 5 or more cards opened in the past 24 months. Details here.
24/48 Month Rule: With most Chase cards, you can get the same card and bonus again 24 months after having received the bonus as long as you no longer have the card open. With Sapphire cards, you must wait 48 months. No wait is required for Chase Ink cards.
30 Day Rule: It is tough to get approved for more than 2 Chase cards within 30 days
Get Same Card Again: You can get the same exact card and again if you first cancel the older card and follow the 24/48 month rule. Ink cards are OK to get again without cancelling previous card if you apply with a new business.
Better Offers: You may be able to get a better offer than the best available public offer. Details here.
Hard inquiries combine into 1 when approved same day (not always true when mixing business and personal)
Call (888) 338-2586 to check your application status
If denied, call reconsideration here:1-888-270-2127 for both personal and business cards
Related Cards (IHG)
Card Offer
140K points $3K spend in 3 months$99 Annual Fee
140K points after $3K spend in 3 months$99 Annual Fee
Recent better offer: 175K after $3K in spend (expired 4/6/23)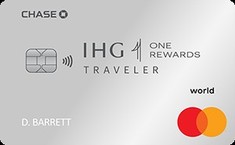 80K points after $2K spend in 3 monthsNo Annual Fee
Recent better offer: 120K after $2K spend (expired 7/4/22)

None
This card is no longer available$49 Annual Fee
Information about this card has been collected independently by Frequent Miler. The issuer did not provide the details, nor is it responsible for their accuracy.