In what might be a targeted offer, IHG One Rewards has sent an email to members inviting them to purchase a timeshare tour package. For $199 or $249 (depending upon whether you want to stay at a partner hotel or at the resort property you'll tour), you can get a 3-night stay and 75,000 IHG One Rewards points upon completing of a timeshare presentation during your stay.
The Deal
Holiday Inn Club Vacation is offering a 3-night stay and 75,000 IHG One Rewards points for $199 (which includes a stay in a partner hotel) or $249 (which includes a stay at a Vacation Club resort. Availability of partner hotel or resort accommodation varies by destination. Note that you must attend a timeshare presentation during your stay. Available destinations include:

Orlando, FL
Gatlinburg, TN
Las Vegas, NV
Myrtle Beach, SC
Branson, MO
Cocoa Beach, FL
Galveston, TX
Williamsburg, VA

Book online here: Direct link to this deal
Alternatively, call (844) 263-0208 and mention code IHG EMAIL 12
Key Terms
Book by 11/27/23 (which I think means to purchase the package — you can select dates later)
You must meet certain qualifications and attend a two-hour sales presentation (tour) in order to participate in this promotion
You may not participate in this promotion if you have a marketing getaway package requiring attendance at a tour or have participated in a marketing tour within the last twelve (12) months.
A maximum of 3 marketing tours and getaway packages are permitted in a lifetime.
Member booking must be at least 25 (twenty-five) years of age, have household income of $50,000 USD (the combined income of married couples or unmarried couples living together is considered "household" income), must be gainfully employed (not to exclude retirees or the disabled with household income as described above) and creditworthy.
You may not be in bankruptcy at the time of the tour.
Couples, married or unmarried, must attend tour together and both must present forms of identification such as a valid U.S. driver's license, U.S. state identification card or passport (cohabitant's identification must contain matching addresses) and a personal major credit card (prepaid cards not accepted) at time of tour.
Guests may not possess a temporary work visa or be a citizen of certain countries with restricted financing qualifications.
If you travel and you do not attend the full presentation or are disqualified at the time of the tour, the difference between the marketing getaway package price and the retail rate for the applicable property at that time, or $300 (whichever is greater) plus any premium cost, if included, and taxes, will be charged to your credit card.
All parties attending the tour must understand and speak English.
Guests cannot be in possession or under the influence of alcoholic beverages during the tour
This is a non-refundable, non-transferable advance purchase package. A $19.95 charge applies to each reservation change made after the initial purchase. Any change made within 72 hours prior to check-in or vacation no-shows will be charged a $99 one-night fee.
Peak Season reservations incur an additional $29 (hotel)/$49 (resort) per night fee.

2023 Peak Season Dates:

9/1/2023-9/4/2023, 11/23/2023-11/25/2023, 12/21/2023-1/1/2024.
Gatlinburg Only: 10/1/2023-10/31/2023.

2024 Peak Season Dates:

3/18/2024-3/31/2024, 5/24/2024-5/27/2024, 7/4/2024-7/7/2024, 8/30/2024-9/2/2024, 11/28/2024-11/30/2024, 12/19/2024-1/1/2025.
Gatlinburg Only: 10/1/2024-10/31/2024.

You are responsible for any resort fees where applicable and taxes which range from $5 to $60 per night depending on where and when you travel.
Quick Thoughts
This can be a good deal even if you really just want the points. Based on our Reasonable Redemption Values, 75K IHG One Rewards points are worth $472.50, and you can obviously get even better value with some redemptions. Depending on how you value your time (remember that you need to attend a ~2hr timeshare presentation), you could be well ahead on the points alone. If you also value the 3-night stay, this can be a great deal.
For those unfamiliar, the way these timeshare presentations work is that you select a destination and buy your package. You have up to 12 months to travel, so you don't even need to have your dates set right away (but be sure that you will be able to travel within the allotted window since you're paying for the package up front).
All that said, there are some serious drawbacks in the terms. First of all, if you have to change your dates, you'll pay a fee of $19.95 (or $99 if changed within 72 hours of check-in). You'll also be on the hook for resort fees, parking fees (if any), and potentially an additional per-night fee for peak season reservations (which include about half the month of March, about half the month of December, all of October in Gatlinburg, and select other dates around major holidays). That reduces the value a bit since a lot of people would want to travel during those "peak" times.
Note that you can purchase a package online or you can call (844) 263-0208 and mention code IHG EMAIL 12. If you're a skilled negotiator, it might be worth calling as we sometimes hear of people negotiating timeshare offers into even better deals over the phone. I have no idea whether that would be possible here (I'm pretty sure this is the best offer we've seen from IHG as far as I can recall), but you can try out your charm if you'd like (and report back if you do get another offer).
If you haven't attended a timeshare sales presentation before, I recommend reading Stephen's post about how to get your "No" face on. While he writes about a Wyndham timeshare presentation, it's more or less all the same stuff dressed up differently (the current hot term is "vacation ownership", but if you look at the disclosures, New York State requires that they disclose that this advertisement is being used for the purpose of soliciting timeshare sales, so don't be fooled – clearly IHG's lawyers weren't fooled into thinking it was something other than what it is). The timeshare model works well for some people, but I've heard repeatedly over the years that if you really want to buy one, you probably want to buy it secondhand since many people get locked into the maintenance fees in perpetuity and just want out eventually. In my experience with presentations, they keep making the deal better and better, so even if you are convinced (hopefully by your advance research) that you want to buy one from a salesperson, certainly don't accept the first or third or fifteenth deal, because it probably gets better.
I might actually try one of these out to see how it compares to the Bluegreen Vacations presentation that I attended last year. That presentation had some awfully flawed math, but the resort seemed nice enough. I plan to visit Orlando and Myrtle Beach in the next year anyway and I could always be convinced to go back to the Gatlinburg, TN area, so I imagine we could make this work well with our plans and the 75,000 points wouldn't hurt. I can't imagine anyone could convince me to buy, but I might give them a chance to try to prove me wrong in 120 minutes or less.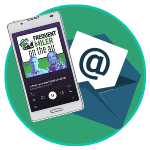 Want to learn more about miles and points?
Subscribe to email updates
 or check out 
our podcast
 on your favorite podcast platform.