There is currently an offer to earn 20,000 American Airlines AAdvantage miles for signing up for Sprint Wireless service and an additional 5,000 miles after you've stayed with Sprint for 1 year. I don't believe this deal stacks with any corporate or other Sprint discounts, so it may not be a great deal for those who have some other options, but if you were considering Sprint and don't have access to any other deals, this is much better than any other portals are currently offering.
The Deal
New account holders can earn 20,000 American Airlines miles when they activate Sprint service on a qualifying plan and then earn 417 bonus miles per month up to 5,000 miles per year.
Key Terms
Sprint Offer for AAdvantage® Members Overview (New & Existing Sprint Accounts):
Sprint account holder must register at www.sprint.com/AAdvantage with AAdvantage® number to participate in the Offer.
Sprint account must remain active and in good standing for 30 days to earn miles.
Sprint account requires 1 line to have Unlimited Plus or Unlimited Premium plan.
AAdvantage® account name and Sprint account name must match to be eligible and account must have at least one phone active on the account.
Miles are earned per account, not per subscriber.
The offer is not combinable with the Sprint Perks offers.
Allow 8-10 weeks after registration for miles to be deposited to your AAdvantage® account.
20,000 Miles

 (New Sprint Account Miles)
20,000 AAdvantage® miles (New Customer Offer Terms):
New Sprint account must register within 30 days of new-line activation.
Sprint account requires 1 line to have Unlimited Plus or Unlimited Premium price plan.
Adding or transferring a new line of service to an existing Sprint account does not make the account eligible for 20,000 miles award.
Only one 20,000 miles award per AAdvantage® Member.
Only one 20,000 miles award per new Sprint account.
New Sprint accounts qualifying for 20,000 miles offer can also earn monthly Loyalty miles as long as they participate in the offer and remain active and in good standing.
 

5,000 Miles

 (Annual Loyalty)
Up to 5,000 AAdvantage® miles Loyalty Offer Terms:
If an existing Sprint customer chooses to participate in the offer any other Sprint Perks will be removed, only 1 Sprint Perks Corp ID allowed per account.
Sprint account requires 1 line to have Unlimited Plus or Unlimited Premium price plan.
Loyalty miles earned are awarded monthly. An award of 417 miles per month can be earned for a total of up to 5,004 miles after 12 months when the account remains active and in good standing.
Quick Thoughts
This could be a deal if you are otherwise considering signing up for Sprint. As noted at the top, it certainly beats what other portals are offering. It could alternatively be somewhat game-able (more on that a bit down the page). On the other hand, it's not necessarily he best deal possible for Sprint service, so if you're just looking for one line of Sprint service this may not be your best deal.
Greg originally sent me this deal as an email he had received advertising a deal to get an iPhone 11 for "$0" and also earn 25,000 AA miles as shown above. I'm going to split up analysis because those are really two separate deals.
The iPhone Deal
That "free phone" deal is kind of misleading — the phone deal is a trade-in and lease deal. First, you need an iPhone6s or newer (or one of a number of Android phones) that is unlocked to trade in. Then you get an 18-month lease on the iPhone 11 where you pay $0/mo instead of $29.17/mo and then don't own the phone at the end (you'll have to make 6 total payments of $29.17 in order to own it). Your total cost for the phone is then about $175 + the value of your trade-in (which is basically going to be $100 or more) — essentially, it's a discounted iPhone. I believe that deal is totally independent of the deal to join Sprint and get miles, so whether or not that iPhone deal appeals to you shouldn't have any bearing on this deal to get miles for signing up.
The Mileage deal: 20K miles for new customers, up to 5K miles per year for new and existing customers
The mileage offer from American Airlines is to get 20,000 AA miles for activating a new Sprint account with eligible plan. Then you also get an additional 417 bonus miles per month up to 5,000 bonus miles after one year. We've written about that deal in the past.
As to whether or not this deal is worth the miles for signing up, it probably is for some people. To get the 20,000 miles and 5,000-mile bonus, my understanding is that you'd need to sign up for one of the three unlimited plans that Sprint offers: Unlimited ($60/mo), Unlimited Plus ($70/mo), or Unlimited Premium ($80/mo).  If you're signing up with multiple lines, the cost per line comes down to a more reasonable level.
As you see in the key details above, the 20K-mile offer requires activation and registration within 30 days. It also requires that your line be active and in good standing for 30 days. I take that to mean that at least theoretically, you could cancel after 30 days and you would still be eligible for the new customer (20K mile) offer. I imagine you'll have to pay $60 for the first month of service and potentially $60 for the second month to be sure you hit the 30-day mark. The potential trouble here is that it says it takes 8-10 weeks for the miles to post, so if you were to cancel early you'd be hanging on hoping to see the miles down the road sometime after you've canceled.
Personally, I don't think it's worth the potential hassle to open an account just to close it in a month and I don't think the plans are a particularly great deal at $60-$80/mo.
A cheaper plan
I don't find the included plans particularly worthwhile both because they don't look better than competitor offers and also (perhaps more importantly) because I read in a Slickdeals thread (and subsequently in several other places on the Internet) about something called the Sprint Wireless Advantage Club program (SWAC for short). It seems that in order to sign up for SWAC, you need an employee's email address and the last 3 digits of his or her employee number. Word on the street is that as of a few months ago (you know, back when stores were open and stuff) one could walk into a Sprint store and ask an employee to get signed up. The deal with SWAC is that if you get signed up for that, you get the Unlimited Plus plan (ordinarily $70/mo) for $30/mo with autopay. The Unlimited Plus plan comes with Hulu, Tidal, HD streaming, 50GB of LTE hotspot, 10GB of LTE in Canada and Mexico, and some other bells and whistles. If you're able to get that deal, then I don't think it's worth signing up for the American Airlines AAdvantage deal seeing as how it would cost you at least $30/mo more than the SWAC program unless you can manage to stack the deals. I think a stack is unlikely to work since the AA deal notes that you can only have one type of Sprint Perks attached to an account. I am not a Sprint Perks expert, so if readers know more than I do and can confirm that it's possible to stack, please let us know in the comments. Assuming that you can not have both the $30/mo plan and still register for the AA promo, the miles simply aren't worth it. Note that the Slickdeals thread referenced above was more or less the same iPhone 11 $0/mo deal back in December and at least a couple of people reported getting on the SWAC plan and then doing the trade-in for the iPhone deal, so I don't think the iPhone deal is at all contingent on signing up through AA (it's just the deal Sprint gave them to market the account).
Personally, I'm now pretty curious about that SWAC program. Six or eight months ago, I wouldn't have given it a second thought given Sprint's very poor coverage in my area. However, now that the merger with T-Mobile is complete, it's more interesting. The email from American Airlines suggests that Sprint users have access to an expanded T-Mobile network, but based on the merger FAQs on T-Mobile's site I don't think that Sprint users really have the ability to use any of T-Mobile's network yet; it does note that newer devices may be compatible with at least aspects of both. I'd need to do more research to see how far out this is. T-Mobile's site says it will take about 3 years to fully integrate the networks. That would be too slow for me to consider today. However, at $30/mo, I'm particularly interested if near-future unlocked devices may have compatibility with both and if they allow roaming back and forth.
At any rate, the American Airlines deal doesn't particularly interest me because of the cost of the included plans. You do register for the AA deal after activating Sprint service, so if it's possible to have your cake and eat it too, that could be great — but my instinct is that you can't.
Reader input
Another potential downside I see here is missing out on potentially more lucrative offers to switch. AT&T recently ran an offer for a $250 Visa gift card per line for switching (and subsequently canceled many online orders). Before that, Sprint offered a $300 Mastercard gift card for bringing your own device and porting over to Sprint. I believe that Sprint deal could get you a gift card for each line up to 5, which would be a significantly better deal than 20K miles if you're bringing over a family. That deal is dead now, but I'd be inclined to wait for something similar over the AA deal.
All that said, with the economy and current card offers shifting at least temporarily, maybe this deal presents an opportunity to take a stab at easy bonus miles. We're always glad to get reader opinions. Am I missing something in the American Airlines deal?  If you've done this deal in the past and/or have insight, feel free to share it in the comments.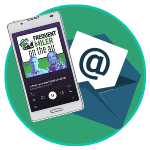 Want to learn more about miles and points?
Subscribe to email updates
 or check out 
our podcast
 on your favorite podcast platform.