IHG is out with their first Accelerate promotion of 2018: It's Go Time. As has been the case with Accelerate offers for quite some time, the offers are targeted, so you'll have to log in to see your offer. See the link below.
The Deal
Registration is open for IHG Acclerate: It's Go Time (offer to be completed between 1/1/18 and 4/30/18)
Key Terms
Offers are targeted, so yours will vary from mine – terms indicate minimum total offer is 30K points
Must register before you stay (so register now so you don't forget)
Only paid stays count, including most paid rates booked directly
The terms exclude the following types of rates as "non-qualifying": net wholesale individual and group rate, certain package rates, employee discount rate, friends and family rate, crew rate, special discounted contract rates, seasonal worker/crew rate, 50% travel club discount rate, travel industry discount rate, distressed passenger rate, IHG® Rewards Club Reward Nights/Airline Hotel Reward rate, rates booked through third party web sites, complimentary hotel Stays
My 91K offer & quick thoughts
For a couple of years, I was completing IHG offers almost every quarter because they were a super easy way to accumulate points. Unfortunately, I haven't gotten an exciting IHG Accelerate offer in quite a while now.
This time around, my offer is kind of interesting and I might complete at least some of it. It looks like it would require a minimum of 4 stays/5 nights to totally complete it as long as at least one stay is in January (and I refer one person to become a member…easy enough to do that). In total, I could earn 91,00 IHG points (on top of the points earned on the paid stays).
That said, I probably won't complete all of the offers. The lion's share of my points would come from staying at 4 different brands. If I complete stays at 4 brands and pay on my IHG Rewards card, I'll earn 33,600 + 2,000 (1 stay offer) + 1500 (pay with IHG card offer) = 37,100. If one of those stays is in January and I refer someone to IHG Rewards, I'll grab an additional 7,000 points for 44,100. If one of those stays happens to be for 2 days, I'd unlock the additional 10K and the 25K completion bonus for a total of 79,100 points. That's a decent haul.
And in my case, I think that might be pretty doable. With a new addition to the family in tow, I imagine we'll have some road trips to visit family by the end of the first quarter. That means at least a couple of quick overnights on the way there or back — the perfect opportunity to pick up a cheap IHG brand.
As fate would have it, I've already got some reservations. One of the drawbacks of living in a rural area is that the hospital where my wife will deliver our baby is about 60 miles away. We've had friends who, as new parents, made the mistake of going to the hospital sooner than necessary only to be told that they should go home and wait. Rather than face a solid hour's drive each way (and the potential of heavy snow) when we hit go-time, I booked a number of cheap 1-night stays at an IHG property near the hospital. That way, we (hopefully) won't feel any pressure to hit the road earlier than necessary and/or we can monitor the weather and respond accordingly. I imagine we'll end up spending at least a night or two there / it might come in handy to have a room nearby for any family members who want to be close…which will likely get me partly invested in this promo.
I was definitely surprised to see an offer for so many points that didn't require more than 5 nights to complete, as I've been seeing offers that would require 10-20 nights, and reward fewer points, for the past few quarters.
What about you: Did you receive a good offer this quarter? How many points can you earn, and are you going to do it?
H/T: reddit/r/churning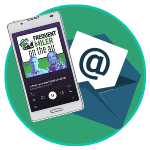 Want to learn more about miles and points?
Subscribe to email updates
 or check out 
our podcast
 on your favorite podcast platform.