I found a new promotion in my American Airlines app this morning to earn 1 additional Loyalty Point and 1 additional redeemable mile per dollar spent on American Airlines purchases made with your American Airlines credit card from November 1, 2023 to November 30, 2023. You must first register for the promo between 10/23 and 11/6. That's not hugely rewarding, but if you're working on the Hyatt / AA fast track promo, it certainly might be worth registering in case you have a chance to earn some additional Loyalty Points from AA spend.
The Deal
American Airlines is out with a targeted promotion for AA credit card holders to Earn 1 additional AAdvantage® mile and Loyalty Point per $1 spent when register between 10/23/23 and 11/6/23 and you use your AAdvantage® credit card on eligible American Airlines purchases between 11/1/23 and 11/30/23
Find a registration link in the "promotions" tab on the American Airlines app or withing your account on the web interface
Key Terms
This exclusive offer is only for members who receive this offer directly from American Airlines.
You must register for this promotion between October 23, 2023 and November 6, 2023.
Once registered, starting November 1 through November 30, 2023, you'll earn one additional AAdvantage® base mile and one additional Loyalty Point for every $1 spent on eligible American Airlines purchases.
To be eligible, you must use your AAdvantage® credit card on eligible American Airlines purchases.
To earn your additional mile and Loyalty Point, all eligible American Airlines purchases must post to your AAdvantage® credit card billing statement by November 30, 2023, and miles earned from these purchases must post to your AAdvantage® account by December 31, 2023
Eligible American Airlines purchases are items billed by American Airlines as merchant of record booked through American Airlines channels.
American Airlines channels include but not limited to AA.com, American Airlines reservations, Admirals Club® locations, American Airlines Vacations℠ website, and American Airlines airport and city ticket counters.
Products or services that do not qualify are car rentals and hotel reservations, AA Cargo™ products and services, purchases made through online third party travel agencies, and Aviator® Flight Cents® Amounts.
Allow 8-10 weeks after the end of this promotion for the reward(s) to post to your AAdvantage® account.
Eligible purchases are defined as purchases that earn base miles, including those made by authorized users on your account, less credits, returns and adjustments, made with your AAdvantage® credit card.
Eligible purchases exclude balance transfers, cash advances, checks that access your credit card account, items and services returned for credit, unauthorized charges.
Eligible purchases also exclude interest and account fees, traveler's checks, purchases of foreign currency, money orders, wire transfers (and similar cash-like transactions), lottery tickets, and gaming chips (and similar betting transactions).
To qualify for this offer, your credit card account must be open and in good standing at all times. If your credit card account is closed for any reason, you may no longer be eligible for this offer.
See promotion tab for full details
Quick Thoughts
This promotion won't really move the needle, but it won't hurt if you might book paid travel in November. I recommend registering even if you don't think you'll use it. You never know when you'll leave home at 3:15am, get to the airport by 4:30am, and miss your 5:30am flight and have to book a flight on AA instead (ask me how I know).
Keep in mind that you'll only get the extra mile and Loyalty Point on American Airlines purchases with your American Airlines credit card. I had briefly gotten excited in thinking that I was about to register for an extra Loyalty Point on all card purchases, but that's not the case. You have to be spending on American Airlines and only from 11/1/23 to 11/30/23. Still, that's a busy time of year for travel, so it could turn out to be useful.
Obviously this promotion is targeted to American Airlines cardholders. I don't know whether it will be targeted to all cardholders or not. Check the "Promotions" tab in your American Airlines app or within your online login to find a registration button if you're targeted.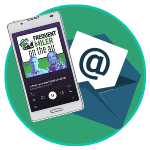 Want to learn more about miles and points?
Subscribe to email updates
 or check out 
our podcast
 on your favorite podcast platform.