American Express is sending out targeted emails offering bonus points or statement credits on dining spend. With either 5% back in statement credits or 10x bonus points on offer, this is definitely worth registering for if you're targeted.
The Deal
Key Terms
Expires October 31, 2019.
(Wording below is for the Hilton offer; the terms for the $10 statement credit offer is likely similar as that has a limit of 5 too)
Enroll and earn 2,000 Hilton Honors Bonus Points after you spend $200 on eligible purchases at U.S. restaurants on your Hilton Honors American Express Card (the "Purchase Requirement"), starting from the time you complete enrollment through October 31, 2019 ("Purchase Period"), up to 5 times for a maximum of 10,000 Hilton Honors Bonus Points. Enrollment period ends on 10/31/2019.
If you reach the purchase requirement, the Hilton Honors Bonus Points will be credited to your Hilton Honors account within 8 weeks after October 31, 2019.
Eligible purchases to meet the Purchase Requirement of this offer include those made by both the Basic and Additional Card Members on the Card Account.
Eligible purchases are purchases for goods and services minus returns and other credits. Eligible purchases do NOT include fees or interest charges, purchases or reloading of prepaid cards, purchases of gift cards, person-to-person payments, or purchases of any cash equivalents.
Purchases may fall outside of the Purchase Period (and therefore not be eligible for the Bonus Points) in some cases, such as a delay in merchants submitting transactions to us or if the purchase date differs from the date you made the transaction. (For example, if you make a purchase online, the purchase date may be the shipping date.)
Quick Thoughts
I received this email on one of my Hilton Surpass cards which is a great card to get it on. That's because the Surpass card already earns 6x at US restaurants, so every $200 spent on US dining will earn 16x Hilton Honors points when taking into account the 10x bonus points from this offer.
It looks like there are variants of this offer, such as getting a $10 statement credit when spending $200. Interestingly, when viewing the email from Amex on my laptop, it lists the 10x offer. When viewing it on my cellphone though, one of the images in that same email displays the $10 statement credit offer.
Clicking on that image links to the 10x offer though, so it's sadly not possible to double dip and earn both 10x points and a $10 statement credit when spending $200.
This is an even better deal if you spend a lot on dining as you can earn the bonus points or statement credits five times, so it's valid on up to $1,000 of dining spend. With this offer running for just over three months, that gives quite a lot of time to try maxing it out if you're interested.
It's definitely worth trying to enroll in this offer even if you don't receive a targeted email. I received an email about this offer, but my wife didn't. Despite that, I was able to enroll her Surpass card for the offer as well.
If anyone has a link to the $10 statement credit version of the offer, please could you share the enrollment link below. Please also let us know if you receive some other variation of the offer.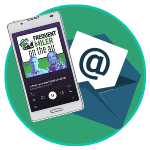 Want to learn more about miles and points?
Subscribe to email updates
 or check out 
our podcast
 on your favorite podcast platform.