We maintain a Manufactured Spending Complete Guide and periodically publish an update on "what still works" (which is due for an update), so I dabble in the various methods to keep things up-to-date. This weekend, I got a reminder that things can and will go wrong sometimes, resulting in a loss of time, money, points, or all of the above. Fortunately, the only thing I lost was time — but it felt like a failure in terms of the time spent for a small gain, and it was a good reminder of the types of things that can go wrong and derail your day.
Generous Amex Offer for Staples & Lowe's
Last month, Stephen reported on generous Amex Offers that were targeted on Amex business cards: 10% back at Staples, Lowe's, and several other merchants (See: New 10% Amex Offers: Staples, Lowe's, Exxon Mobil & Dell (Business Cards Only)). An interesting thing about those offers is that neither the Staples nor Lowe's offers excluded physical gift cards in-store. The Lowe's offer excluded electronic gift cards. The Staples offer excluded gift cards "in bulk purchases", but it is my understanding that this refers to a bulk purchasing program for business customers (like perhaps a business that wanted to sell Staples gift cards and get a small discount on a large quantity). I wouldn't expect four or five gift cards to constitute a bulk purchase. The moral of the story is that gift cards seemed to be in play with both retailers in-store.
While those offers have been out for a month, I just got a chance to try to put them to use this weekend.
Going all-in at once
One of the key things to learn when getting started with MS is to take it slow. Rome wasn't built in a day, nor do you need to clear a store out of gift cards in one shot.
That said, I've mentioned before the fact that I live in the middle of nowhere. Some people claim to live in the middle of nowhere, yet they live in a small city of 30-40K people. By contrast, my town has a population of about 1,000 people (and probably 3,000 cows). You can't see another house from where I live, but you could have seen a bear on my lawn a couple of weekends ago. Any given day, deer, turkeys, rabbits, and various furry forms of life are a regular sighting. Home is rural, which certainly has its advantages. On the other hand, it unfortunately means that the closest Staples is about 70 miles away. There's a Lowe's about 30 miles away — but as you can imagine, I'm not passing either store regularly.
However, over the weekend, I was in a larger area with several Staples and Lowe's locations and I had a few hours of unplanned free time. I decided that I would make a loop and purchase some gift cards. Since I don't get the chance to do this every day, I figured I'd go ahead and max out the offer on a couple of my cards. That was mistake #1.
Declined at the first stop
As the offer is good for 10% back up to a total of $100 in statement credits (i.e. 10% back on up to $1,000 in purchases), I attempted to buy $1,000 in gift cards at the first stop. While I have purchased gift cards before with the Amex card I tried to use, I hadn't used it much in the past few months. The payment terminal came up with a message asking for a different payment method. I didn't think that running it a second time would help, so I tried a different card. The purchase went through.
As I went out to my car, I got a call from Amex looking to verify the first attempted charge. I verified that it was me and they told me that I could now try the charge again. I explained that I'd already used a different card but that I would be using this card again later if it would work. The agent said it would.
Declined at the second stop
My second stop was at a Lowe's, where I brought $1,000 in gift cards to the register. After ringing them up, I put in the card that had been declined at Stop #1…and it got declined again. Trying to use that card again was mistake #2. There was nobody behind me in line (and a few empty cashiers), so I asked the cashier to give me a second to get this resolved with Amex. Sure enough, they called within a minute.
The agent I spoke with seemed to have some trouble re-activating my card initially, but he got it figured out and I was able to successfully make the purchase while I had him on the phone. I hung up after the payment terminal said "approved".
And then the cashier made a confused sound as she squinted at the screen. She re-scanned one of the gift cards and still got an error message: one of the gift cards failed to active. The cashier told me that I had to bring the card and receipts to customer service and they could help me.
I explained the situation to the customer service rep (we'll call her "Cheryl"), who thankfully seemed to understand what was going on even if she didn't have any idea how to fix it: I had paid $1,000, but only had $800 in activated gift cards since once card failed to activate. She scanned a couple of things to no avail, so she called Lowe's IT support. I could only hear one side of that conversation, but I could tell that the tech had told her to try to refund that item number. Cheryl (the Lowe's in-store rep) explained that I had purchased 5 of the same item number, so she wouldn't know which one got refunded if she did that. This came back up again later, and I'm extremely thankful that I was dealing with a rep who thought that through rather than just doing what the IT person on the phone told her to do. Essentially, IT was saying to just refund one of item #XXXX — but the problem with that was that she might have invalidated a second card if she did that, leaving me with $600 in good cards. Eventually, IT concluded with her that since I had made the purchase mere minutes ago (it didn't exactly feel that way between the time I spent waiting in the customer service line and the time that Cheryl had been working on this, but whatever), it wasn't yet showing up in the computer system for someone in IT to be able to get a more detailed look at it. I was told I would need to come back in 30 minutes.
I didn't love that idea for a variety of reasons, not the least of which was wondering whether or not I would deal with the same person a second time. However, Cheryl had the foresight to get a ticket number from the IT department and she photocopied my receipt and stapled it to the ticket number and left it at the register. Luckily, there was a Walmart next door where I could kill some time waiting in line in the interim.
Lucky for a good customer service rep
I returned to Lowe's ~30 minutes later and of course Cheryl wasn't standing there. The rep I got was new, so she called over a manager, who similarly had no idea what to do. The manager said we should call Cheryl, and I was thankful for that.
So Cheryl comes back and scans the receipt again and gets the same result that isn't allowing her to do what she needs to do. I think the problem was that she was unable to refund the failed gift card since the system was (accurately) showing that the gift card hadn't been activated. That kind of makes sense — if I pulled a card off the rack and brought it to customer service without paying for it, the computer wouldn't let them give me money back. The electrical signal between the synapses of Lowe's internal IT wasn't putting together the fact that I was charged for this card even though it wasn't active.
She called IT and once again IT told her to just refund the item number…and once again, she explained that I had 5 of the same item number and that technique wouldn't work since she wouldn't know which one got refunded — she needed to specifically refund the right one. I again found myself thankful that Cheryl was an independent thinker. I could imagine another rep just doing what the IT line told them to do, causing even more trouble. The idea of just refunding the whole transaction was floated for a moment. While I'd rather do that than lose $200, I didn't want to try my twice-declined card a third time for a large purchase.
Eventually, she told me to grab another card while she was on the phone. By the time I got back to the register, she had figured it out and refunded me for the gift card that didn't activate. I would need to purchase that last card anew. I used a different Amex card on that purchase — which is exactly what I didn't want to do from the beginning in order to stay organized (now I need to remember that I've only spent $200 at Lowe's on that card, yet I've spent $X at Staples, etc). Oh well — I walked out with the cards. Before I walked out, I opened them and called the number on the back to verify balances, and all was correct.
I drove to one more Staples location and tried to make a single gift card purchase (mixed with something else I needed to buy). My card got declined again…at which point, I admitted defeat and used my Ink Plus, hoping I'll live to fight another day with this one.
Lessons learned
Unfortunately, that whole process took a lot longer in real life than the written version. In total, I went to 1 Lowe's store, 2 Staples locations, and two Walmarts and I ended up with just $2,200 in gift cards (only $2K of which had been on Amex cards). I spent about an hour in the car from place to place and an additional 2.5+ hours between declined transactions, waiting in line, and the inactive card. That didn't feel nearly as productive as I'd hoped when I began plotting out a route that morning.
But I "learned" a few things (in quotes because these are really things we should already know):
Go slow. Had I just bought a couple hundred bucks at each place, I probably would have made it to a few more stores with a lot less headache.
If at first you don't succeed, maybe don't try try again. I should have just given Card #1 a rest after the first declined transaction.
Pay attention to what the cashier is doing. Had the customer service rep at Lowe's simply refunded a random gift card as IT was telling her to and had I not been paying attention, I might have walked out with an even bigger headache than wasted time.
And really, the biggest reminder I got out of this was that this is a slow grind to earning points if you can't scale it up, and I obviously failed to do that this time around. Last weekend, I sold this grill:
I earned more points when I purchased it than I did on gift card purchases this weekend and I resold it for a greater profit. I did have to drive about 2.5 hours round trip to drop it off, but the juice was worth the squeeze in terms of profit (the points were just gravy). I don't do as much reselling these days as I used to due to time constraints, but I continue to dabble — and it often reminds me that while merchandise has its own set of risks and headaches, it has advantages in terms of profit, reduced bank attention, and reduced time spent staring into space waiting on line.
I'll keep dabbling in various forms of MS. I've done it enough to know that while momma said there'd be days like this, there are both better and worse days to come as well. While this trip around was kind of frustrating and slow and it felt like a failure in terms of the return for my time, the thrill of the hunt for more points will likely lure me back another day.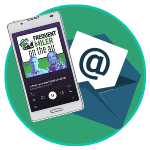 Want to learn more about miles and points?
Subscribe to email updates
 or check out 
our podcast
 on your favorite podcast platform.