This week at Frequent Miler started off with Amazon Prime Day hitting the scene. While I've felt like the last Prime Day or two fell a little flat, this year provided some incredible deals if you were able to stack them right. The rest of the week focused on hotels: the final list of to-dos before the Marriott merger (I completed my spend on the Ritz card, but we still have to combine our points into my account — which we'll make sure to get done ASAP), how you can get outsized value out of Wyndham points, and more. Read on for this weekend's recap.
Are you ready for the new Marriott? Ready or not, it is almost upon us. At some point in August (we still don't have a firm date), the new combined Marriott program will debut. Between now and then, get your reservations book for properties going up, get yourself positioned to book those going down, and make sure you earn any status that needs to be earned on the double. See this guide for a full list of steps.
---
At the time, I had no idea what Wyndham was thinking when they offered the chance to book entire vacation homes (with 7 or 8 bedrooms or even more) for just 15,000 Wyndham points per night. Now I do: what better way to get people talking than to offer something that exceeds their expectations. I think it would be fair to say that the place Greg rented in England through Wyndham Rewards exceeded all expectations he had for his Wyndham points back when he earned them. Find out how you can get a great value out of some of the 1 and 2 bedroom properties in Europe.
---
---
Monday and Tuesday this week, we covered a lot of Prime Day deals (as well as deals from other stores looking to compete with Amazon). The deals hit a pinnacle with this post, which showed why it pays to follow the comments from deals and posts that interest you. For every one great reader tip that turns into a post like this, there are surely another 5 or 10 that only get picked up by those who continue to follow along. These deals are no longer available, but knowing the anatomy of a great deal yesterday can help you keep your eye out for the next big thing.
---
That's it for this week at Frequent Miler. Check back soon for our week in review around the web and this week's last chance deals.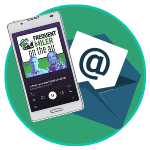 Want to learn more about miles and points?
Subscribe to email updates
 or check out 
our podcast
 on your favorite podcast platform.