Last week, I finished up about a week in Belgium, and it was awesome. While I've been to Europe numerous times, I'd never previously considered a trip to Belgium. Ironically enough, I have considered getting to and from Europe through Belgium (and even flew home from Belgium once last year) because United pretty frequently has saver business class award space between New York and Brussels. In the future, I'll have to keep my eye on this route because I found a number of reasons why I'd like to visit again — not the least of which is the ability to use free night certificates and Platinum card credits to make the trip even more affordable.
Flights to and from Brussels
For our trip to Brussels, we originally booked via Air France / KLM Flying Blue for about 56K miles per passenger plus $190 in taxes and fees. Part of the reason why it was so cheap is because children aged 2-11 get a 25% discount off of the price for an adult seat when you book via Flying Blue. Interestingly, our trip was scheduled to be Air France to Paris and then a train from Paris to Brussels, all booked on the same ticket through Air France.
I had been looking forward to reviewing that experience, but then we pivoted and decided to go to Billund, Denmark for the first few days of the trip to visit the original Legoland with our kids. We therefore ended up booking Singapore business class from New York to Frankfurt and Lufthansa onward to Billund for 70K total miles and about $112 per passenger and I previously wrote about that here.
We probably could have called Air Canada to book that trip as New York to Frankfurt to Billund to Brussels with a stopover in Billund since Brussels Airlines flies from Billund to Brussels and that would have cost us an additional 5K miles per passenger for the stopover for a grand total of 75K miles per passenger. However, with wait times for Air Canada at a couple of hours at the time when I was ready to book that ticket, I decided to instead book Billund to Brussels separately. To get from Billund to Brussels, I had two decent options:
Air France from Billund to Paris followed by a train to Brussels for 4,500 Virgin Atlantic miles and ~$16 in taxes departing at about 7am (arriving around noon)
Brussels Airlines from Billund to Brussels for 6,500 United Mileage Plus miles and about $40 in taxes departing at about 5pm (arriving around 6pm).
Since United allows free cancellations and Virgin Atlantic allows you to simply forfeit the taxes to cancel an award where the taxes cost less than $50, I booked both. Ultimately, the day before departure, we decided to take the Brussels Airlines itinerary mostly because we weren't fully adjusted to the time change and wanted to be able to sleep in. Unfortunately, I had forgotten until we were solidly decided on the 5pm Brussels Airlines departure that Virgin Atlantic award tickets need to be cancelled at least 24hrs in advance. By the time I realized that, it was late and we weren't packed, so I took the loss on those miles and taxes. That's a bummer — we all make some mistakes now and then and that was definitely an unforced error on my part.
The Brussels Airlines flight was easy enough and upon arrival at Brussels Airport it was very easy to buy tickets to Ghent, which was our first destination in Brussels and about a 1hr train journey from the airport.
For the flights home from Brussels, we had originally booked Brussels Airlines via Avianca LifeMiles when they briefly ran a sale on that route for 25,500 miles one-way in business class.
However, we ultimately cancelled that (paying the hefty LifeMiles cancellation fees) and rebooked on British Airways via American Airlines to fly from Brussels to London to Vancouver, Canada. That route cost 57,500 miles and about $340 in taxes and fees per passenger, which was a pretty good deal considering the fact that British Airways itineraries often come with really hefty taxes and fees.
That meant that we had to transit from London-Heathrow to London-Gatwick, which isn't wonderful but neither was it painful. I actually typed a lot of this post from the National Express bus that runs from Heathrow to Gatwick in about an hour and it cost us 78GPB to buy our tickets at the airport (about $100 all-in). That would have been a bit more expensive if this trip were a few weeks later since our younger son is still two years old, so he was free (at age 3, he would have needed a paid ticket).
Our layover was overnight. We briefly considered using Marriott 85K Free Night Certificates from our Ritz-Carlton cards to stay somewhere fancy in London, but we ultimately decided that it just wasn't worth the time and effort to go into central London rather than going directly to stay near Gatwick airport. I really wanted to get Dishoom for dinner and they are on Deliveroo, so I very seriously entertained the idea of going into London, but my wife good sense prevailed.
Marriott Free Night Certificates for the Ghent Marriott
In Ghent, Belgium, we stayed at the Ghent Marriott, which is pictured above (it's the third building from the left side — the one that looks like red brick). We had a wonderful stay at this property and would highly recommend it if visiting Ghent. I had originally booked us on a very cheap cash rate at a Residence Inn in Ghent, but I made a decision late in the game to switch to the Ghent Marriott and I couldn't be more pleased with that decision. If you subscribe to the mantra, "Location, location, location!", then the Ghent Marriott is for you.
I was also very pleased with service at this property. I have often mentioned on the podcast that when I have a special request for a stay, I often seek out the name of the general manager of the property and I deduce their email address based on the formatting of that brand's emails (many chains are something like firstname.lastname@bighotelchain.com). When I email the general manager, I don't usually expect that the GM is going to handle my request but rather that he or she will forward it on to someone else and my assumption is that when someone receives a forward from the boss saying "handle this" that they won't ignore it.
But in this case, I did get help directly from the GM and I got a chance to meet him and talk to him and he was excellent.
I emailed not to ask for an upgrade but rather to clear some confusion: We booked a total of 4 nights at the Ghent Marriott: the first two nights were each booked separately using my wife's 35K free night certificates from my wife's Marriott cards (she had to top off each certificate with some points). The second two nights were booked as a single two-night stay as a cash rate using my Marriott Bonvoy account. All four nights were booked for the same "family" room with 2 double beds as it was the only room type available that would accommodate four people in one room.
Since we had four nights booked under 3 separate reservations, two of which were in my wife's name (and she only has Marriott Gold status) and two of which were booked in my name (I have Marriott Platinum status), my primary concern was reducing the potential for confusion. I wanted to be sure that we kept the same room for all four nights and I was hoping to avoid having to explain all of the above upon arrival as I expected we would arrive around 8 or 9pm with tired kids. My secondary concern was that if all four nights somehow got combined, I wanted to be sure that my status was noted for "my" nights since I have Platinum status and would therefore be able to get complimentary breakfast for the nights booked in my name. I would have been less concerned about that getting forgotten if the first two nights had been in my name, but I wanted to make sure that we didn't end up getting only Gold level benefits for the entire four nights.
I therefore emailed the general manager in the morning on the day we would arrive and explained the 3 separate reservations and that we would like to keep the same room for all four nights and I wanted to make sure that we got breakfast on my nights and told him that I was reaching out in advance because we would be arriving after bed time for our 5yr old and 2yr old, so I was hoping to have this noted in advance.
Just a couple of hours later, the general manager wrote me back indicating that he completely understood and that they had blocked us not in one room with two double beds but rather in two adjoining rooms with 1 king bed in each with no additional charge for the second room, saying that he figured the additional space would be helpful with young kids (and was it ever — the first couple of days were quite rainy, so we spent more time in the room than we otherwise would have). He further said that they would extend complimentary breakfast for all four nights. I thought that was awesome.
Ghent itself was absolutely beautiful. It looked like a fairy tale, and staying at the Ghent Marriott put you right in the center of it. I could have strolled the streets endlessly. The feeling reminded me very much of my first trip to Prague, where I felt like there was something beautiful waiting around every turn.
Fine Hotels & Resorts credits in Brussels
In Brussels, I made two decent finds in terms of using Platinum card prepaid hotel credits.
As a reminder, the Amex Platinum card offers up to $200 in statement credits for prepaid hotel bookings through Fine Hotels & Resorts or The Hotel Collection. If you aren't familiar with Fine Hotels & Resorts or The Hotel Collection, see our post Getting the elite experience without elite status through hotel preferred partner booking platforms.
Late last year, I used credits from two our our Platinum cards to book two separate rooms for a two-night stay in Brussels at a property I'd never heard of through The Hotel Collection from American Express. I originally booked those two nights for the first two nights of our intended trip. When we decided to go to Billund for the first couple of days of the trip, I thought we were going to have to cancel the bookings at The Hotel Collection because Amex never used to allow any changes on FHR or The Hotel Collection bookings.
That sent me looking for other options and I found a Fine Hotels & Resorts property that came to a grand total of less than $201 all-in (plus a 3 or 4 euro city tax paid at the hotel). I booked Steigenberger Icon Wiltcher's for one night near the end of our trip to use an FHR credit.
However, at some point I noticed a button had appeared to change the dates on FHR / The Hotel Collection bookings. I was able to change the dates of our The Hotel Collection booking to move it to the final two days of the trip, immediately following our time in Ghent. I made that change and got refunded a few bucks and didn't lose my 2022 FHR credits. I had written about changing dates on an FHR or THC booking in this post.
I therefore didn't end up staying at Steigenberger Icon Wiltcher's, but I'll keep it in mind for the future since, during the dates when we would be in Brussels, it worked out to be a perfect use of a $200 Platinum card.
But we ended up staying at a hotel called NH Collection Grand Sablon. I rarely stay at hotels that aren't part of a major chain, but this short stay was a good reminder that there are plenty of great hotels that aren't a Marriott, Hyatt, Hilton, or IHG. The NH Collection Grand Sablon was excellent. I wrote the hotel on check-in day to ask for connecting rooms and they wrote me back within an hour to say that they had blocked us in connecting rooms at the end of a hallway that were separated by a door from the rest of the hallway. Essentially, these were the last two rooms at the end of the hallway and there was an extra door to that section of hallway, so we were able to keep that main hallway door shut and keep the doors to the two individual rooms propped open. It was as good as having a one bedroom suite.
The rooms themselves were very nice and the welcome amenity (Belgian chocolate and cakes!) was delicious.
Furthermore, service was fantastic. There was a man who I would say was like the doorman, though I saw him do a bit of everything (including work behind the front desk) who greeted us with enthusiasm every time we entered. He put together a bag of gummies for my kids one day while we were on our way out and when we were leaving at the of our stay, he made sure each of our kids had their own bag full of gummies for the trip. Breakfast was $26 per adult, so the $100 credit easily covered breakfast with money left over (we did some mini bar, but didn't fully maximize the $100 credit for each room).
Overall, it was a very good stay and I'd certainly be happy to stay there again with a Platinum card credit.
Bottom line
We had an excellent trip in Belgium. The towns were beautiful, we enjoyed excellent service at the hotels where we stayed, food was good (including fries, waffles, chocolates, and beer everywhere we looked), and people were very friendly. English was widely spoken, which certainly makes things convenient. I'll have to keep my eye on that United business class space to and from Brussels because I could absolutely see making another trip and trying to explore some more of the smaller towns around Belgium on a future trip. Given how easy and inexpensive it was to travel around by train, I could certainly see using the Ghent Marriott as a base using Marriott 35K free night certificates and I'll have to keep my eye on Brussels as a good use of Platinum card prepaid hotel credits in the future.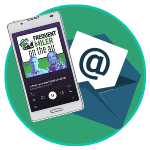 Want to learn more about miles and points?
Subscribe to email updates
 or check out 
our podcast
 on your favorite podcast platform.