In this weekend's Frequent Miler week in review around the web, read about your best options to Europe on miles from Travel is Free, a new option for piecing together those impossible awards, some cool AirBnB options that might bring me back to try again (after a rough AirBnB this week!), and more.
We've recently been publishing a sweet spot series taking a glance at each of the major transferable currencies. Travel is Free is looking at it from a different angle: this post gives you a list of the cheapest options on miles to get to Europe. If you're interested in travel to The Old Continent, you'll want to check out this post for a list of the best ways to do it on miles and explanations to help you book your trip.
---
When I saw this headline from Turning Left for Less, I thought that perhaps Wayfarer would be an app that may provide some opportunities to earn additional points. As best I can tell, it's rather a way to make a game out of your points rather than gaming the system — but if the reported hotel discounts hold up, it might be interesting. I'd be skeptical of a paid subscription to unlock the biggest hotel discounts, and I'm not signing up for this app right now, but I always like to keep an ear to the ground for potentially useful new tools like this. Perhaps the free discounts will be worthwhile..
---
This post from Australian blog Point Hacks fits right in line with Greg's post this week about how to book awards that seem impossible. Qantas is a Citi transfer partner and a Capital One transfer partner, and you can now use their miles to fly Taiwan-based China Airlines between Taipei and Australia, which gives you one more option for connecting the dots on those hard-to-book awards. Hopefully Qantas will eventually offer the routes from New York, San Francisco, Ontario, and Honolulu as well.
---
One thing I love about visiting Europe is how cheap and easy it can often be to get between the airport and city. Often, for just a few dollars you can get a train ticket for a short hop into city centers around Europe. London seems like an exception — with a number of airport options spread around the outskirts of the city, it can be either expensive or overwhelming or both. This guide from Head for Points about how to get between London and Gatwick airport could prove useful. I've personally flown into one London airport and out of another on the same trip — I'll keep this one bookmarked in case my travels take me to London in the next year.
---
Over dinner earlier this week, we talked at length about the idea of buying a tiny home house kit or two and putting them up for AirBnB or camping-style rentals on family land — and then reader Larry chared this post from Conde Nast Traveler about some of the coolest trailers you can rent around the world. I'm actually not that big on AirBnB (and my experience with it this week has done nothing to warm me towards it), but these places look cool and cheap. I might just plan a trip next year around one of these spots — my only trouble is picking which one.
---
That's it for this week around the web. Check back soon for this week's last chance deals.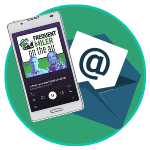 Want to learn more about miles and points?
Subscribe to email updates
 or check out 
our podcast
 on your favorite podcast platform.