A new Waldorf Astoria on a private island in the Indian Ocean? A Marriott that's used as a literal prison (instead of the figurative Bonvoy one)? Read about those things and more in this week's Saturday Selection.
Nick Reyes semi-famously, and somewhat unbelievably, does not have TSA PreCheck. He also held out from enrolling in Clear for ages, due to some (perhaps warranted) skepticism about folks collecting his fingerprints and biometric data. He finally enrolled in Clear last year, so maybe being able to finish PreCheck enrollment at an in-airport Clear station will be the straw that finally gets him to join the throngs of people queuing in the PreCheck line. For everyone else, it will be a convenient change, as opposed to having to visit an offsite enrollment center.
I've been wanting to visit the Seychelles for some time. This 115-island archipelago is famous worldwide for excellent beaches and superb natural beauty. Hilton already has a terrific portfolio in the country, with five properties, including one that's the only resort on an island that's 93% National Park. Now they're adding one more, with a Waldorf Astoria coming in late 2023 to the private Platte Island. It's a stunner and will be the next hot place to burn a Hilton free night certificate or three.
United Airlines and Emirates have teased a partnership since what feels like the mid-80's and it's finally happened, along with United launching a non-stop flight from Newark to Dubai. However, since it's United, the details are a bit of buzzkill. In order to earn United miles on Emirates, you have to connect to the Newark-Dubai route and in order to earn Emirates Skywards miles on United, the United flights have to be marketed/sold by Emirates. Redemptions for MileagePlus members are severely limited as well and are only available if the itinerary includes a segment from Newark to Dubai…and the only eligible Emirates routes are flights to Africa, the Middle East, and South Asia. Air Canada seems like it will be a better option for those Emirates bookings.
There are many Bonvoy members who feel like the program is a prison, so much so that  "Bonvoyed" has become a term for getting screwed out of money, points or benefits in some unique and creative way. View from the Wing had an interesting story this week about the Sheraton Damascus, which the Syrian Government is using as a literal prison to extract payments from prisoners.
I've flown Condor several times over the last decade, as they have a nonstop flight from Seattle to Frankfurt that often worked well for a March trade show that I attended yearly in Germany. But, although the schedule worked well, their old 767's were not a feast for the eye or the body, regardless of whether you were in economy or their ancient, angled lie-flat business seats. But Condor is reinvigorating its fleet with sleek new lie-flat seats at the same time that it's branching out its North American route map. Thrifty Traveler has a good summary of why it's an airline worth keeping an eye on for transatlantic travel.
Here's a pretty good offer from CNB that's just for New York and New Jersey residents. It's a little bit of a pain, because you have to sign-up for both a the CNB Cash Plus Card as well as a CNB checking account. However, there's no direct deposit required and a successful applicant gets 10% back on $1,000/month in spending for the first nine months after approval. It's worth checking out if you live in NY/NJ and haven't opened a CNB checking account previously.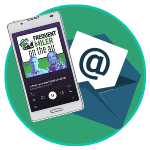 Want to learn more about miles and points?
Subscribe to email updates
 or check out 
our podcast
 on your favorite podcast platform.