IHG Rewards Club is offering a 100% bonus when purchasing at least 5,000 points, with the cost being lower than usual. There are ways to lower the cost even further – keep reading for more details.
The Deal
Buy 5,000+ IHG Rewards Club Points and get a 100% bonus.
Key Terms
Offer available for purchases made between 12:00 AM ET March 19, 2018, and 11:59 PM ET March 22, 2018, inclusive.
Purchased points are not refundable and are applicable toward all IHG Rewards Club awards.
Members may purchase a maximum of 60,000 points per calendar year and receive as a gift a maximum of 60,000 points per calendar year.
Please allow 72 hours for points to post and appear in the recipient's account.
Quick Thoughts
As noted by both Gary and Lucky, if you max out the offer then you can get 120,000 IHG Rewards Club points for $600, a cost of 0.5 cpp (cents per point). The normal cost should be $690 which would be a cost of 0.575 cpp.
Looking at the 1,000 point increments, it appears that you start off paying $13.50 for every 1,000 points. That reduces to an additional $11.50 for every 1,000 points above 10,000.
Things get weird when you reach the 25,000 point mark which costs $287.50. If you go for an extra 1,000 points, the cost for 26,000 points drops to $260. From there, prices increase by $10 for each additional set of 1,000 points up to 60,000 (the most you can buy.)
I'm not sure if this is deliberate or if some kind of error was made when they loaded the rates; either way, at least it works in your favor.
I won't be buying points personally, but that's because we're sitting on ~500k IHG Rewards Club points and they recently devalued how we planned to use them. However, buying points at 0.5 cpp can certainly provide value if you have a specific redemption in mind.
One of the obvious examples is Times Square on New Years Eve. If you were to pay cash, you'd be looking at $1,597.06 for the InterContinental and $1,960.00 for the Crowne Plaza ($1,836.13 and $2,287.03 respectively when including taxes.)
If you were to book award nights instead, you'd be looking at 70,000 points for the InterContinental and 60,000 points for the Crowne Plaza. That's a value of 2.62 cpp for the InterContinental and 3.81 cpp for the Crowne Plaza.
Needless to say, those are extreme examples, but it does show how buying IHG Rewards Club points with a 100% bonus can provide good value at high-cost hotels.
How To Do Better Than 0.5 cpp
If you have the IHG Rewards Club credit card, one of the benefits is a 10% rebate when redeeming your points. If you were to max out this promotion, you'd not only be buying 120,000 points, but you'd also be getting back an additional 12,000 points when redeeming them. You'd then get back 1,200 points when redeeming those 12,000 rebated points, 120 points when redeeming those 1,200 points, etc.
To the nearest whole number, that effectively means you'd be buying 133,333 points when taking into account the rebated points – a cost of 0.45 cpp.
But You Can Do Even Better…
The transaction is processed by Points.com which, unfortunately, means you wouldn't earn 5x on the IHG Rewards Club credit card, 3x on the Chase Sapphire Reserve, etc.
However, Points.com is on some cashback portals. The highest rate I could find for purchasing IHG Rewards Club points was 2.5% on Top Cashback (Greg's referral link.) If buying the maximum number of points, you'd earn $15 cashback on the $600 purchase.
With a net cost of $585 and 133,333 redeemable points (once they're all rebated), you'd be paying 0.44 cpp.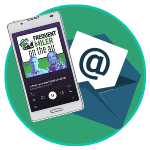 Want to learn more about miles and points?
Subscribe to email updates
 or check out 
our podcast
 on your favorite podcast platform.