Baltimore-Washington International airport (BWI) now has a Priority Pass restaurant — and the exciting news for the 13,000,000+ Southwest passengers who pass through BWI each year is that it is accessible to both American Airlines and Southwest Airlines passengers in Concourse C. I had a chance to stop by the restaurant while on a long layover over the weekend and I'm sure I'll be back.
Harbor Grille at BWI
Harbor Grille is located in Concourse C between gates C6 and C8 — just down the hall from the Minute Suites at BWI. The good news as noted above is that this restaurant is accessible to those flying either American Airlines or Southwest Airlines. Given what a huge hub BWI is for Southwest, I imagine that many readers will find this useful. Here is the Priority Pass listing:
The picture in the app is exactly what the restaurant looks like and it is very easy to find.
Harbor Grille BWI menu
Here's a link to the whole menu.
The menu at the Harbor Grille isn't incredibly extensive, but the bartender explained that they make many of the items fresh. For instance, they bread their own boneless chicken tenders fresh on-site (someone nearby ordered them and they were huge). I ordered the "2 hands burger" (shown above) and a glass of wine and the burger was pretty good. I was impressed with the pulled pork on the burger – I am often disappointed in pulled pork when I order it at a restaurant, but it was great on this burger.
Service experience
The restaurant was very busy, so I sat at the bar. The bartender was clearly overworked but was doing a fantastic job when I arrived — they had one bartender and one waiter — no hostess, nobody to clear tables, etc. They kept things moving for the most part! That said a friend joined me after I was done eating and service was much slower for him — and the restaurant was out of a few of the things he tried to order. The bartender explained that it was a Sunday and had been very busy, so they were out of a lot (the restaurant closes at 10pm and it was probably around 7 or 8pm at that point). Keep in mind that you may have less selection if you get there late and if you're in a hurry it may be tough to squeeze in a stop if they continue to be understaffed.
However, I was still happy to have been able to stop in and enjoy a free meal. Most of the dishes I saw looked pretty good. I'll be flying through again in a few weeks and I'll certainly stop in again for a bite.
Bottom line
This is exciting news for Southwest Airlines customers because the alternative for free food had been to leave the secure area and clear security separately to go to The Club at BWI — then having to leave and clear security again to get back to the Southwest gates. Given that Southwest serves 11 or 12 times as many passengers per year as any other airline at BWI airport, this is sure to be a big hit — just don't be surprised if the place gets too busy and isn't able to accommodate everyone at all times. In my case, I was happy to get some free food and then I walked down to Minute Suites to get an hour of work done in a quiet space (keep in mind that you can pre-book a time slot on their website), effectively getting all of the advantages of having a decent club lounge while flying Southwest Airlines. I look forward to my next trip through.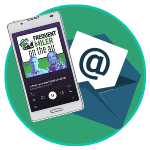 Want to learn more about miles and points?
Subscribe to email updates
 or check out 
our podcast
 on your favorite podcast platform.