In a recent post, Greg highlighted the JW Marriott Masai Mara and a plethora of award availability between September 2023 and June 2024. In his post he talks about why he's excited about the property, but also has this to say about a potential downside of the property:
Getting to the property isn't easy.  From Nairobi, it looks like the best option is to take a bush plane.
This comment reminded me of one of my favorite misadventures from my days spent traveling in that luxury-meets-broke-backpacker style that Drew and I still have to some degree, but embodied even more entirely in our 20's. Admittedly…this story is way more "broke backpacker" than "luxury", but I wonder if some of you will be able to relate as you think back to your own 20-something-misadventures.
The story starts with a Toyota Rav 4 rented by walking around Nairobi asking strangers for a car
Sometimes I think that our travel style hasn't changed all that much over the years…until I remember that we landed with a group of 3 other friends in Nairobi with a reservation the next night in Masai Mara and no rental car reservation whatsoever. Instead, we spent our first morning in Kenya walking around the neighborhood asking people for a 4WD to rent. This may sound like a really impractical tactic, but there's a large portion of the world where this kind of thing can actually work well – and sure enough, soon Drew was surrounded by locals all calling their friends/cousins/uncles with rental businesses of one kind or another. Surely there were commissions to be earned and who's to say if we got ripped off or not, but within an hour or so, we ended up with a $65/day rate for 6 days for a 2008 Toyota Rav 4. We were happy with that.
The road from Nairobi to Masai Mara National Reserve…could be worse
The road to Masai Mara could be better and could be worse. The driving can feel hectic, and you'll encounter pot holes, unmarked speed bumps, and security checkpoints with intimidating spike strips…(sometimes with only the spike strips and no security.) At the time we visited in 2015, this road was paved until about the last 100 miles, where it became more rocky and rugged. It took us 6 hours to reach Keekorok Lodge, 2 hours longer than Google's time estimate. Not the worst road we've ever navigated though…(which came later that week.)
Masai Mara is worth it, and actually quite do-able with our Toyota Rav 4
Amazingly, the Toyota Rav 4 ended up being a perfectly suitable vehicle for our self-drive safari and our visit to Masai Mara and the Keekorok Lodge is still one of the highlights of my life. We could literally hear the strange half-bark-half-roar of a little family of lions outside of the property fence in the middle of the night and we could see the hippos out on the lawn outside. Being immersed in a place this wild was an unforgettable experience.
And we had a fair amount of success with our safari outings each morning and evening as well. We saw a cheetah attempt to chase down an antelope, we saw a mama lion and her cubs, hyenas, zebras, elephants…it was incredible.
On our final morning, we hired a local Masai guide named Josh Lepapa to join us and take us to any hot spots we may have missed. (He was extremely friendly and still works as a guide – you can find him on Instagram as @masai_mara_guide if you're interested in scheduling him as a guide for your own visits.)
Leaving Masai Mara is where the trouble began…
Once we left Masai Mara, this is where we encountered the real challenges, in part because we were not driving directly back to Nairobi – we were driving onward to Lake Nakuru and ultimately Lake Naivasha. We had not seen any rhinos in Masai Mara and we were told that Lake Naivasha was the perfect place to see them. (That turned out to be true.)
Soon after leaving Masai Mara, we picked up a local hitch-hiker named Moses. (Hitch hiking is extremely common in the remote parts of Kenya.) About 20 minutes into Moses' ride with us, we heard a sound and sure enough, one of those giant rocks in the road had finally got us. This hardly felt like bad luck so much as an inevitability, but we were relieved that the Rav had a real tire as its spare. In no time we were back on the road.
If he didn't already regret hitching a ride with us, the second flat tire probably did the trick.
We'd all taken the first flat tire in stride, even Moses, but by the time we hit the second sharp rock, I think I saw him roll his eyes and sigh.
Now we were all stranded in the middle of nowhere with no more spare tires.
I'll give you a moment to think through the solutions available to us. There's really only one option. We would have to become hitch-hikers ourselves.
We decided it was best to split up – send 2 people hitch-hiking to the nearest town slightly more than an hour away to find a place that would either sell us a new tire or patch the existing one and leave the rest of us to watch over the Rav.
We were not left to debate this plan long before a huge military truck pulled up and offered to give our designated hitchers a ride to Narok, the next town down the road. Our friend Daniel (one of the designated hitchers) says that he's still not sure if they were already heading to Narok anyway or if they reorganized their original plans around our situation. Either way, they saved the day for us (and Moses as well, as he finally made his way out of our inept hands.)
Those of us who stayed back with the Rav didn't know the day had been saved yet, though. All we knew was that two of our friends had just jumped into the back of a military truck with hopes of reaching a tire repair shop. We spent the first hour and a half goofing off with a local boy who'd come to see what the fuss was. We attempted to learn how he whistled complex melodies through his fingers but we never got the hang of it and eventually he went home and left us to sit by ourselves for another 2 hours wondering if our friends were still ok.
Right around the 3.5 hour mark, the very same military truck came ambling down the road with our friends safe and sound, and a new tire as well. We were elated and I still wonder if the folks who picked our friends up even had any occasion to go to Narok or if they were purely just helping us out.
We hadn't seen the worst roads yet
I don't remember much from Lake Nakuru other than being relieved to get there that night…and the absolutely atrocious roads we were about to encounter on our way from there to Lake Naivasha the next day.
Drew and I didn't have a phone plan at that time – just someone's old unlocked iPhone -and our friends didn't have plans with international data, so we were using an offline map called Maps.Me.
It's hard to tell from a digital map how drivable a road is when it's just a little line on a screen. Some of it was ordinary enough, but as the evening stretched on, the rocks got bigger and the pot holes deeper. It felt a bit like the story of the frog in the water, not realizing the temperature rising a degree at a time until he's boiling. By the time we realized how undeveloped the route we'd selected was, we were at that awful decision point where you can't decide if it's worse to go back through all the harrowing terrain you just finished or go forward and hope to God the condition improves ahead. We played that "should we turn around or keep going" game for probably 2 hours until it was dark. All the while the ghosts of yesterday's busted tires were haunting us.
According to the GPS we were only a mile away from the main road but, the distance we'd just traveled was probably not all that long in miles either, so this was only so concerting. Not only were the conditions like the surface of the moon at this point, but the boundary of the road was getting very hard to decipher and we'd found ourselves in at least one dead end. With a particularly un-road-like patch ahead of us, we amazingly saw the first human we'd seen in hours, so we rolled down our window to ask him if this was indeed a road.
As it turns out, the conditions had got the best of him too. He'd been riding a bike and cart and had tipped it to the point of ruining it. Lucky for all of us, his buddies had just arrived to help him. They tried to help us push the Rav up that final craggy ridge but it was impassable. Thankfully, they knew an adjoining road we could take not too far back.
With this new road to follow, our luck started improving and we finally made it off the surface of the moon and back onto the main road. We found a bar that was still serving food despite the late hour and we ate it in exhaustion as we listened to a playlist that un-ironically included Rick Astley's "Never Gonna Give You Up." It suited the moment somehow perfectly.
Lake Naivasha was a beautiful way to end the trip, and we did indeed see literal tons of rhinos.
Could we have avoided all this?
Of course we could have avoided all this with a beefier vehicle than the humble Rav 4, a second spare tire, and a data plan so we could access a more trustworthy map like Google Maps. In other words…I don't know if we would have nearly the trouble today we had back then, just by being a little less shoe-string about things. But on the other hand, I've heard safari stories from others that sound not so unlike this one.
So now I'm curious to hear from all of you – has anyone else driven to Masai Mara? If so, what was your experience?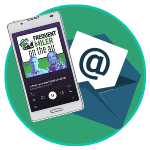 Want to learn more about miles and points?
Subscribe to email updates
 or check out 
our podcast
 on your favorite podcast platform.