Earlier this year, Hyatt acquired Dream Hotel Group, a "lifestyle" brand that includes ten properties across three brands: Dream, Chatwal and Unscripted. The Dream brand has five locations in New York, Nashville, Hollywood and South Beach (Miami). I'd never had any experience with any of them before Hyatt bought the group, so when I had an overnight in Miami on the way back from our Party of 5 Challenge in June, I decided to give the South Beach location a shot.
Dream South Beach Bottom Line Review
I've heard mixed reviews about the Dream properties in New York and I felt similarly about my time at Dream South Beach. It's got plenty of style and embraces the art deco party vibe of South Beach. It often has great cash rates and sports a very cool rooftop pool/bar area (really, more of a bar). Even though it's not on the beach, it provides guests with beach chairs and towels at a third party location about a block away. However, the property is fairly bare-bones with no fitness area and small-ish rooms. Half of the hotel is directly over a restaurant and underneath the rooftop bar. Combine those with the noise from Collins Ave and it's not what I would describe as a "relaxing" place to stay (but that's not necessarily a negative on South Beach).  The staff seemed fairly new and unsure of what to do with Hyatt members, but I'm sure that will improve with time. All-in-all, it's a decent place to stay, but doesn't really move beyond that. One thumb up, One thumb down
Price: A Hyatt Category 5, 17K/20K/23K points off-peak/peak/standard. Cash prices range from $100-300/night throughout the year, averaging ~$130-200.
Value: Not really a good award value. It's rarely above our Reasonable Redemption Value for Hyatt Points of 2.1 cents each, and can be much worse, especially in low season. When I was there, it was $119 or 20,000 points. I chose to pay cash and use a $50 credit from my Hyatt Business Card. As a cash stay, it's very competitive with other South Beach locations.
Location: Very good, assuming you want to be in South Beach. It's right on Collins Ave smack dab in the middle of the action, just north of 11th Avenue. It's a block from Lummus Park and the beach. Because it's right on Collins, street-facing rooms get a lot of noise.
Room: I was upgraded to a Platinum Suite facing Collins Ave. It was an odd setup, in that it was actually two rooms with a connecting door left open (I thought it was a mistake at first and the housekeepers left the door open. One room was a normal king and the other was a corner room with a murphy bed. Both had desks and bathrooms. Because of the configuration, it didn't really feel like a suite and I effectively spent all my time in the room with the murphy bed. It would be a great suite for families, but it was right underneath the pool bar. Between that and Collins Ave, it was pretty noisy until midnight-1am.
Parking: Valet parking is $42/night+tax with in and out privileges.
Resort/Destination Fee: $21.66, including tax. It "includes" the usual stuff like internet access and bottled water. It also includes access to two beach chairs and towels. The fee is waived for Globalists and on award stays.
Internet: Spotty towards the back of the property, good in the front.
Service: Unremarkable. Had multiple problems with keys throughout the stay and no one could seem to be able to get them programmed quite right. Seemed like there were a lot of new employees that weren't terribly sure about the ins and out of their job yet.
Turndown service: None.
Dining:

Naked Taco: Primary restaurant off the lobby, serving, you guessed it, tacos (and other Tex-Mex items). Open from 9am-9pm daily, 11pm on the weekends. Serves breakfast from 9:00-11:30am and has a happy hour from 3pm-6pm Monday-Friday.
Highbar: Rooftop pool/bar with good views of Collins Ave. Fri/Sat from 9:30am-Midnight, 'till 9:30pm all other days.

Spa: None. There is a terrific rooftop pool that gets jammin' in the afternoon and evening.
Fitness Room: None.
Hyatt Globalist Benefits: 

Suite Upgrade: I booked a standard room and was proactively upgraded to a "Platinum Suite" spread across two rooms, one with a king bed and one with a murphy bed.
Free Breakfast: Served at Naked Taco. Oddly, it includes a classic breakfast and gratuity, but no coffee. To be fair, everyone working breakfast seemed to be kind of confused about exactly what the Globalist breakfast benefit was.
Late Checkout: Automatically given 4pm.
Parking: Valet parking is free on award stays.

Would I stay again?  I wouldn't seek it out. It's usually a poor award value and, for the same points price, I'd stay at the Confidante further north. That said, if you want to be in South Beach and are paying cash, there's worse options.
Pros and Cons
Pros
Great location right in the middle of South Beach and a block from the beach.
Sweet rooftop pool.
Cool art deco feel.
Cons
Like many old hotels in South Beach, rooms are quite small.
Between Collins Ave, the rooftop bar and the restaurant there's a LOT of ambient noise.
The pool is a great space but, during my stay, not the most family-friendly because of the drinking and music…it's more of a bar scene.
No fitness area.
Not much common space outside of the rooftop pool.
Image Gallery
King Platinum Suite
Dream South Beach Rooftop Pool and Bar
Dream South Beach Common Areas
Dream South Beach Restaurant – Naked Taco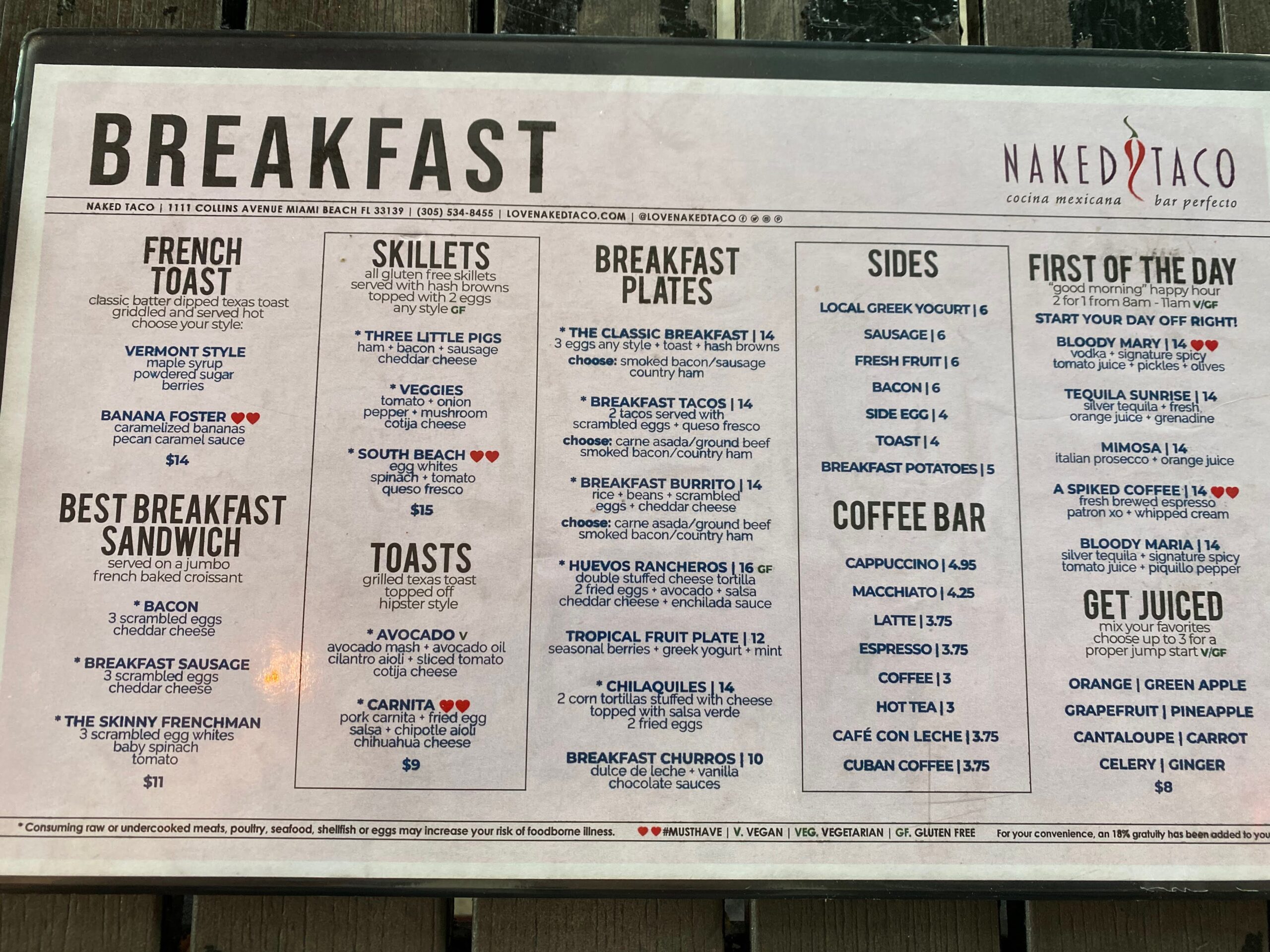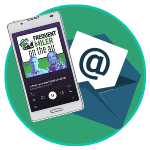 Want to learn more about miles and points?
Subscribe to email updates
 or check out 
our podcast
 on your favorite podcast platform.