If you previously followed along and turned your Wyndham Diamond status into a "free" Carnival cruise in a balcony room, it's time to parlay that into another "free" cruise offer — this time with Royal Caribbean — and with the chance for a couple to combine forces to get up to a junior suite (and with a great stack for family travelers!).
Last year, I wrote about how to turn your Wyndham Diamond status into a "free" (or more accurately a deeply discounted) Carnival cruise (See: Status cruising: Saving $2K+ on a cruise to Europe, Alaska, etc with a match). Now Royal Caribbean is out with a match offer that could get you a "free" cruise of up to 5 nights on their Caribbean itineraries (as well as a couple of options out of Los Angeles). Better yet, if you act fast, family travelers might be able to get this match done in time to stack the free cruise offer with a current "kids sail free" promotion that's valid until the end of the month. Once again "free" doesn't really mean no cost, but it certainly does mean low cost relative to the cash prices in several instances — low enough to entice me to check out what Royal Caribbean has to offer.
The Deal
Royal Caribbean's Casino Royale loyalty program is running an offer match program whereby you may be able to qualify for a free cruise for two (potentially in a balcony room or even higher if you combine offers)
Key Terms
Terms indicate that you are not eligible for this offer if you have sailed with Royal Caribbean since January 2018
Terms indicate that you can submit a match request only once
Cruise must be booked within 14 days of receiving your offer
Terms say you need to call to book, though there is also an online booking request form (though confirmation is not immediate)
You still pay taxes and port fees. On dates I checked, these appear to be $400-$500 total for 4 passengers on the 4-5 day itineraries, but YMMV depending on your itinerary
You may have to pay an upgrade fee for a larger room if sailing with a family
Kids sail free promo has some blackout dates (see this post for more detail)
Cruises based on availability (and my offers only apply to cruises through 3/31/23)
Interestingly, a couple playing in two-player mode has the option to combine offers per the terms: "Qualified Recipients within the same household from the same promotional event may combine their complimentary stateroom offers on the same sail date for one (1) category upgrade, not to exceed a Junior Suite or redeem their individual offers"
Quick Thoughts
See that previous status cruising post for details on how to get the Carnival match offer. I used that offer to book a 10-night European cruise that I took earlier this month, but my wife has yet to book her Carnival offer (she had booked a cruise and then cancelled and hasn't yet rebooked despite receive the free balcony offer from Carnival monthly ever since).
A comment recently came in on my old post about the Carnival offer from reader Mary indicating that Royal Caribbean has a similar offer.
For the purposes of this offer, Royal Caribbean will accept a competing cruise line offer or proof of your land-based casino status. Pro tip: you want to submit the Carnival free balcony room offer, not your Caesars Diamond status (Caesars status alone will only qualify you for a discounted cruise rather than a free cruise. Ask me how I know).
My wife pulled up her most recent Carnival free balcony room offer on the Carnival website and submitted a copy of it to Royal Caribbean. Turnaround time was very fast for her.
A friend of mine submitted for the Royal Caribbean match on Sunday and received an offer from Royal Caribbean on Tuesday afternoon. My wife submitted for the offer Wednesday morning and received an offer for a free balcony room on select Royal Caribbean cruises within a couple of hours (the offer arrived in her inbox early afternoon on Wednesday):
After clicking through the link in the email, her offer type showed up as "up to a balcony stateroom – 5 nights".
The list of free sailings she was provided run from next week through the end of March (I didn't quite fit all of them in this screen shot).
As you can see, the eligible cruises range from 3-5 nights and are mostly visiting either the Bahamas or the Eastern or Western Caribbean (with a couple of Los Angeles cruises). The most expensive cruise I price-checked at normal rates is the one that departs San Juan the week before Christmas. That cruise stops at a port every day (St. Thomas, St. Maarten, St. Croix, and Tortola). I assume because of the timing, a balcony room on that cruise is currently running north of $3,500 before taxes (or about $4,000 with taxes).
My understanding based on a friend who has already booked the offer is that you'll be on the hook for the port taxes (which look like they run around $400 to $500 for a family of four depending on itinerary or less for two passengers). That's a pretty substantial discount over prevailing rates on a lot of routes (though note that you should shop around because some of the "free" cruises on offer can be inexpensive).
What's more interesting for family travelers is that through October 31st, Royal Caribbean is offering a "kids sail free" promotion where you don't pay an additional fee for the kids. Contrast that with my free Carnival offer, which only applied to two adults; I paid about $280 per child for my two kids on my "free" Carnival cruise (plus gratuities). Kids sailing for free right now with Royal Caribbean potentially sweetens the deal a bit here.
All that said, there is a potential wrinkle and a potential bit of intrigue here.
The potential wrinkle is that a friend who booked a room for 3 passengers had to pay a $220 upgrade fee to get a room big enough for 3 passengers. Kids were "free", but the upgraded room that fits three passengers was not. That's kind of a bummer, though if the upgraded room is big enough for four passengers, I won't complain too much about the additional $220 (I'm still waiting on final pricing confirmation on our booking). Note that I'm not sure if this was a function of the specific ship / dates chosen (I see that there are some blackout dates on the "kids said free" promo).
Update: I was not charged any upgrade fee for a room with 4 passengers. I imagine this must vary by sailing and cabin availability. Some balcony cabins on my sailing (noted as "spacious balcony" rooms) are marked to sleep 4 and that's what I got. I only had to pay taxes ($108 per person) and will owe gratuities later.
The bit of potential intrigue comes in the terms. According to the terms, if two people in the same household have free stateroom offers, you can combine them for a 1 category upgrade up to a junior suite. While on the one hand I'd probably rather take two cruises than have a junior suite, on the other hand with the window to use the cruise here (you must book within 14 days of receiving the offer and sail by the end of March), you may only find one set of dates that works for you — in which case, having a larger room might work out. I checked out YouTube videos of a junior suite on one of the ships we were considering and the junior suite had a walk-in closet, a bathroom with a bath tub / shower, and a lot more space to lounge than I had in my extended balcony cabin on my recent Carnival cruise.
I noted above that matching from Caesars Diamond only led to a cruise discount rather than a free cruise. Despite the terms saying that you can only submit a match one time, I tried again with my Carnival balcony offer and haven't heard back. I'd definitely suggest using the Carnival offer if you can get a screen shot of it.
Before this year, I thought I would probably never take a cruise again. I took one years ago, but boats tend to make me seasick and cruising just didn't seem to fit my style or interests — I thought it just wasn't for me. However, Carnival won me over with the family-friendly nature of a cruise and the ease of being able to visit multiple places without needing to pack up and move all of our stuff (which is a lot more stuff now that we travel with kids). I said afterwards that I would definitely do it again. Now I'm excited to check out Royal Caribbean and see how it compares to my experience on the Carnival Pride.  If I can keep parlaying these free cruise offers with different lines, maybe I'll get used to this whole cruising thing after all.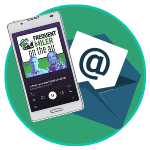 Want to learn more about miles and points?
Subscribe to email updates
 or check out 
our podcast
 on your favorite podcast platform.