This morning, I left the Carnival Pride after 10 days of cruising from Rome, Italy to Santorini, Greece; Kusadasi, Turkey (Ephesus); Athens, Greece; Katakolon, Greece (Olympia); Messina, Sicily (Italy); and Naples, Italy before returning to Rome. We were also scheduled to visit Mykonos, Greece, but we were unable to dock there due to high winds (we got an extra day at sea and a refund of those port taxes). I'll soon write up a full trip report / longer review of the cruise, but today I wanted to publish my first impressions (which still aren't short, but I'll review the details of the cruise ship itself in a separate post). I have to say that I was very surprised. Cruises never really appealed to me before this trip, but we walked away convinced that we will definitely cruise again. Again, I'll publish a more detailed post soon — but take it from me and the several Frequent Miler readers I met on the ship this week, this Carnival cruise was pretty good and well worth the price of admission.
The price was right
I'll include a more detailed breakdown of our costs in a longer post, but you can read this post for the basic gist of it: Status cruising: Saving $2K+ on a cruise to Europe, Alaska, etc with a match. That Carnival match is still going on and you can still get a free cruise starting with just the right credit card (direct link to the match program here, but read the previous post linked above and the comments for more info first). Again, more to come in the longer form review, but for now that post has most of the information you need about how to get your "free" cruise (note that they advertise it as "free"; it isn't really free but rather deeply discounted (and you can slice and dice it a bit further).
In the end, our net cost for a balcony room on a 10-night European cruise for a family of four (which added significant cost since my wife and I were "free", but our kids weren't) was less than $1,000. Considering that included a room with a balcony, all the food we wanted, and various non-alcoholic drinks like coffee, tea, water, hot cocoa, and lemonade, and transportation to some great ports of call, that seemed like a terrific value that we look forward to repeating.
The port stops were great
This cruise was packed with great ports of call. Carnival sells a range of excursions at each port, but those willing to do it on their own can likely save a lot of money (particularly if traveling with multiple passengers; note that you won't necessarily save over the Carnival excursions if you're a solo traveler, though you gain a bit more time flexibility).
I'll let a couple of photos from each port of call tell part of the story (I put the major attraction in parenthesis on a couple of the ports).
Santorini, Greece
My wife and I had been to Santorini before having kids, so we didn't feel pressure to see anything in particular here. After the cable car up from the where you disembark the water taxi, we hopped on the bus to Oia and walked around with the kids until we found a spot with a beautiful view for lunch.
Kusadasi, Turkey (Ephesus)
Kusadasi is a port town in Turkey that serves as the gateway to Ephesus, some of the best-preserved Greek/Roman ruins we've seen outside of Rome and Athens. The Temple of Artemis, one of the original seven wonders of the ancient world, leaves a single column standing nearby, though there isn't much to see at that site (you could easily skip that column and spend more time at Ephesus or strolling the shops in Kusadasi, which seemed to be the world capital of replica Louis Vuitton, Gucci, Air Jordan, and various other fashion and wristwatch brands).
 Mykonos, Greece
Unfortunately, I have no pictures of Mykonos. Because of rough seas / strong winds, we weren't able to dock here. I wasn't entirely surprised; the same taxi driver who knew that we wouldn't depart until midnight also told me that another ship in port that day had been scheduled to go to Mykonos but couldn't because of the winds, so I wondered whether we may suffer the same fate. We ended up with a sea day and the seas were much rougher than I'd have anticipated. We took Dramamine and my kids were fine, but my wife and I were not feeling wonderful for much of the day, but neither did we get sick (though I heard some people did).
Still, I'd call this a win. Things smoothed out by 6pm and I heard from a friend on the ship who had a friend on another ship that some ships had gotten stuck in Mykonos unable to leave and some people had gotten stuck ashore when water taxis stopped running and their own cruise ships had to leave. While I was initially disappointed to miss Mykonos as we haven't been before, I was glad to have skipped the potential headaches. I have no idea whether winds are a common issue there.
Athens, Greece
We took it pretty easy in Athens. My wife and I had been before (and visited the major tourist sites), so for our stop in Athens we hopped on a bus directly opposite where the cruise ships dock (bus X80) and rode to the Acropolis stop, but walked to the National Gardens for a relaxing stroll. Then we went to a place called Opos Palia for lunch. I had scouted it out while walking the gardens and boy am I glad I did. The meatballs were possibly the best you've never had (assuming you haven't been there!). They use cumin and there was just a very unique spice blend / flavor. The place didn't look like much, but it was mostly locals eating there, which is always a good sign.
Katakolon, Greece (Olympia)
Our next stop was Katakolon, Greece, which is the gateway to ancient Olympia. I'm a big fan of the summer Olympics, so seeing ancient Olympia was awesome. My kids won't appreciate the races we did on the original field for years to come, but I loved it. I believe that Carnival sold excursions for $60 per passenger (which we'd have had to have paid for the kids I think). Taxis immediately at the exit of the boat wanted 120 Euro. We walked into town a bit and negotiated with a driver for round trip transportation to Olympia and two hours of wait time (the taxi waited for us) for 70 Euro.
Messina, Sicily
In Messina, we stumbled on a classic car show (with Fiat and Alfa Romeo cars), climbed to the top of the clock tower in the main square, and climbed the hills of the city to reach a nice vantage point. We came across a bakery with locals lined up in their Sunday church clothes waiting for trays of pastries (the cookies were tasty!) and we ended up at a small local restaurant where the owners didn't speak English and the menu was entirely in Italian. Enthusiasm was in high supply as they made us a terrific lunch.
Naples, Italy
In Naples, we climbed the biggest staircase we've ever attempted with two strollers and two toddlers (and I doubt we'll eclipse that any time soon) to get to an incredible view of the city. This gave us the chance to discover many small side streets on the way to and from the staircase to get to the Castel Sant'Elmo.
Convenience factor was huge
My only previous cruise experience was a single Caribbean cruise for a family member's birthday in the years before we had kids. Cruising never really appealed to me for a number of reasons. In part, it was my dislike of boats (I get seasick easily). In part, it was a perception I had that the main focus of a cruise was alcohol and I'm not a big drinker. In part, it was because I was guilty of what Tim calls "punk rocking" my travel: I thought a cruise was too easy and not really traveling. Thankfully, I can now laugh at myself over how silly all of those thoughts were: seasickness can be mitigated both by a large ship and a number of remedies available at any pharmacy, you certainly can imbibe to your heart's content on a cruise but there are also plenty of other things to do on a large ship, and heck yeah it's easier not needing to lug around all your stuff and yet still being able to visit six or seven different places.
That last point really sold me on the idea of cruising throughout the course of the trip. Boarding the ship with all of our (excessive) luggage one time, unpacking, and not needing to touch our bags again for a week and a half was wonderful. It stood in stark contrast to the week before the cruise, when we stayed a couple of nights in Paris, a couple of nights by Paris Disneyland, and a night in Rome, moving two strollers, three checked bags, two rolling carry-ons, a backpack, and a diaper bag to three hotels over the course of a week (and up and down more flights of stairs than my right arm will allow me to forget for a long time). Traveling by cruise made it possible to visit far more places with far less difficulty.
There was also plenty of entertainment a few floors away at night when my wife and kids fell asleep earlier than I was ready. And if the kids got cranky at the restaurant, we could always go back to the room and refocus and head to the lido deck for a second swing at dinner if necessary. There was also a kids club that we used a few times, giving us an hour here or there to enjoy a little peace while our kids had a blast enjoying activities with other kids.
Overall, it was a win.
Bottom line: It wasn't all wonderful, but it beat expectations
I want to recognize that not everything about the cruise was wonderful. The food was better than we expected but still not great. The ship is showing its age. Entertainment ranged from surprisingly good to cheesier than a cheese whiz sandwich. The time in port was certainly not long (we arrived at most ports between 7am-9am and typically had to be back on board by 4:30pm or 5:30pm. However, there was enough variety that we never felt very disappointed and with two young kids we have become accustomed to doing one big thing a day anyway, so the time in port worked out fine for us. We eased into each day with breakfast foods that more or less matched what we'd eat at home (fruit, cereal, an occasional omelet / pancake / French toast, croissants/bread, etc), made it a point to find a delicious meal for lunch in port and then we knew we could always get a decent pizza on the lido deck at night if we weren't excited by whatever the main courses were in the restaurant or buffet.
I'll have more detail about the variety of food in a full review, but suffice it to say that the ship matched or beat expectations in most areas. Service was significantly better than I may have expected. Just a few pics from the ship:
More details about the ship to come soon — as well as how this deal turned out even better than expected.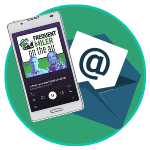 Want to learn more about miles and points?
Subscribe to email updates
 or check out 
our podcast
 on your favorite podcast platform.