Update: Chris has confirmed in the comments below that spending $60+ only triggers one $30 statement credit from the Wine Insiders Amex Offer which makes this deal less appealing.
That means the better play here is to only order 6 bottles of wine which comes to $54 + tax as ordering 6 bottles means you'll get free shipping. With the $30 statement credit, your net cost should be just under $5 per bottle which is potentially a good price depending on the quality of the wine.
~
Reader Charlie reached out to let us know about an amazing stacking opportunity with Wine Insiders where you can get 7 6 bottles of wine for less than $3 total before tax $5 per bottle including tax if you haven't used the Wine Insiders Amex Offer yet. Even if the wine doesn't turn out to be the best you've ever had, it's hard to argue when it should end up costing less than $1 $5 per bottle even with tax.
The Deal
Get any bottles of wine for $9 from WineInsiders.com with promo code WINEINSIDER3 or WINEINSIDER7.
Key Terms
Expires March 29, 2021(?)
Quick Thoughts
Wine Insiders is celebrating their 39th anniversary with a bunch of different deals offering some good savings on their wine. Their home page is advertising $39 off $100 and a bonus French Sparkling Magnum when ordering 12 bottles and using a promo code, but you can do much better than that.
Charlie shared that both WINEINSIDER3 and WINEINSIDER7 promo codes are dropping the price of every bottle on the site to $9. If you order 6+ bottles, you get free shipping. While that deal is just OK, where it really shines is if you have a personal Amex Platinum card with the Wine Insiders Amex Offer.
That Amex Offer gives $30 back on $30 of spend and can be used twice. Other Platinum-specific Amex Offers that offer 2+ statement credits have worked when used on the same transaction. For example, the HomeDepot.com Amex Offer giving $50 back when spending $50 can be used twice, but can be used in one transaction when spending $100+. We suspect that the same goes for the Wine Insiders Amex Offer, but we're waiting to verify that. Update: As mentioned above, Chris has confirmed only one statement credit gets triggered per transaction.
Provided the two $30 statement credits both get triggered by a $60+ payment, the best play here is to buy 6 or 7 bottles, with the optimal number of bottles depending on how much tax is charged by your state. As mentioned above, the price of every bottle drops to $9 when using one of those promo codes, so I added 7 bottles of the most expensive red to my cart.
To enter the promo code, click through to checkout and scroll about halfway down the page until you see the promo code box. When entering WINEINSIDER3 it dropped the total price to $63.
Just out of interest, I replaced it with the WINEINSIDER7 promo code and it dropped another $0.07 off the total price. Only one promo code can be used at a time and so I assume WINEINSIDER7 is the better option seeing as it takes an additional $0.01 off per bottle.
The thing to remember with Amex Offers is that the statement credits are triggered by the amount charged to the card including tax. It's therefore worth checking how much sales tax will be added. I'm in New Mexico until next week and so the total cost including tax comes to $66.16.
Reducing the number of bottles to 6 drops the total price including tax to $56.70 which wouldn't be enough to trigger both $30 statement credits, so getting 7 bottles makes the most sense on a per-bottle basis, but perhaps a state with higher tax would take the price for 6 bottles above $60. At $66.16 including tax, that works out to only $0.88 per bottle including tax after $60 in statement credits. That's a stellar deal even if the wine isn't amazing.
A couple of additional things to note. I haven't seen any data points specifically for the Wine Insiders Amex Offer stating whether or not a $60+ purchase will trigger both statement credits, so there's a chance that you need to make two separate $30+ transactions in order to trigger both credits. If only one statement credit gets triggered on a $60+ purchase, in my scenario above I'll still only be paying ~$5 per bottle which certainly isn't bad.
Something else to bear in mind is that there were reports in the past that clicking through from a shopping portal affected how payments were processed which led to Amex Offers not being triggered. Charlie reports his transaction tracking with Rakuten and getting an Amex Offer notification so it might work, but there's a risk there. Note that although Rakuten is currently advertising $44.50 cashback, that's for a subscription whereas with this particular deal you'd earn 1.5%. I'd rather not potentially put $60 in statement credits in jeopardy so I've decided not to click through from a portal, but at least Charlie's experience suggests it can work.
That previous post listing potential issues with stacking Wine Insiders deals mentioned that using promo codes can also affect how payments are processed. Greg has already taken advantage of this new deal and received notification from Amex that they'd tracked the purchase. He spent $60+ and the confirmation email only mentions $30 in savings; that doesn't necessarily mean anything though as when spending $100+ at HomeDepot.com he got a similar email mentioning $50 in savings but received $100 in statement credits, so hopefully $60 in statement credits are awarded nonetheless.
The WINEINSIDER3 and WINEINSIDER7 promo codes probably end today or tomorrow, so it'd be best to take advantage of this deal ASAP if you're interested.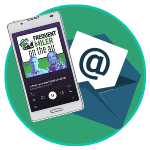 Want to learn more about miles and points?
Subscribe to email updates
 or check out 
our podcast
 on your favorite podcast platform.